Jump start your day with an anti-inflammatory Ginger Turmeric Wellness Shot - full of ingredients like immunity boosting fresh ginger, turmeric root, apple cider vinegar, and local honey. All you need is 5 minutes and a blender to make this cost effective Ginger Shot at home.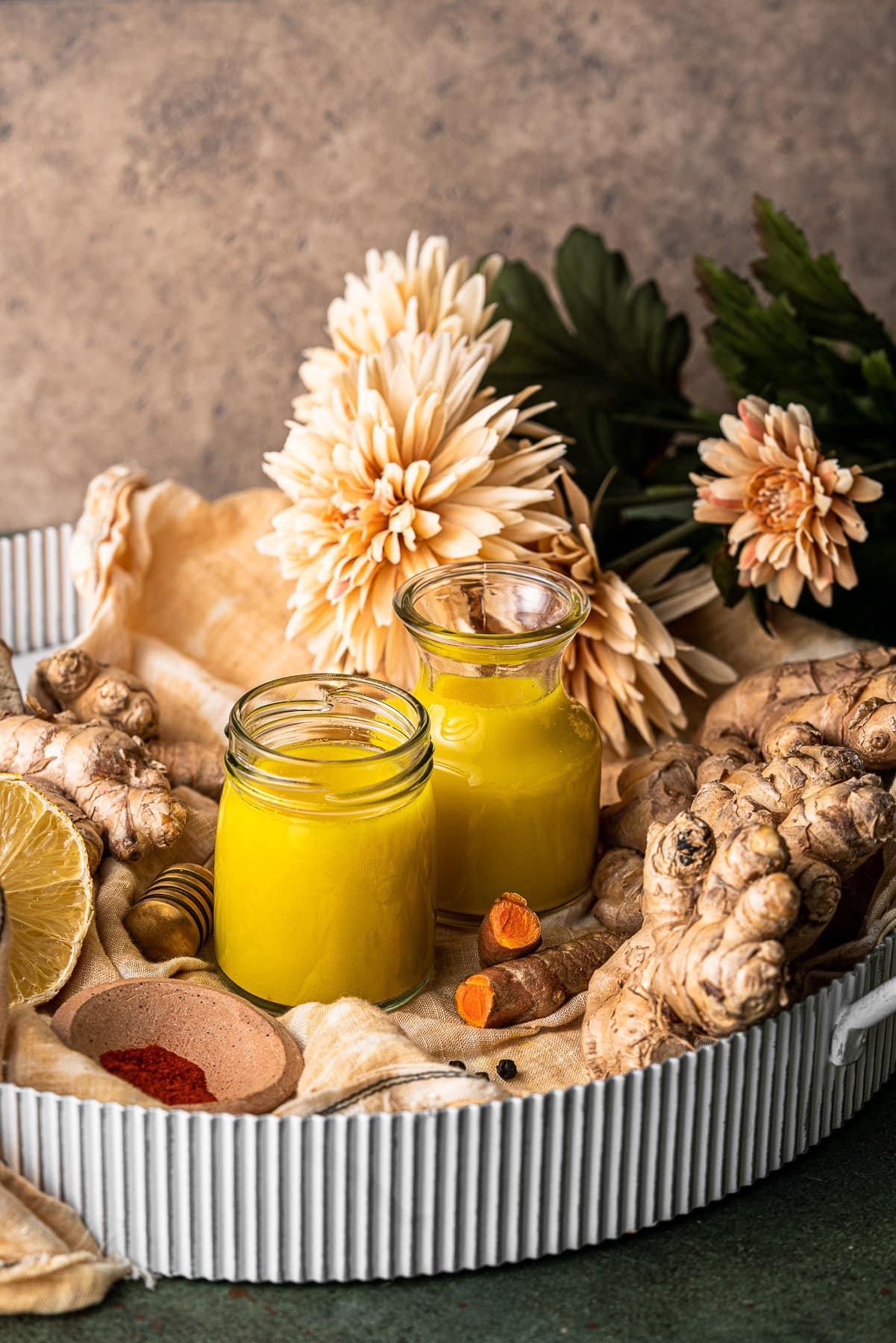 In desi households, ginger and turmeric are touted as a "cure all" for just about any ailment. Sick? Haldi doodh (turmeric milk) and ginger honey tea. Bloated? Ginger tea. Bad skin? Turmeric face mask. It's something I've come to deeply appreciate. Overall wellness from natural ingredients is embedded in Indian cuisine, culture, and medicinal remedies.
This Ginger Turmeric Shot uses ingredients like fresh turmeric and ginger root, the unsuspecting black pepper, the "elixir" apple cider vinegar, local honey, and more to boost your overall wellness. It's not necessarily tasty for most people, but a quick shot will have you feeling ready to take on the day!
This anti-inflammatory shot works as a digestive aid with additional bloating relief, staving off disease, nausea relief, maintaining appetite, aids weight loss, and more.
If you have a lot fresh ginger root, be sure to check out these recipes for Ginger Garlic Paste and Adrak Chai (Ginger Tea).
Jump to:
Why this Recipe Works
So... maybe you went to Costco and grabbed the 2 pounds of ginger root and you're wondering what to do with it. That's what I did and I started making these ginger shots to boost my immune system. Here's why I love this recipe:
No juicer necessary! Toss everything into a blender, food processor, or immersion blender and then strain to extract the juice.
A juicer will extract all the pulp and therefore a majority of the nutritional benefits. A blender retains some of the pulp while giving a juice-like consistency.
Add as many of the ingredients as you want - you only need a base of ginger root, turmeric root or ground turmeric, lemon juice, and black pepper to reap a ton of health benefits with just 2-3 fluid ounces.
You can make these shots in bulk and have enough to last you a week!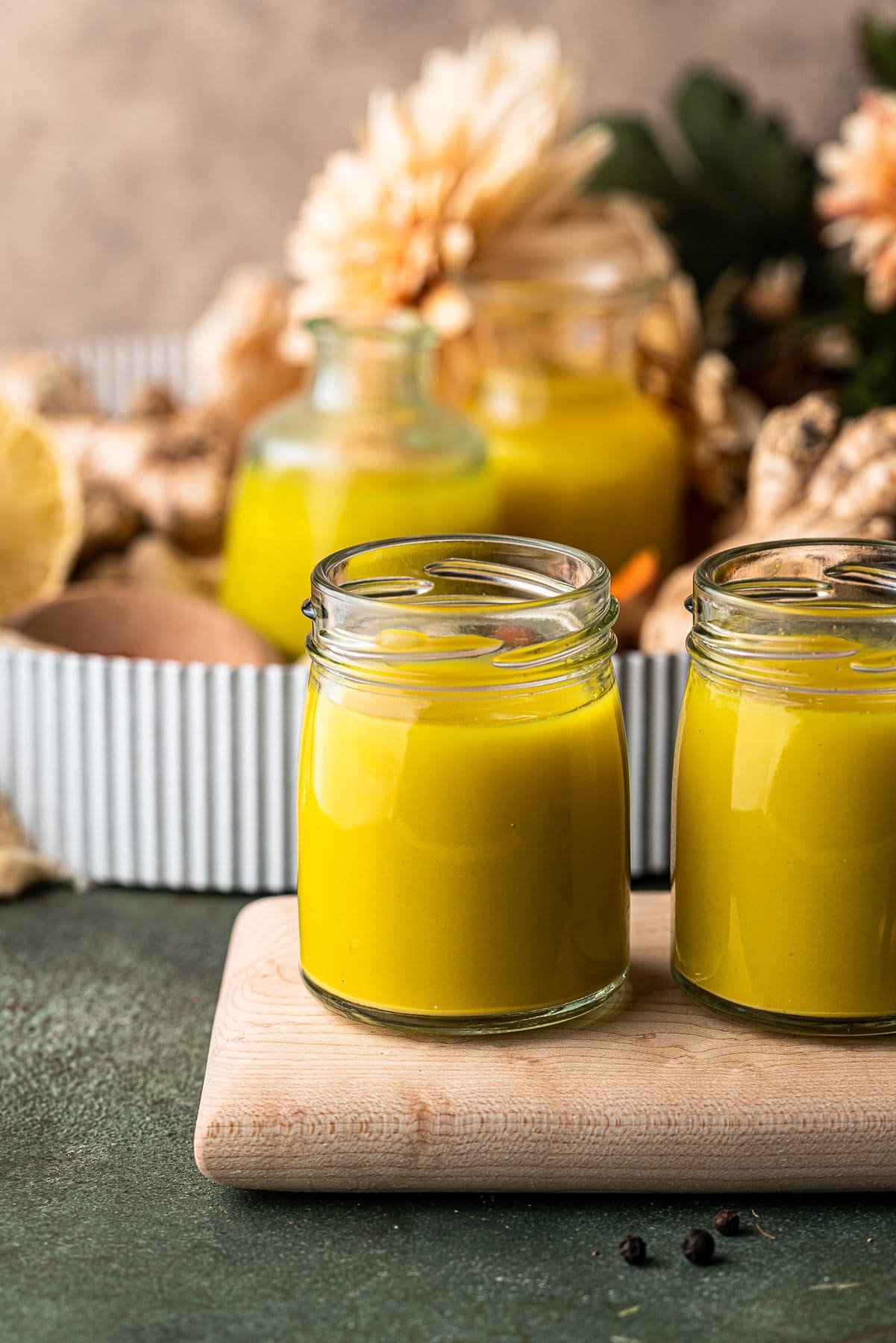 Do these Shots Taste Good?
Yikes, I was hoping you wouldn't come looking for this information... Just kidding!
Ginger, turmeric, and apple cider vinegar are all strong flavors that aren't palatable on their own. In fact, the gingerol in a ginger root can actually be quite spicy. Admittedly, my flavor palate is not a fan of the combination and I look like I'm in pain after taking one.
Luckily, they're taken in one big gulp and that's why they're designed as a shot. Down the hatchet it goes! And you won't have to think about it for the rest of the day. Feel free to adjust the shot with more lemon juice or honey to make it more palatable.
Health Benefits of a Ginger Shot
There are so many proven benefits to adding a ginger shot into your regimen. It improves wellness starting from bloating relief all the way to cancer prevention. Each of the ingredients in this recipe has some added benefit that encourages adding them to your daily food intake.
Read about lemon's health benefits on WebMD, honey's health benefits on Healthline, and cayenne's health benefits on Medical News Today.
Let's walk through some of the main benefits of using the ginger, turmeric with black pepper, and apple cider vinegar in this recipe.
Ginger
Ginger has a long history of usage in alternative medicine due to the antioxidants. Gingerol is the main bioactive compound in ginger and gives nausea relief, bloating and gas, wear and tear on cells, is anti-inflammatory, and so much more (John Hopkins Medicine).
Read more on Healthline for 11 Proven Health Benefits of Ginger.
Turmeric and Black Pepper
Turmeric is a bright orange root that's often seen dried and grounded into a powder. It's used in a lot of Indian curries, like Dahi wali Arbi Sabji and Whole Masoor Dal, in very small amounts of about ¼ - ½ teaspoon.
This anti-inflammatory is revered for it's ability to increase the antioxidant capacity of our bodies with curcumin, the main disease-fighting active compound in turmeric.
Our bodies don't do a great job absorbing curcumin in the bloodstream. Piperine, the active ingredient in black pepper, boosts the absorption of curcumin into the bloodstream (Healthline). This is why you'll frequently see black pepper and turmeric used together.
This combination offers some of the following health benefits: reduces and fights inflammation, reduces joint pain, aids digestion, combats type 2 diabetes and heart disease, and can even help prevent the growth of cancerous cells.
Read more on Well and Good.
Apple Cider Vinegar
Most Apple Cider Vinegar is made with organic apples. Some possible health benefits include maintaining appetite and weight gain, cholesterol levels, and blood sugar levels.
Read more on WebMD.
Ingredients - Notes and Substitutions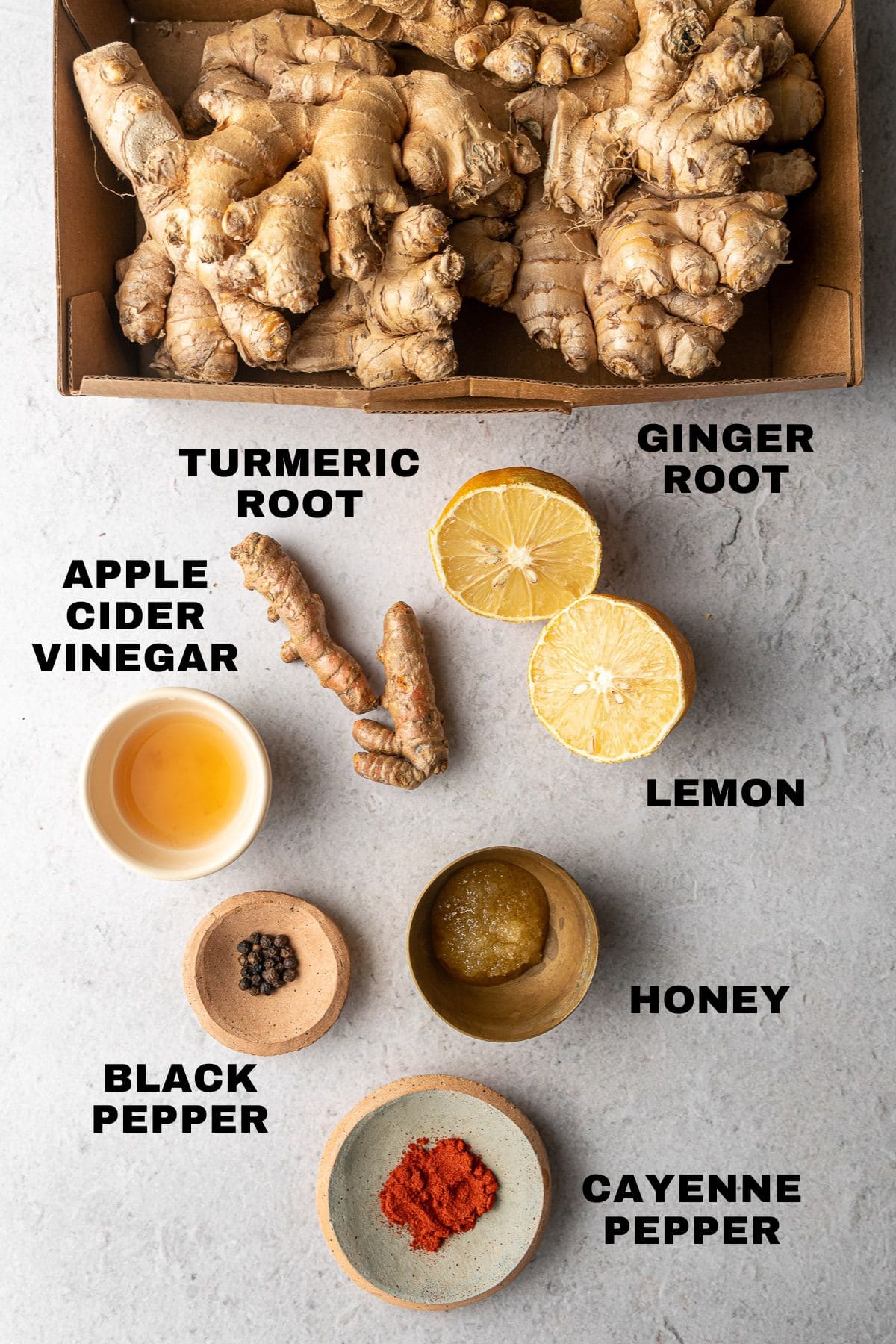 Ginger Root - Use fresh ginger root, not ground ginger. You can keep the peel and wash it thoroughly or peel it.
Turmeric Root - Ideally, use fresh turmeric root which can be found at major grocery stores and farmers markets. Otherwise, substitute with ¼ - ½ teaspoon of ground turmeric.
Lemon - Fresh lemon juice balances the strong ginger root. Feel free to add more than ½ lemon according to preference.
Apple Cider Vinegar - Use raw, unfiltered organic apple cider vinegar from a brand like Braggs.
Black Pepper - Freshly cracked black peppercorn enhances the benefits of curcumin in turmeric.
Honey - Use honey or maple syrup as natural sweeteners to an otherwise potent wellness shot. Preferably use raw, local honey.
Cayenne - This is optional. The ginger root and black peppercorn already make the ginger shot spicy. Use with caution, as this can make the shot too spicy. I'd recommend taste testing your ginger shot first. If it has the capacity for extra spice, then add a pinch of cayenne afterwards.
If you don't like lemon juice or apple cider vinegar, I recommend substituting with something you do like! For example, I'd use orange juice or apple juice instead.
Recommended Kitchen Equipment
How to make a Ginger Turmeric Immunity Shot
1. Ginger and Turmeric Root Prep
Start by prepping the fresh turmeric root and ginger root. You'll want to thoroughly scrub the roots to remove dirt and debris. The pulp from the ginger will be strained out later.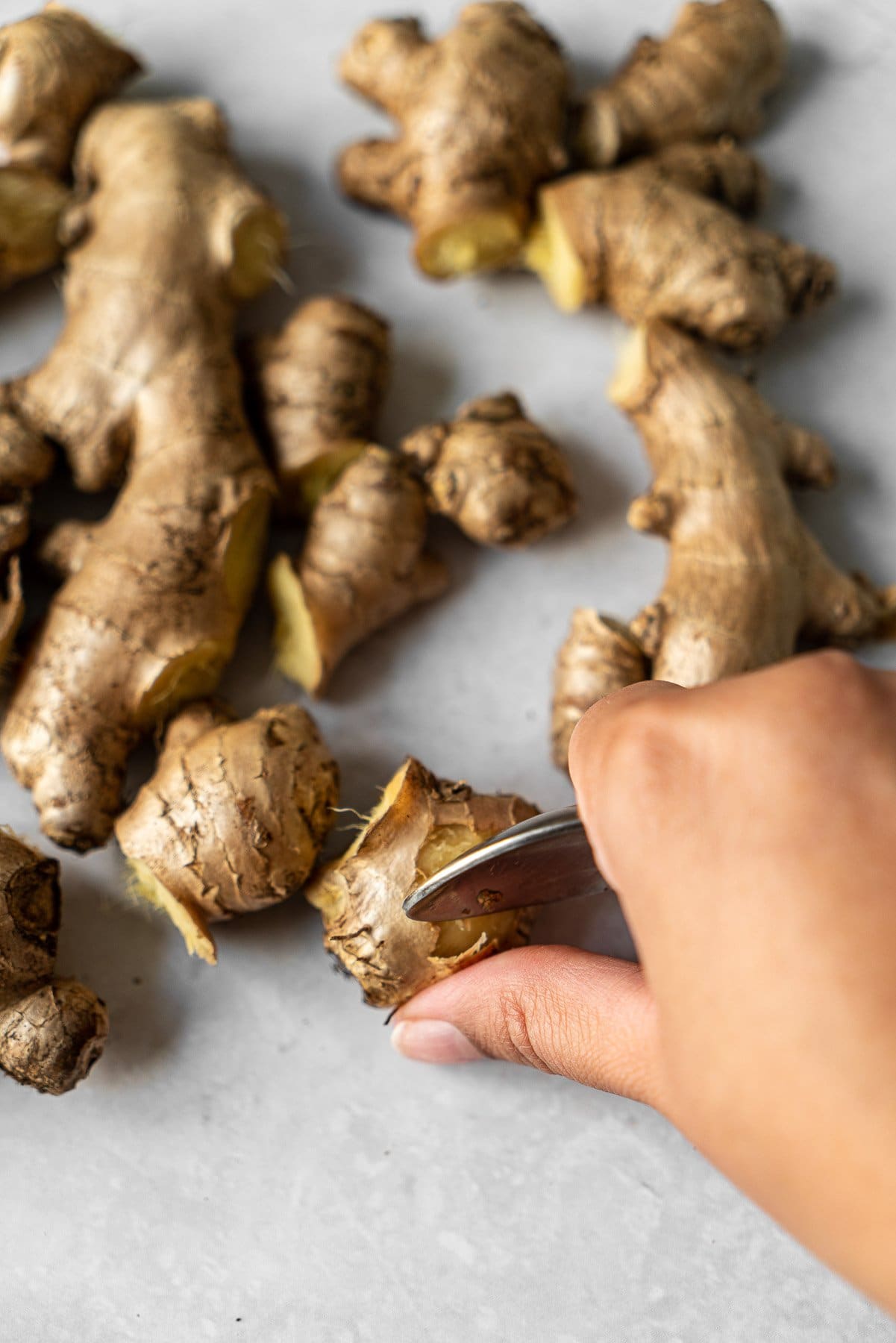 Optionally, if you want to peel the ginger root you can! It's better to use a metal spoon than a knife to prevent taking off excess from the root. To do this, break the ginger into smaller, manageable chunks - typically where it sprouts into another lobe.
Then, firmly hold the top and bottom of the ginger chunk in one hand. With the other hand, brace your forefinger against the back of the spoon and your thumb at the bottom of the chunk.
Scrape the edge of the spoon downwards, applying slight pressure. The peel will come right off. Once you get the hang of this, you'll have all the ginger peeled in no time.
However, note that peeling the ginger root is not entirely necessary and is actually considered the most potent part of the ginger! The peel is completely edible and actually contains more fiber and antioxidant activity than the rest of the root (Source).
2. Blend and Strain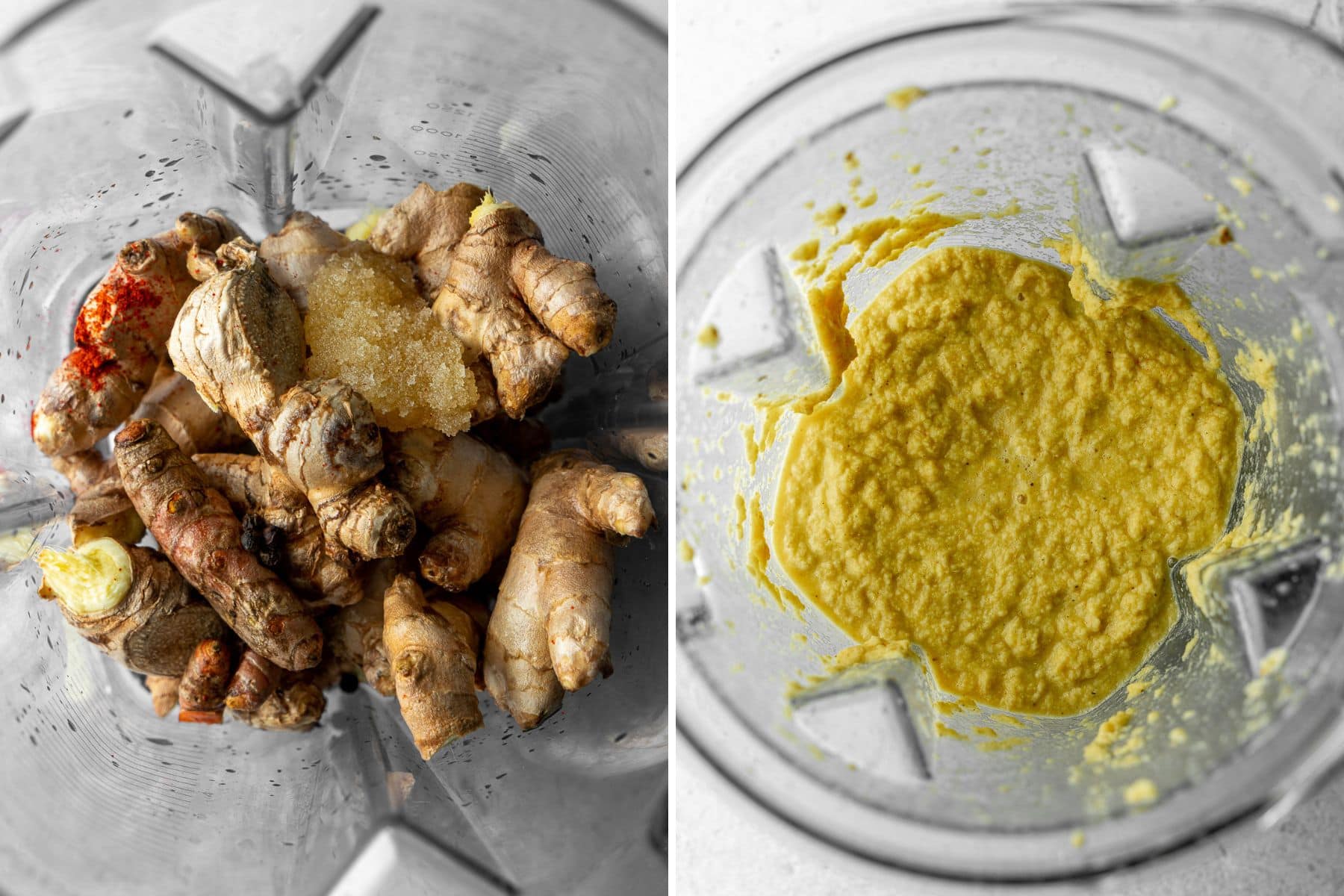 Add all of the ingredients into a powerful blender, like a Vitamix. Add about a cup of water or coconut water for electrolytes. Run the blender for a minute or two, or until it runs smooth. The mixture may be pulpy and chunky, and that's okay!
While the blender is running, you'll want to prep a large fine mesh strainer or a cheese cloth over a bowl with a spout to catch all of the pulp.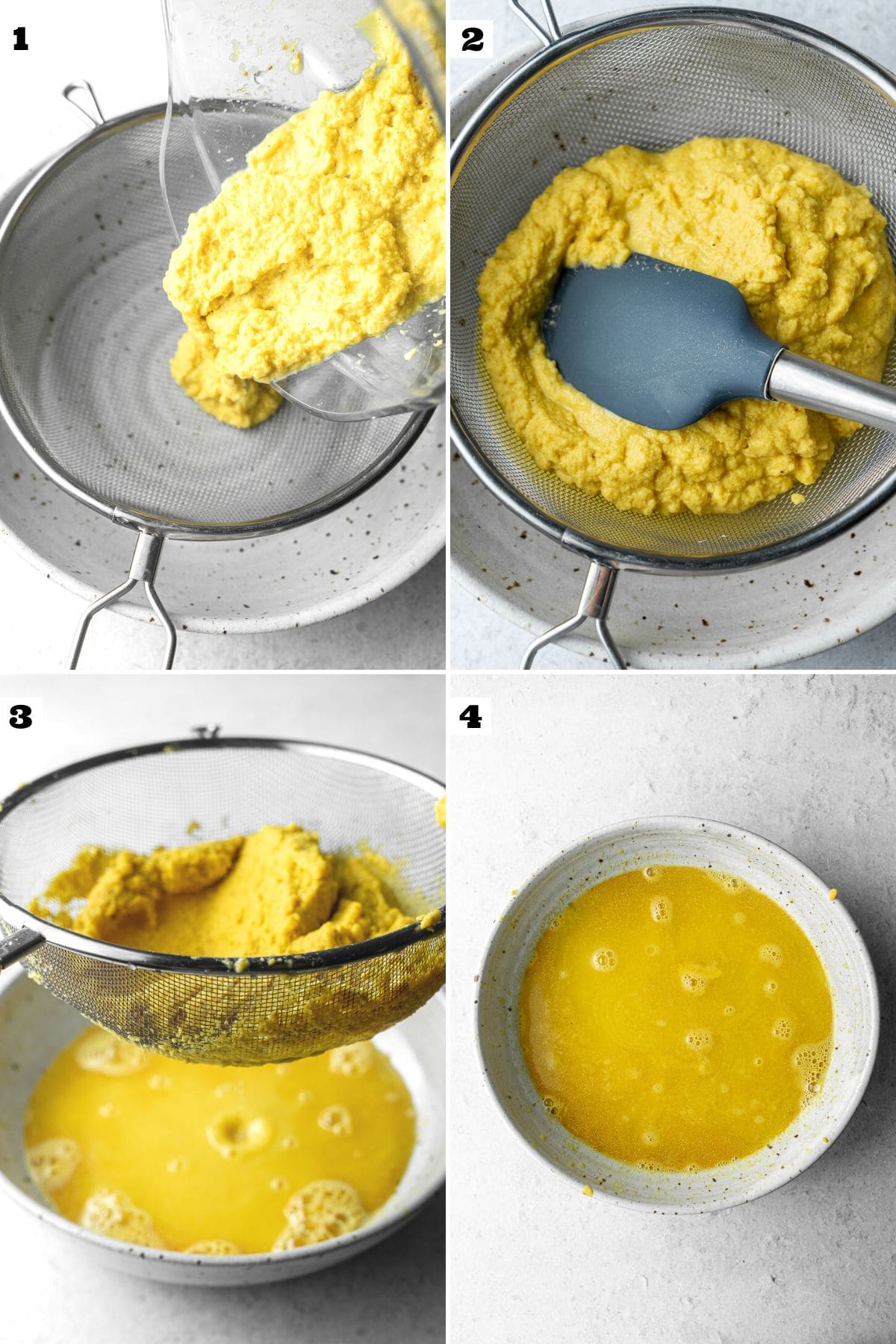 Next, pour the pulp out over the strainer. Use a spatula or spoon to press the pulp to remove as much juice as possible. You'll be left with ginger pulp that's drier and thick and about 2 cups of juice. You may need to strain the juice twice to remove excess pulp if your mesh strainer has larger holes.
Pro Tip: Don't throw out the pulp! It can be used in curries, soups, or smoothies.
If you'd like, you can return this pulp to the blender and add a half cup of water and run it again to extract extra juice. I ran it a third time to test out how much I could really extract but the third go was mostly clear.
3. Funnel into a Small Jar
Use a small funnel to pour about 2 ounces of juice into small mason jars that'll act as your shot glasses. They are perfect for storing the shots in your refrigerator!
Give the jar a shake before consuming in case of separation.
Tips and Tricks
Keep your work area clean. Seriously! Keep paper towels on hand. If you spill, turmeric can stain. I'd also recommend working quickly with the blender, because the turmeric can also stain your blender.
Add water and run the blender a second time. After you've extracted juice from the pulp the first time, go ahead and do it a second time! You can still get plenty of more juice from the pulp.
Save your pulp. Don't toss out all of that ginger pulp! Add a tablespoon to curries like Kala Chana Masala, Saag Paneer, Khichdi, and more.
Play around with the ingredients. A ginger shot isn't really meant to taste absolutely delicious... that's why it's a quick shot. Feel free to omit or add more of a certain ingredient to suit your needs.
Help! The ginger shot is too spicy! Add some more honey or fruit juice (like pineapple, apple, or orange) to mellow out the shot.
Storage Instructions
Use small mason jars or small jars with lids to store your Ginger Turmeric Shots. Keep them in the fridge for up to 7 days.
Give the mason jar a shake before consuming, as the ingredients may separate. This is completely normal and fine to still consume.
The juice can also be frozen in an ice cube tray and then transferred to a freezer bag for up to six months. Add a cube your morning smoothie and you won't taste it as much.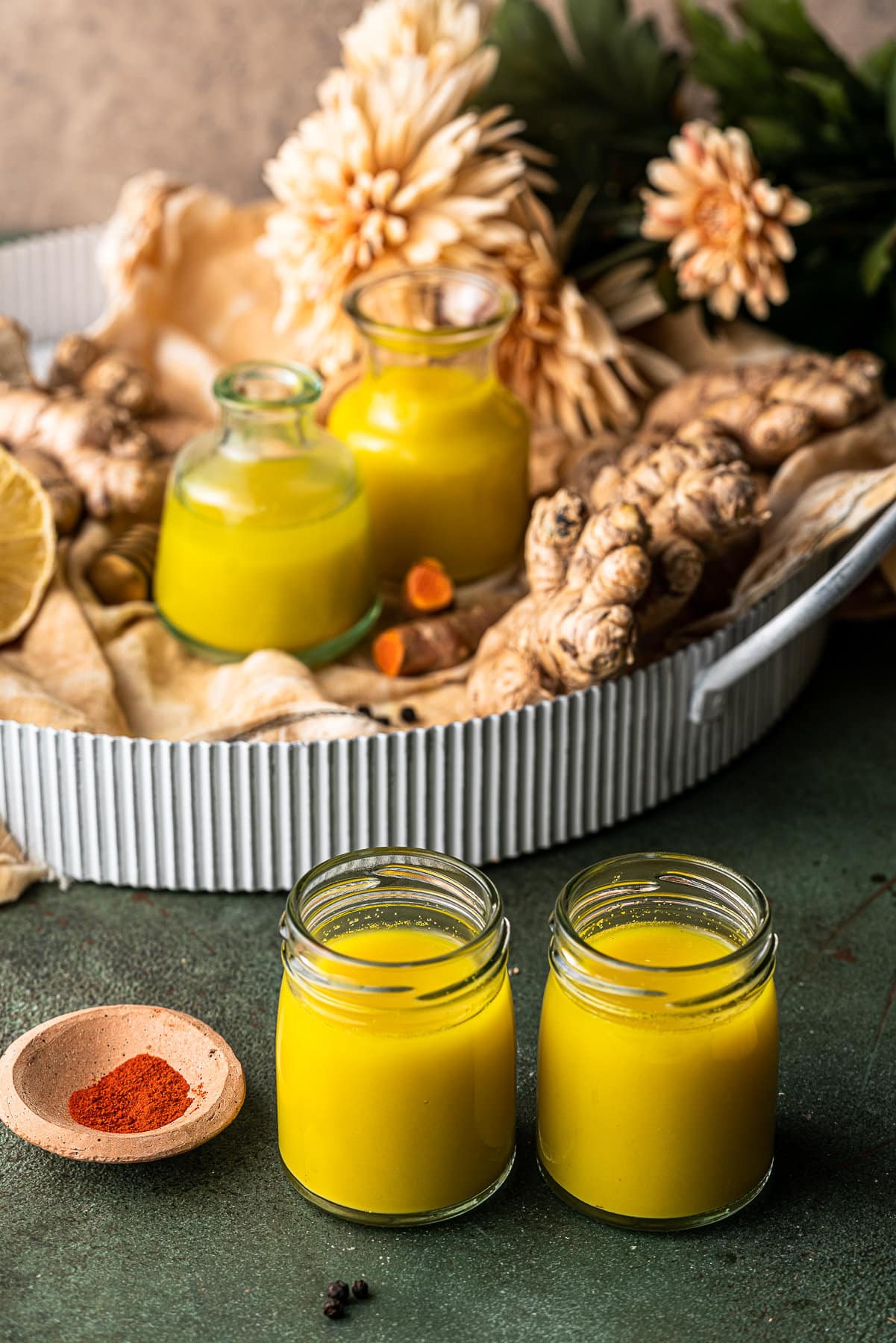 More Recipes to try
Recipe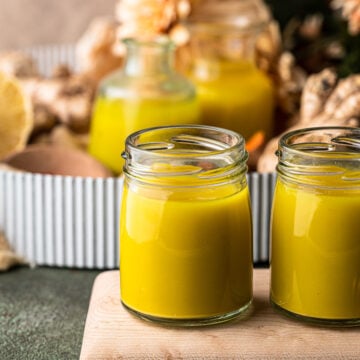 Ginger Turmeric Wellness Shot
Jump start your day with a Ginger Turmeric Wellness Shot - full of ingredients like immunity boosting fresh ginger, turmeric root, apple cider vinegar, and local honey. All you need is 5 minutes and a blender to make this cost effective Ginger Shot at home.
Print
Pin
Rate
Ingredients
12

oz

ginger root

½

oz

turmeric root

,

see notes

½

medium

lemon

,

squeezed

1

tablespoon

apple cider vinegar

2

tablespoon

honey

pinch

cayenne pepper

,

(optional)

1

cup

water
Instructions
Thoroughly scrub and rinse the ginger root and turmeric root until clean.

Add the ginger root, turmeric root, half a lemon squeezed, apple cider vinegar, honey, black peppercorns, cayenne pepper (optional), and water to a blender.

Puree the ingredients on high speed until smooth. While the blender is powered on, line a large spouted bowl with a fine mesh strainer or a cheesecloth.

Once the mixture is smooth, pour the pulp over the strainer or cheesecloth. Use a spatula to press down and extract as much juice as possible into the bowl.

Optional: Transfer the pulp back to the blender and add another ½ cup of water. Run the blender on high speed and strain / extract the juice again.

Pour the juice through a funnel to fill up the mini mason jars. The ginger shots are ready to enjoy!

Store the shots in the refrigerator for up to one week. Give them a shake before consuming.
Notes
Use ¼ teaspoon of ground turmeric instead of fresh turmeric root.
Use a nutmilk bag, cheese cloth, or fine mesh strainer to strain out the pulp.
Use cayenne as an option. The ginger root and black peppercorn already make the ginger shot spicy. Adding cayenne can make the shot too spicy. I'd recommend making and taste testing your ginger shot first. If it has the capacity for extra spice, then add a pinch of cayenne afterwards.
Nutrition
Serving:
1
shot
|
Calories:
54
kcal
|
Carbohydrates:
12
g
|
Protein:
1
g
|
Fat:
1
g
|
Saturated Fat:
0.4
g
|
Polyunsaturated Fat:
0.1
g
|
Monounsaturated Fat:
0.04
g
|
Sodium:
4
mg
|
Potassium:
136
mg
|
Fiber:
1
g
|
Sugar:
6
g
|
Vitamin A:
2
IU
|
Vitamin C:
6
mg
|
Calcium:
8
mg
|
Iron:
0.3
mg