This easy homemade Watermelon Juice is perfect for cooling down on hot summer days! Enjoy the summer seasons high quality produce for freshly made juice in your own home. It takes 5 minutes with under 5 ingredients, no juicer necessary. Add a sprinkle of kala namak (black salt) for a little Indian twist.
If you can never finish off a whole melon, blending the rest of the watermelon into a juice is a great way to finish off the fruit before it rots! No juicer necessary, you just need a great blender and a tight mesh sieve to strain out the seeds and extra pulp.
If you're Indian, you most likely grew up with your mom yelling at you to eat fruits like cucumber or watermelon to cool down your body temperature during the hot season. Fruits with high water content or that are great for water absorption are said to help regulate body temperature.
That's why we always had watermelon several times a week growing up in Arizona! My mom would cube 'em up and sprinkle the watermelon with kala namak, or black salt. It's still my favorite way to eat watermelon! They're a great way to get some more hydration in during a hot summer day.
Jump to:
And in a classic Indian twist, we add some type of masala into our juice! While we typically use fruit juice masala blends for most other juices, with watermelon juice we just use kala namak. Almost all Indian love enjoying watermelon this way!
The pungency from the kala namak balances out the watermelon in the most delightful way that I can't describe. The watermelon is pretty mild in sweetness and flavor, and the kala namak enhances it while adding umami.
Ingredients and Equipment
Let's talk about what you'll need to make watermelon juice at home!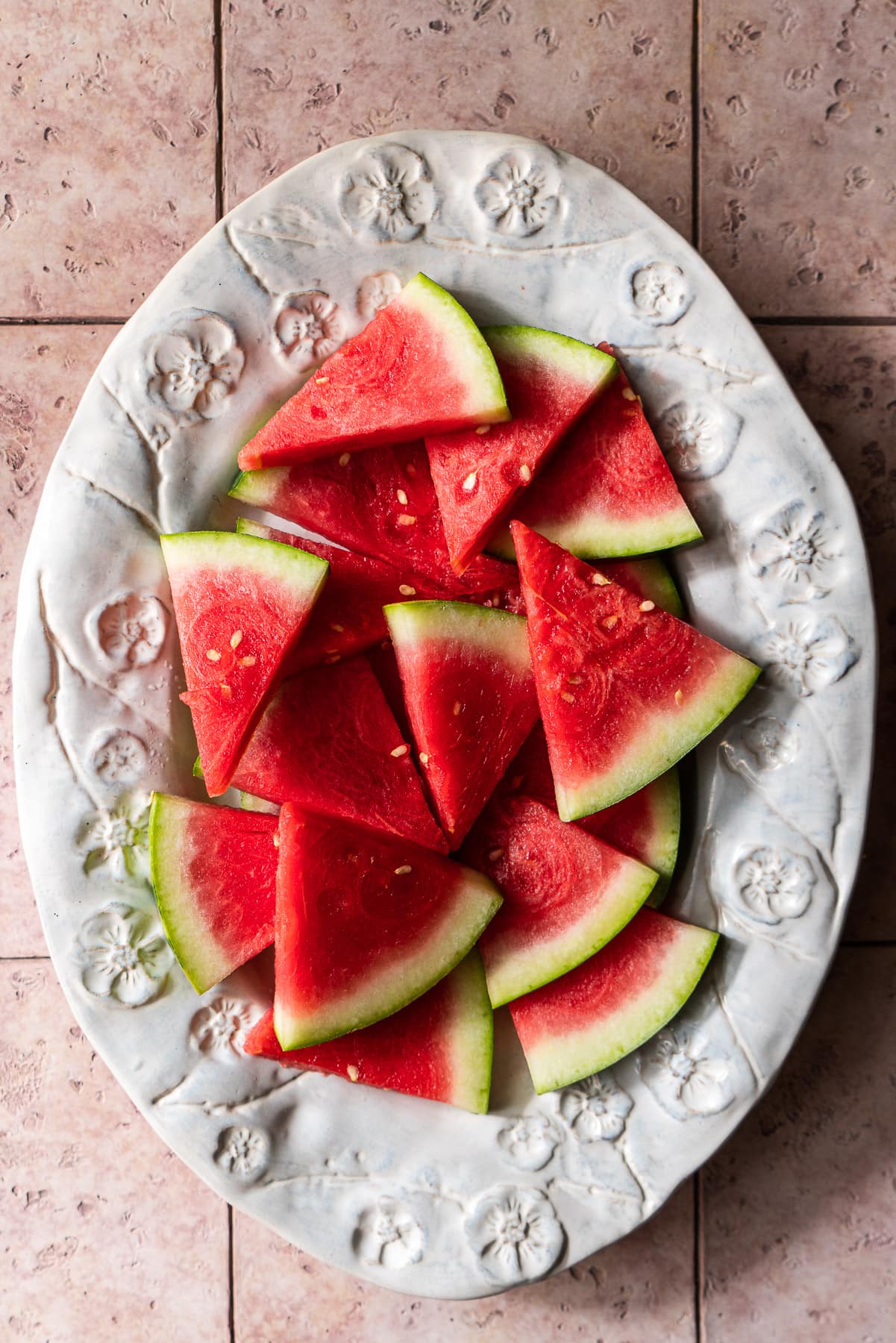 Watermelon - Of course, you'll need watermelon. About half of a small watermelon should yield close to 4 cups of liquid.
Water - Adding water to the juice is really a personal preference. Watermelon is already mostly water, but I find that it can be a bit too pulpy. I'd play around with the amount of water depending on preference.
Lime juice - A bit of fresh lime or lemon juice adds a bit of freshness and tang to offset the sweet watermelon.
Kala Namak - Known as Indian black salt. It's pungent and sulfurous, and adds a ton of umami to anything you put it in. The closest substitute is Himalayan pink salt, but I highly recommend adding kala namak to your spice cabinet. You'll be all the better for it.
You DO NOT need a juicer to make watermelon juice! It is not a whole mess and a half to clean up.
You only need a blender, and I love my Vitamix for this. You'll also need a fine mesh strainer to remove any of the watermelon seeds that don't break down fully as well as the pulp. And lastly, you'll need a pitcher to store the juice in.
How to Make Fresh Watermelon Juice
I truly wish all fruits and vegetables were this easy to juice. Thanks to the high water content in watermelon, all you need is a blender!
Use a large chef's knife to cut the watermelon in half, and then again into quarters. This should make it easy to cut away the rind and then cube the watermelon pulp.
Transfer the pulp to a blender along with the water and lemon or lime juice. Puree the watermelon until completely smooth and the cubes have broken down.
Then, you'll want to place a large enough mesh sieve over a pitcher to catch any seeds or pulp that haven't broken down as you pour the contents of the blender into the pitcher. Add kala namak to taste (for me, ¼ teaspoon or less of salt goes a long way) and give it a stir.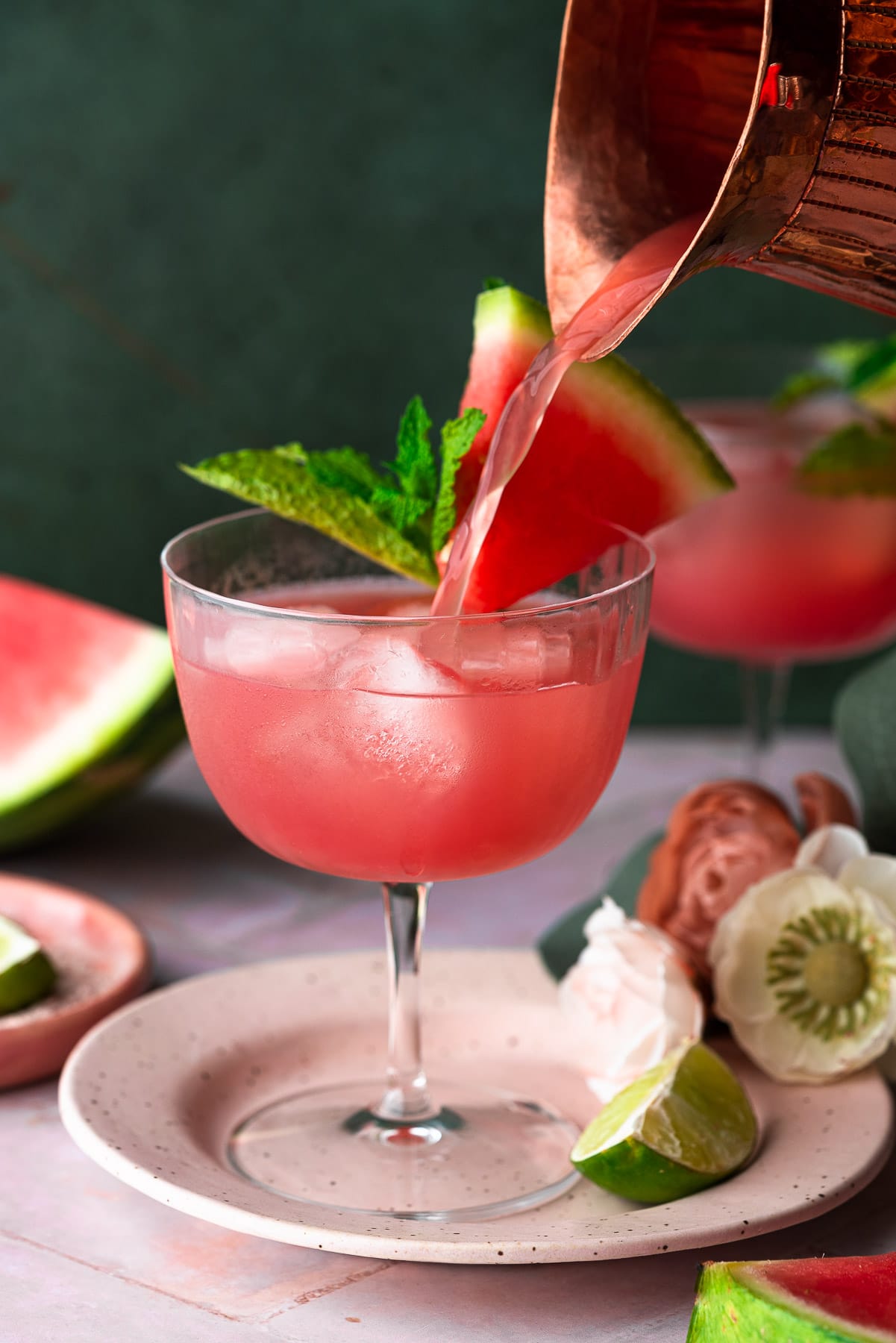 And that's it, you're ready to serve the watermelon juice.
In terms of glassware to serve watermelon juice, I love fancy coupe glasses when amongst friends. Otherwise, I recommend tall juice glasses for a refreshing glass with breakfast in the morning.
Garnish the glassware with fresh watermelon wedges, mint leaves, or lime / orange / lemon slices. I also love having a little plate on the side with kala namak and using a lime wedge dipped in the salt to rim my glass.
Variations of Watermelon Juice
There's several ways to spruce up your watermelon juice into something more! My favorite is a Watermelon Rose Cooler, which is fresh watermelon juice with a bit of rosewater that's great as a cocktail or with a bit of white wine.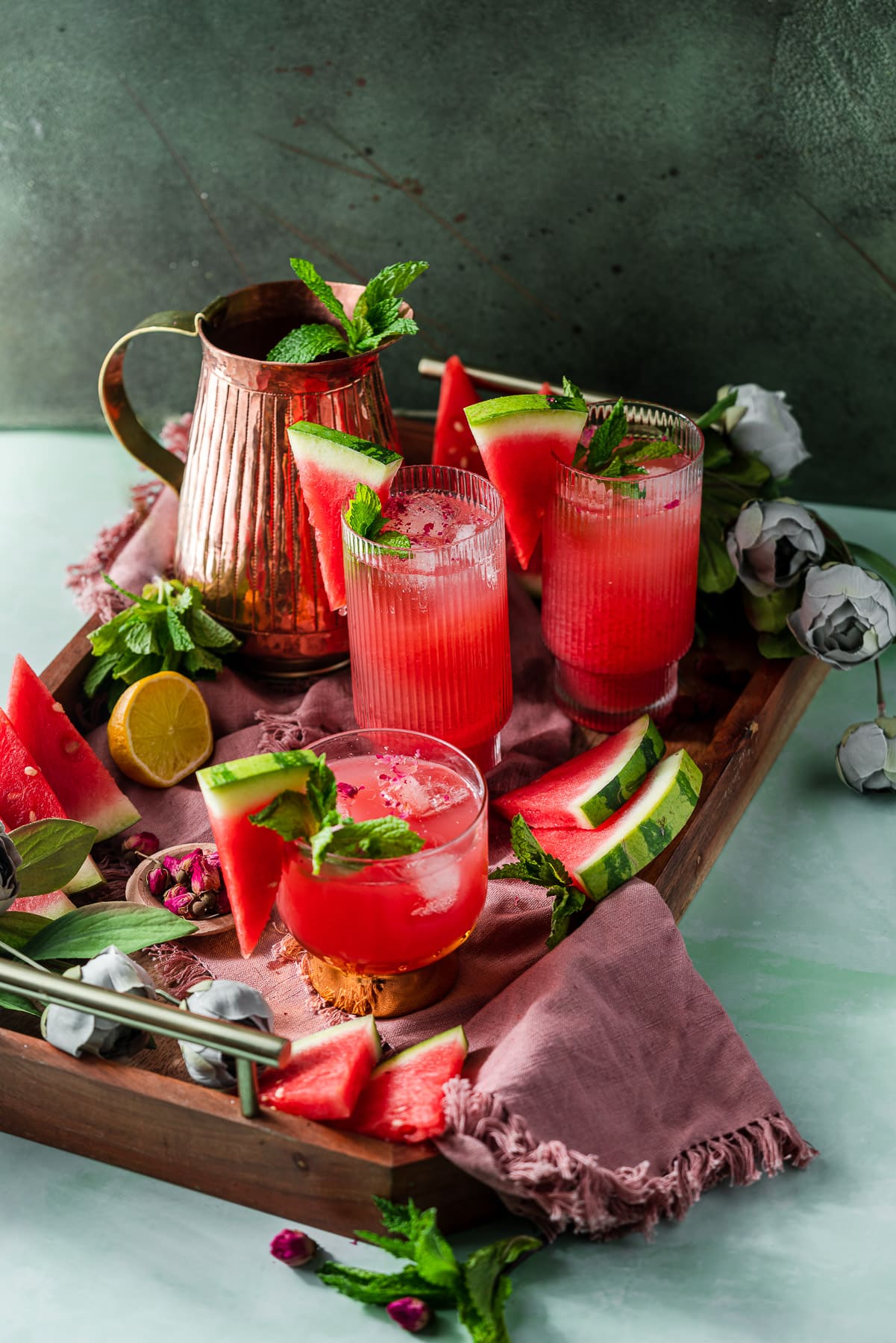 Some other wonderful additions are:
Watermelon Cucumber Juice - Add about a cup of cucumber water for adding freshness and cooling properties
Watermelon and mint - Simply muddle some mint leaves in the bottom of your glass and pour fresh watermelon juice over it! Let the flavors meld together.
Watermelon Ginger Juice - Blend an inch-long ginger knob along with the watermelon and enjoy this anti-inflammatory summer drink!
Storage Instructions
Freshly-made watermelon juice can last in the refrigerator for up to 3 days. Once it starts to smell or taste soured, it'll need to be discarded.
Watermelon juice can also be frozen in an ice cube tray and transferred to a freezer bag for up to one month.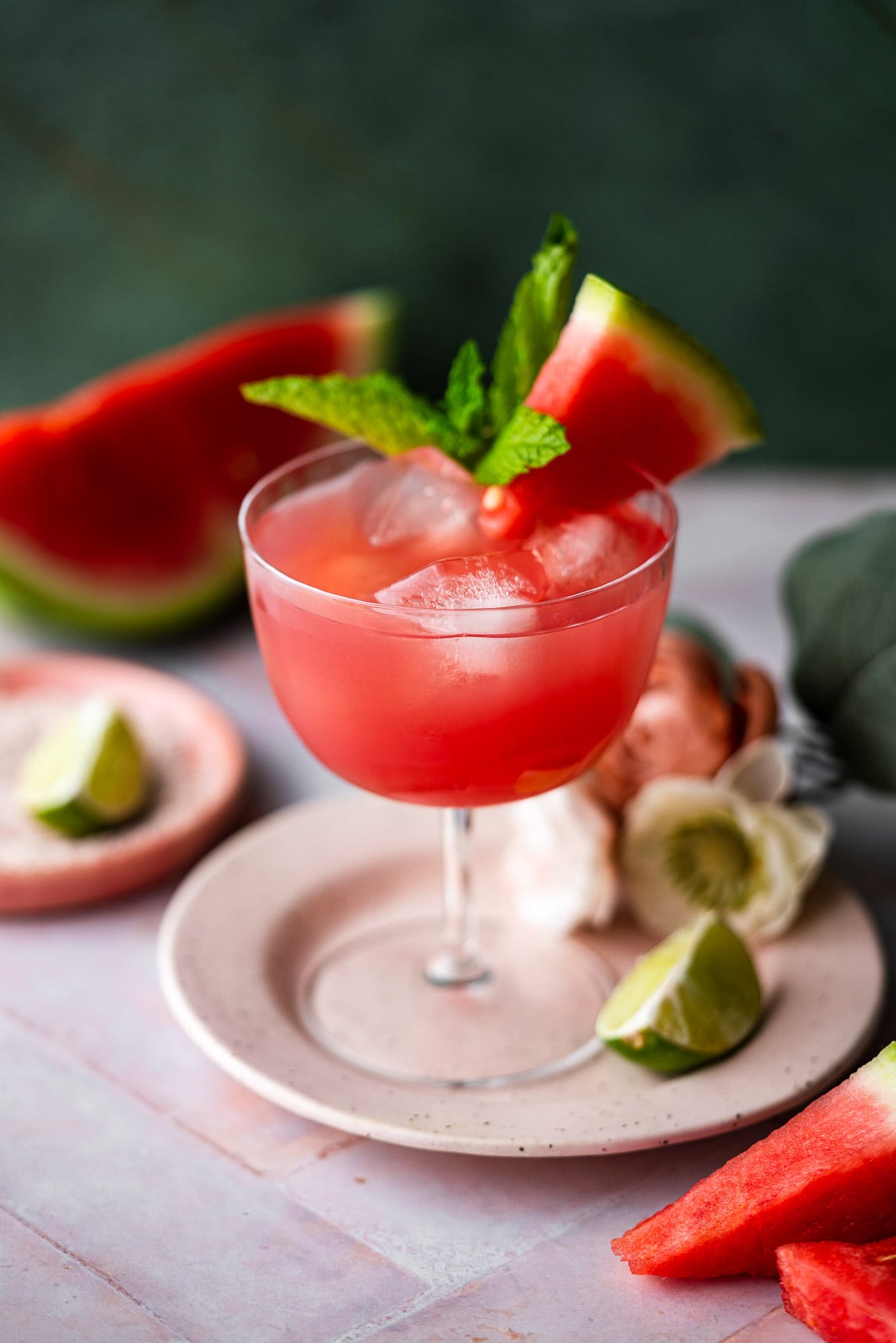 More Summer Drinks to Enjoy
Recipe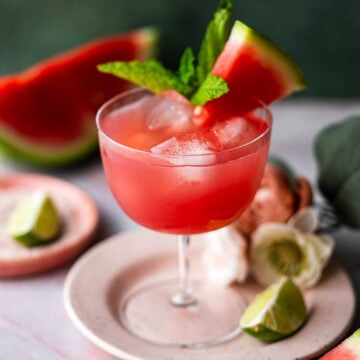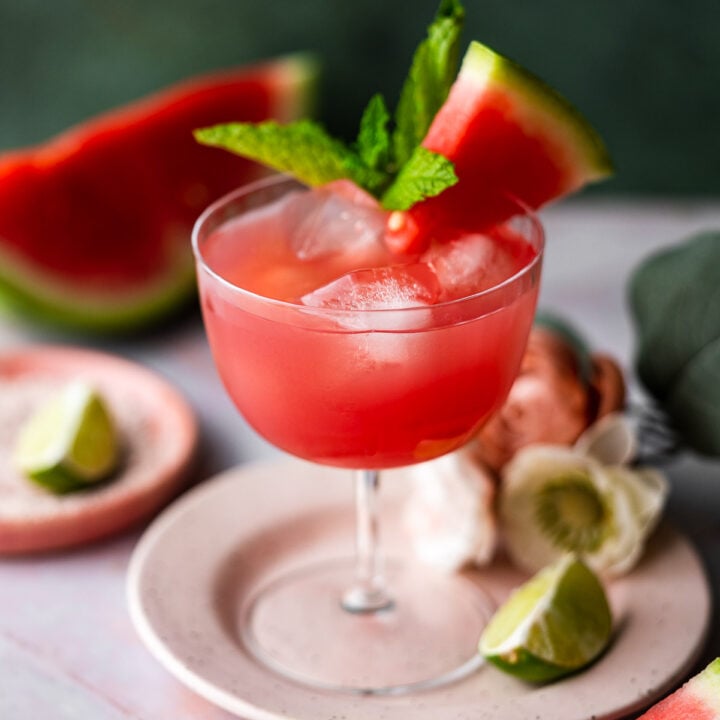 Watermelon Juice
This easy homemade Watermelon Juice is perfect for cooling down on hot summer days! Add a sprinkle of kala namak for a little Indian twist to enjoy watermelon like we do.
Print
Pin
Rate
Ingredients
½

small watermelon

,

cubed

4

oz

water

½

oz

lime or lime juice

¼

teaspoon

kala namak,

(black salt)

mint leaves

,

for garnish
Instructions
Cut the watermelon into quarters. Remove the pulp, preferably deseed the watermelon, and transfer it into a blender. Discard the rind.

Add the water and lemon juice into the blender and puree until completely smooth.

Strain the watermelon juice into a pitcher. Add a sprinkle of kala namak and stir.

Garnish with mint leaves and serve chilled in tall juice glasses.
Notes
If you'd like a sweeter juice, substitute the water with simple syrup.
The watermelon juice may separate over time. Simply give it a stir for it to come together again.
Nutrition
Calories:
85
kcal
|
Carbohydrates:
21
g
|
Protein:
2
g
|
Fat:
1
g
|
Saturated Fat:
1
g
|
Polyunsaturated Fat:
1
g
|
Monounsaturated Fat:
1
g
|
Sodium:
150
mg
|
Potassium:
319
mg
|
Fiber:
1
g
|
Sugar:
18
g
|
Vitamin A:
1601
IU
|
Vitamin C:
24
mg
|
Calcium:
21
mg
|
Iron:
1
mg