FLUFFY. WHIPPED. RICOTTA. TOAST. Drizzled in olive oil. Tons of flaky sea salt. Yes yes yes! This appetizer is insanely easy and uber satisfying.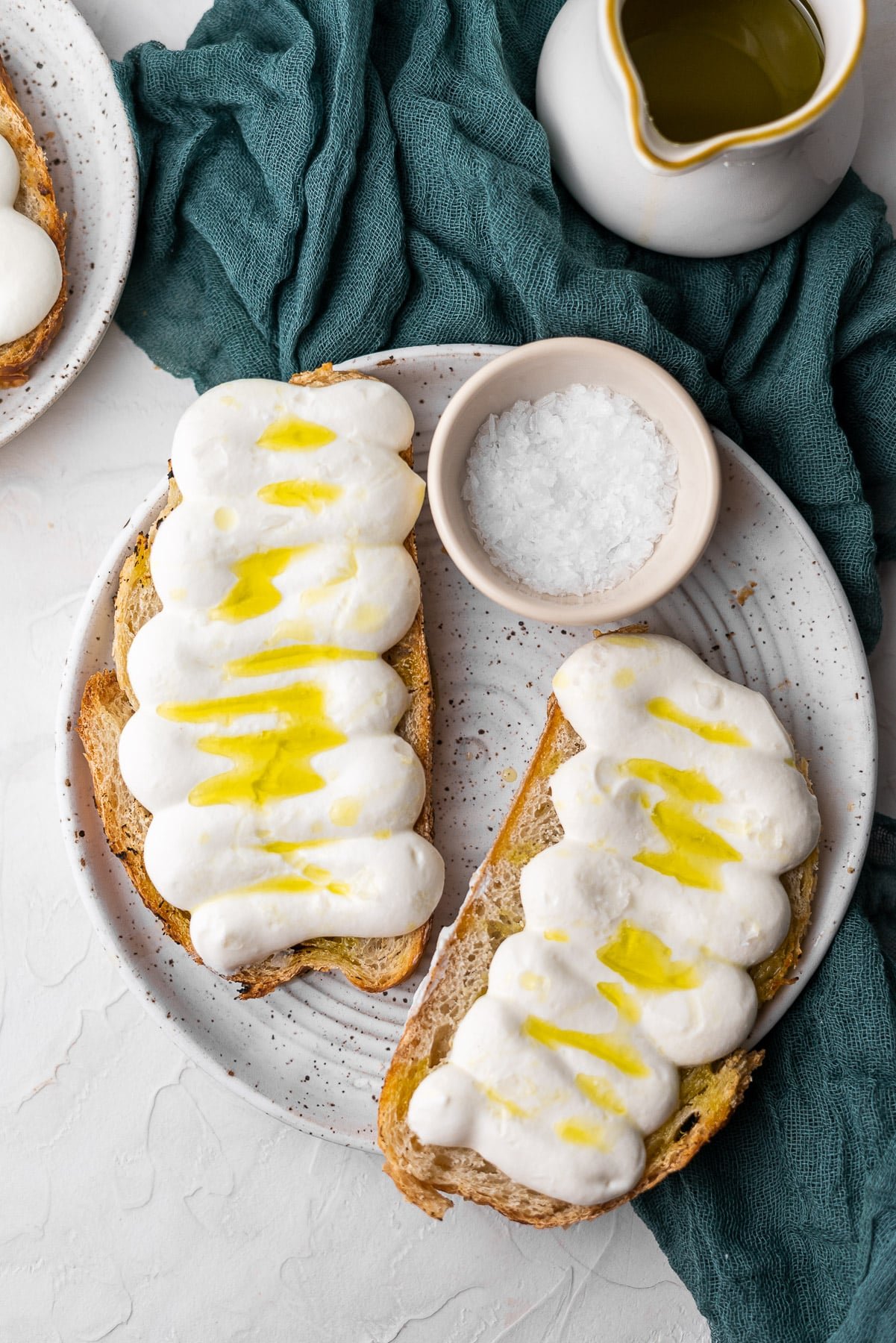 I'm so excited to share this copycat Misi Whipped Ricotta Toast recipe with my fellow New Yorkers and Misi lovers!
The first time I ever had whipped ricotta toast was at Misi in Williamsburg, Brooklyn. Fortunately for me, the friend I went with is a psychopath that doesn't like cheese so I ate all three slices! Unfortunately for me, getting to Williamsburg on the L train is an absolute pain and getting a reservation at Misi is even worse. Eventually, I began to see this appetizer pop up at various different restaurants for a whopping $15 and like most people I said "this can't be that hard to make at home???" Et voila! Turns out it's ridiculously quick, cheap, and easy to DIY.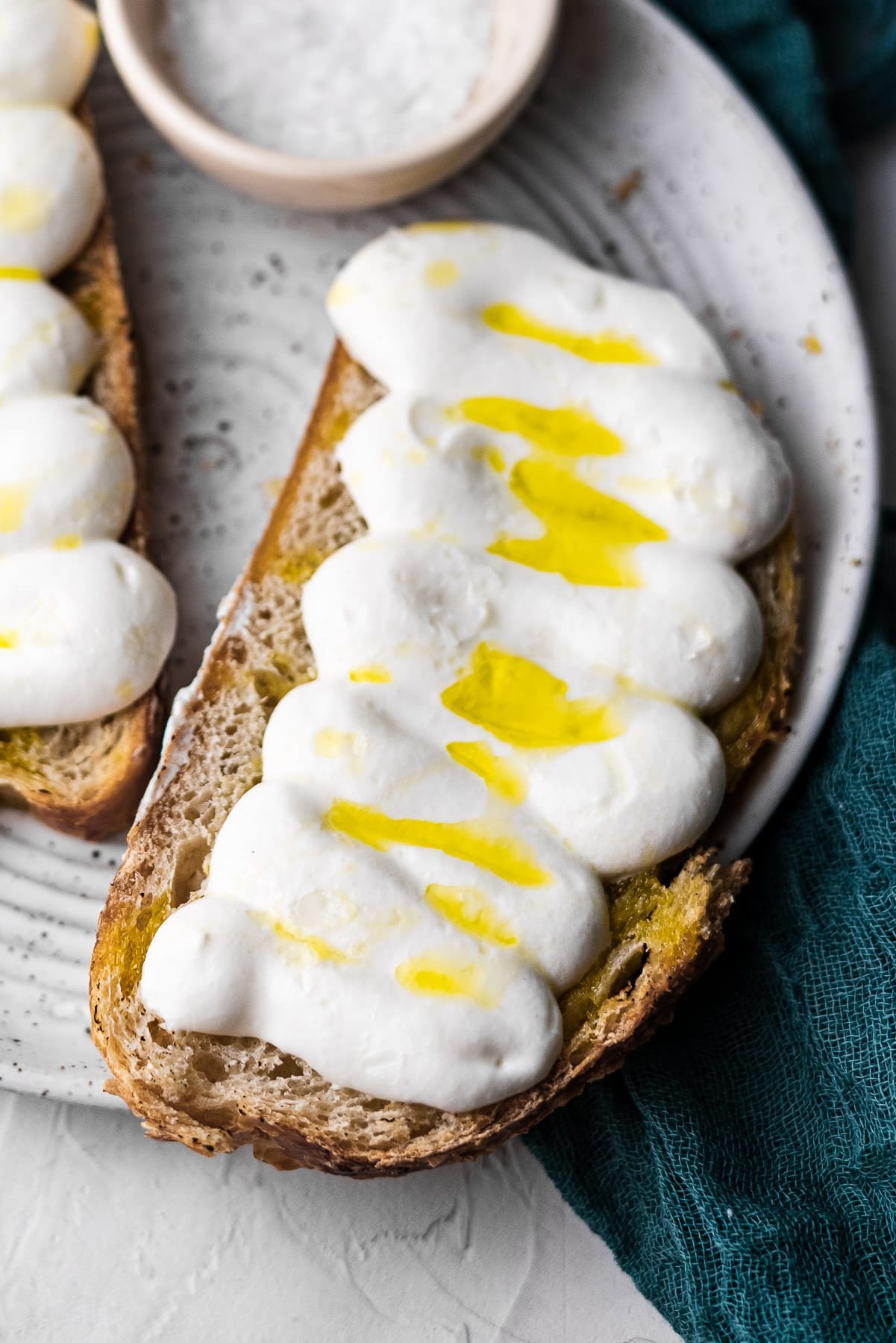 MAKING WHIPPED RICOTTA TOAST
This is without a doubt the quickest, easiest appetizer you can make. Sometimes it's a quick lunch for me in between meetings.
You're going to want to use the highest quality ricotta you can find, whether it's making it fresh at home or getting some from a local dairy farm at the farmer's market. It completely changes the taste of the ricotta, but store bought is completely fine.
Whip the ricotta. All you have to do is aerate the ricotta with the EVOO and heavy cream mixed in until it's smooth and fluffy. You can do this with a rubber spatula, a whisk, a blender, or preferably a food processor for up to 5 minutes. The food processor gives the fluffiest, smoothest texture that's ideal. Toast your Italian bread while the ricotta is in the food processor.
Pipe the ricotta. Spoon the ricotta into a Ziploc bag or decorating bag. Be sure to push the ricotta towards the tip you're going to cut to prevent air bubbles. Cut a dime sized tip, and pipe it on toast in a snake motion.
Serve. Misi only sprinkles the toast with a bit of flaky sea salt but I love it with an extra drizzle of olive oil.
I recommend adding a side salad, charred peppers, or some fruits to go with it to make it a whole meal!
OTHER TOPPINGS
The best part is that you can make so many different variations of this toast. While I chose to make it a bit more savory by adding olive oil and my favorite flaky sea salt, you can go the opposite way!
A few people told me that they would completely omit the olive oil in this recipe and add fresh fruit or jams instead, making it the perfect breakfast. I'll personally be adding some grilled caramelized peaches to mine with some honey. I meannnn… drooooool! Check out the sweet version of the toast!
HOW TO STORE WHIPPED RICOTTA
Store any extra whipped ricotta in an airtight container in the fridge. Mark the expiration date for the ricotta. For use the next day, toast your bread and follow the piping steps.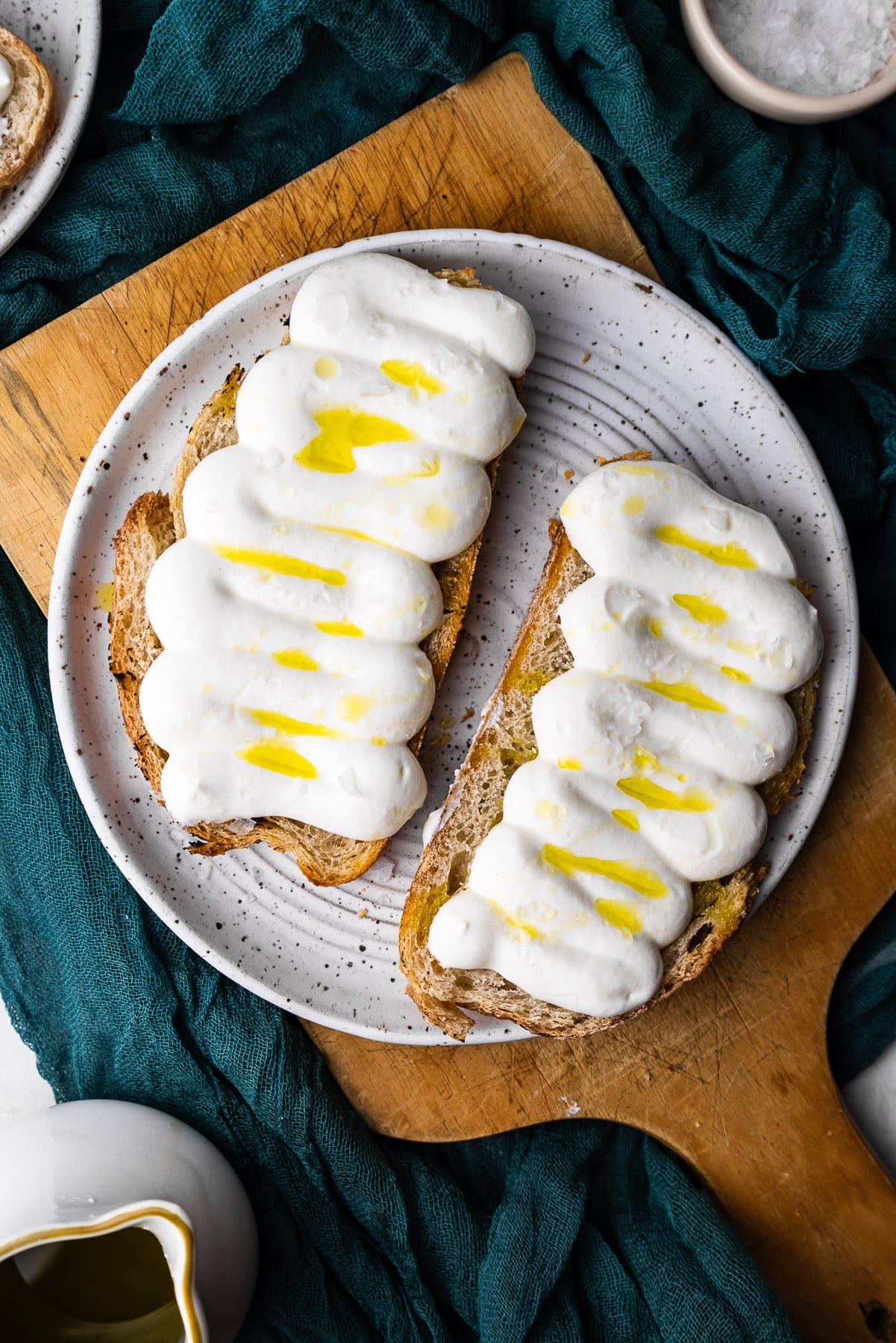 MORE DELICIOUS APPETIZERS TO TRY
Looking for more appetizers? I gotchu!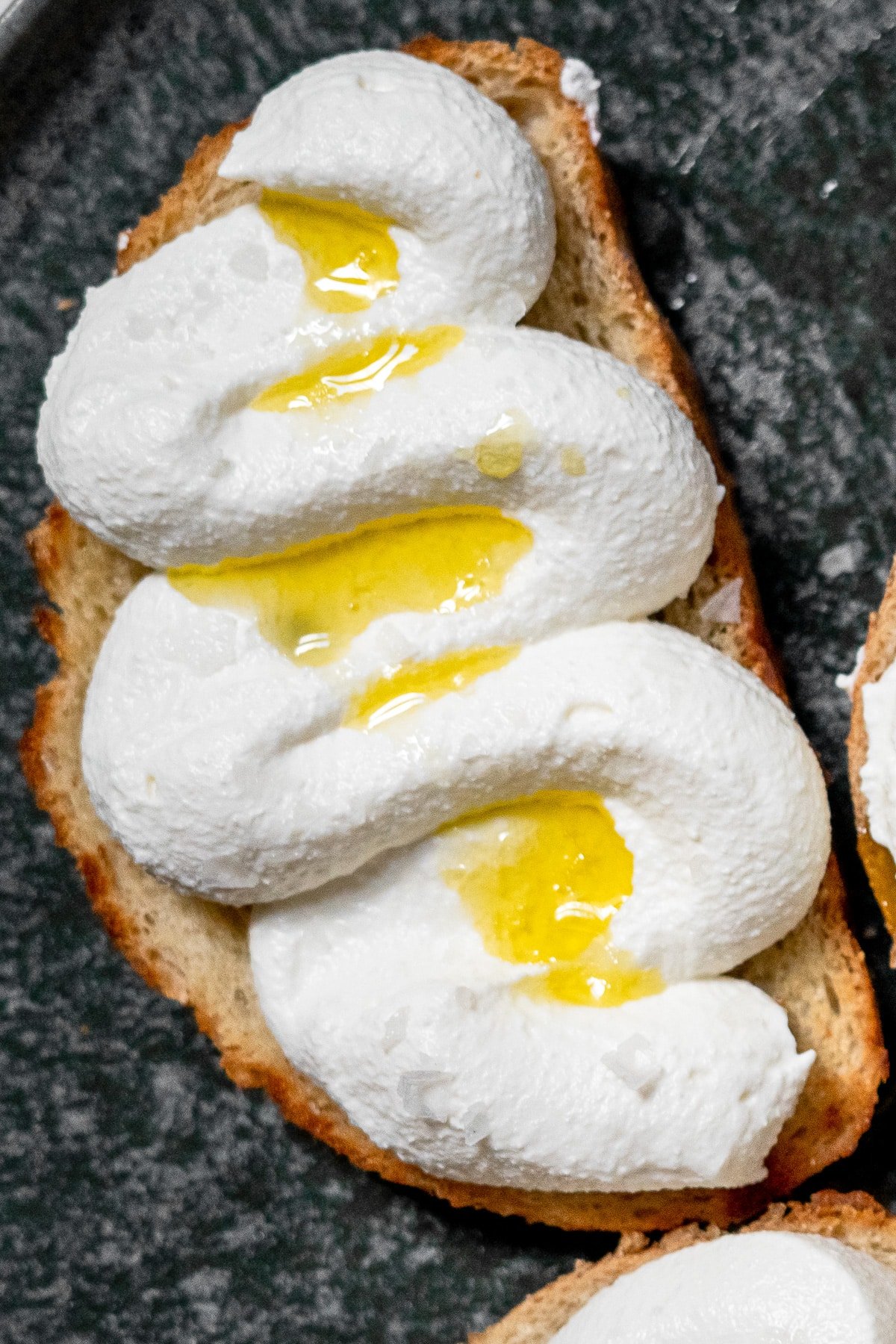 Print Recipe
Whipped Ricotta Toast
Quick and easy whipped ricotta, yielding the fluffiest ricotta on Italian toast with a sprinkle of flaky salt and drizzle of olive oil. It's like biting into a cloud!
Ingredients
4

slices

Italian bread

1

cup

ricotta

1/4

cup

heavy cream

1

tbsp

extra virgin olive oil

(and extra for garnishing)

pinch

of flaky sea salt
Text Ingredients
Instructions
Lightly toast your sliced Italian bread in unsalted butter

In a bowl, whip the ricotta, heavy cream, and olive oil together until smooth and fluffy. You can use a food processor, blender, whisk, or rubber spatula. Whatever you have that will aerate and incorporate the ingredients works. Add more ricotta if it's too runny, add more heavy cream if it's too thick.

Add the filling into a piping bag. Make sure you remove any air bubbles otherwise it'll disrupt the flow. Cut a dime sized tip and pipe it on your toast.

Drizzle in olive oil and sprinkle some flaky sea salt on top.
Notes
Aerating the ricotta: Using a food processor to whip the ricotta for a few minutes is how you will get the absolute fluffiest, smoothest ricotta. However, that definitely takes extra time and results in more dishes so a rubber spatula or whisk works just fine.
NUTRITION
Nutrition Facts
Whipped Ricotta Toast
Amount per Serving
% Daily Value*
* Percent Daily Values are based on a 2000 calorie diet.
Did you make this recipe?
Tag @masalaandchai in your post and stories on Instagram!
I'd love to know what you thought of this recipe! Leave a comment and rating below! You can also find me on Pinterest and Facebook, or stay in touch with me via my Newsletter!