Make these glorious no-bake Cheesecake Stuffed Strawberries, a decadent and simple dessert. This strawberry cheesecake dessert is topped with a graham cracker crust, stuffed with creamy cheesecake, and drizzled with plenty of chocolate to impress your boo for Valentine's Day and your gals for Galentine's Day!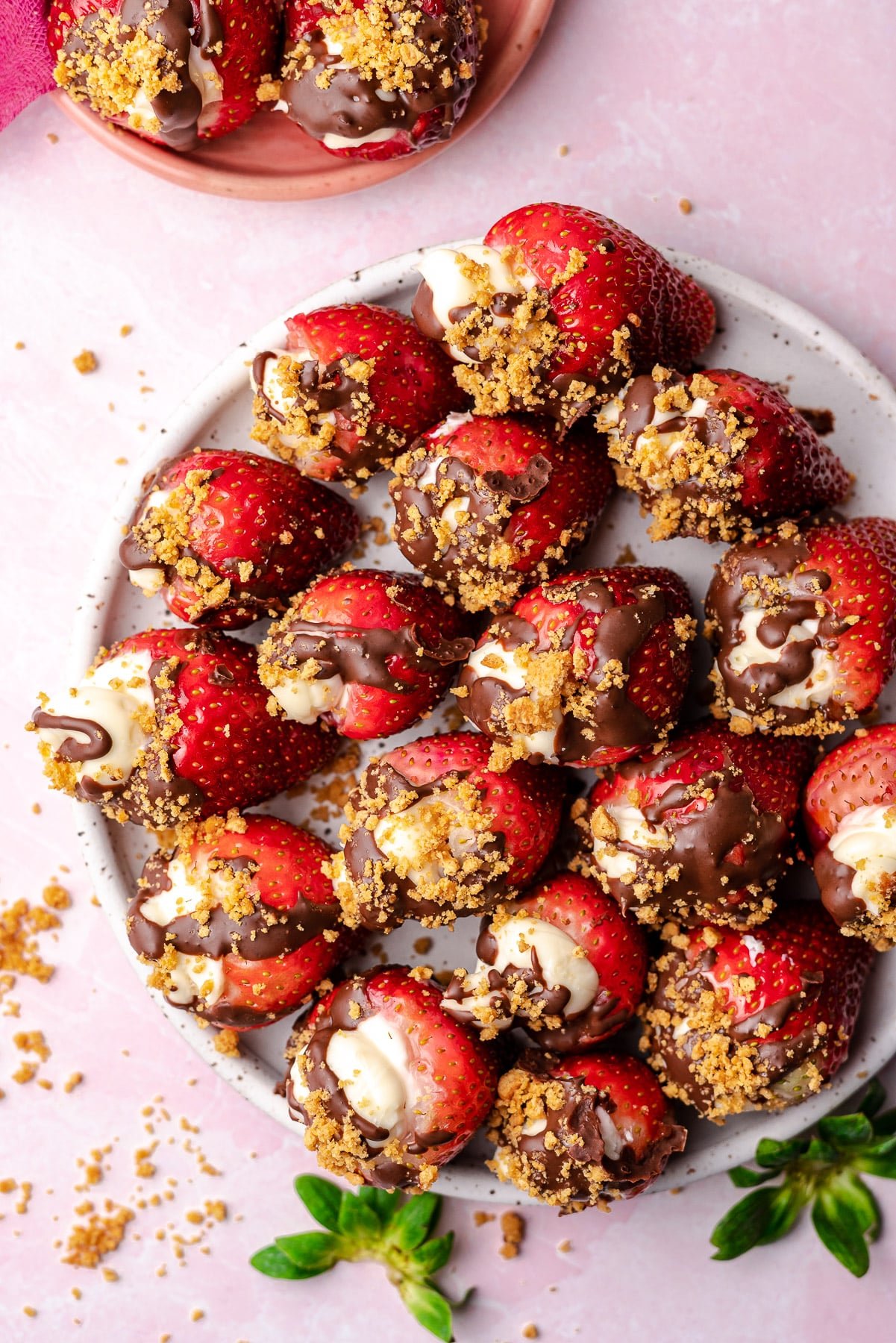 I first made these strawberries back in July 2012, which I fondly refer to as the MVP v1.0, Minimum Viable Product Version 1.0. If I remember correctly, it was a simple mixture of cream cheese and powdered sugar with hollowed strawberries that were topped with a chocolate syrup. I posted the ugliest photo ever on Facebook, proud of my creation. Well, I have since perfected the recipe and dare I say... move over Edible Arrangements!
Jump to:
Making the cheesecake filling, stuffing the strawberries, and decorating is so simple and makes the most delicious dessert with very little effort! It's less time consuming and arduous than make a cheesecake, not to mention an upgrade from plain chocolate dipped strawberries.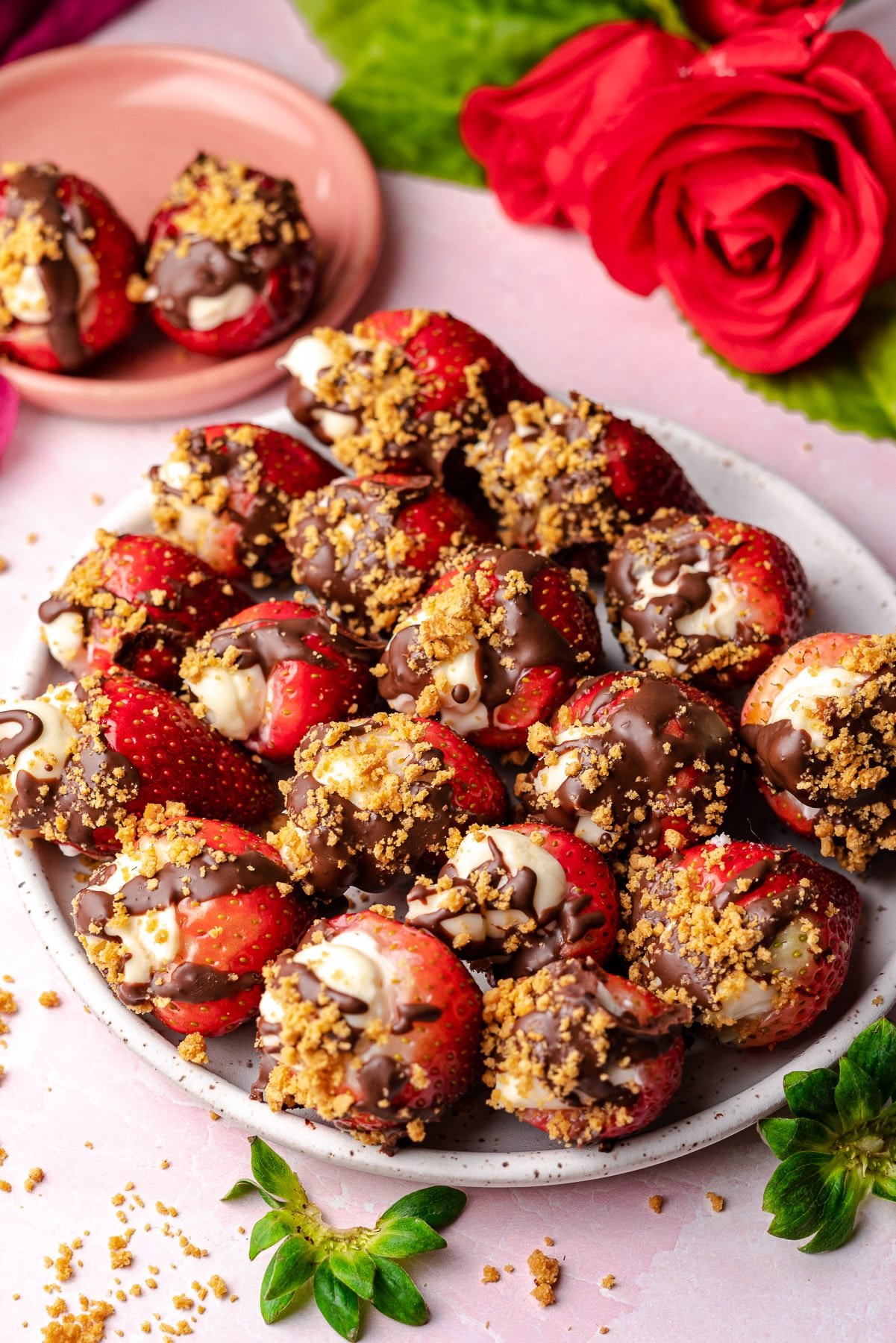 Trust me, this will impress ya boo for Valentine's Day, your Galentines' boos, a baby shower, or they make a fantastic treat for yourself.
The Ingredients - Notes and Substitutions
The ingredients for the Cheesecake Stuffed Strawberries are mostly likely already in your kitchen or an easy grocery run away.
Strawberries: I love this recipe because strawberries are pretty much available year-round! You'll want to find plump strawberries, and be sure to purchase them within a day or two of intending to use them.
Cream cheese: This is the base of the cheesecake filling. Ensure it is at room temperature.
Sour cream: The bit of tanginess from the sour cream is what makes this cheesecake so dang good! It can be omitted or substituted with a bit of plain full fat Greek yogurt.
Powdered sugar: The filling is sweetened using powdered sugar. Granulated will make the filling gritty, so try not to use this as a substitute.
Vanilla extract: Adds a depth of flavor.
Graham crackers: Cheesecake means there must be a graham cracker crust. To achieve this, you'll want to crush graham crackers and mix it with butter. Substitute the graham crackers with your favorite cookie or biscuits.
Butter: The graham crackers are mixed with unsalted butter to make a crust that is sprinkled on top of the strawberries.
Chocolate: This is entirely optional but makes it so delicious! It's like a cross between strawberry cheesecake and strawberries dipped in chocolate.
How to make a No-bake Cheesecake Filling
This cheesecake filling is one of my favorite things ever! It's a no-bake cheesecake recipe that I've been making for years.
Between clumpy batter or giant cracks down the middle, making a cheesecake is not an easy task. That's why this no-bake recipe is so fantastic! It's the same exact satisfaction and you can use it so many different ways! This Cheesecake Stuffed Strawberries recipe is one way, and it would be wonderful for a no-bake berry cheesecake and so many other things.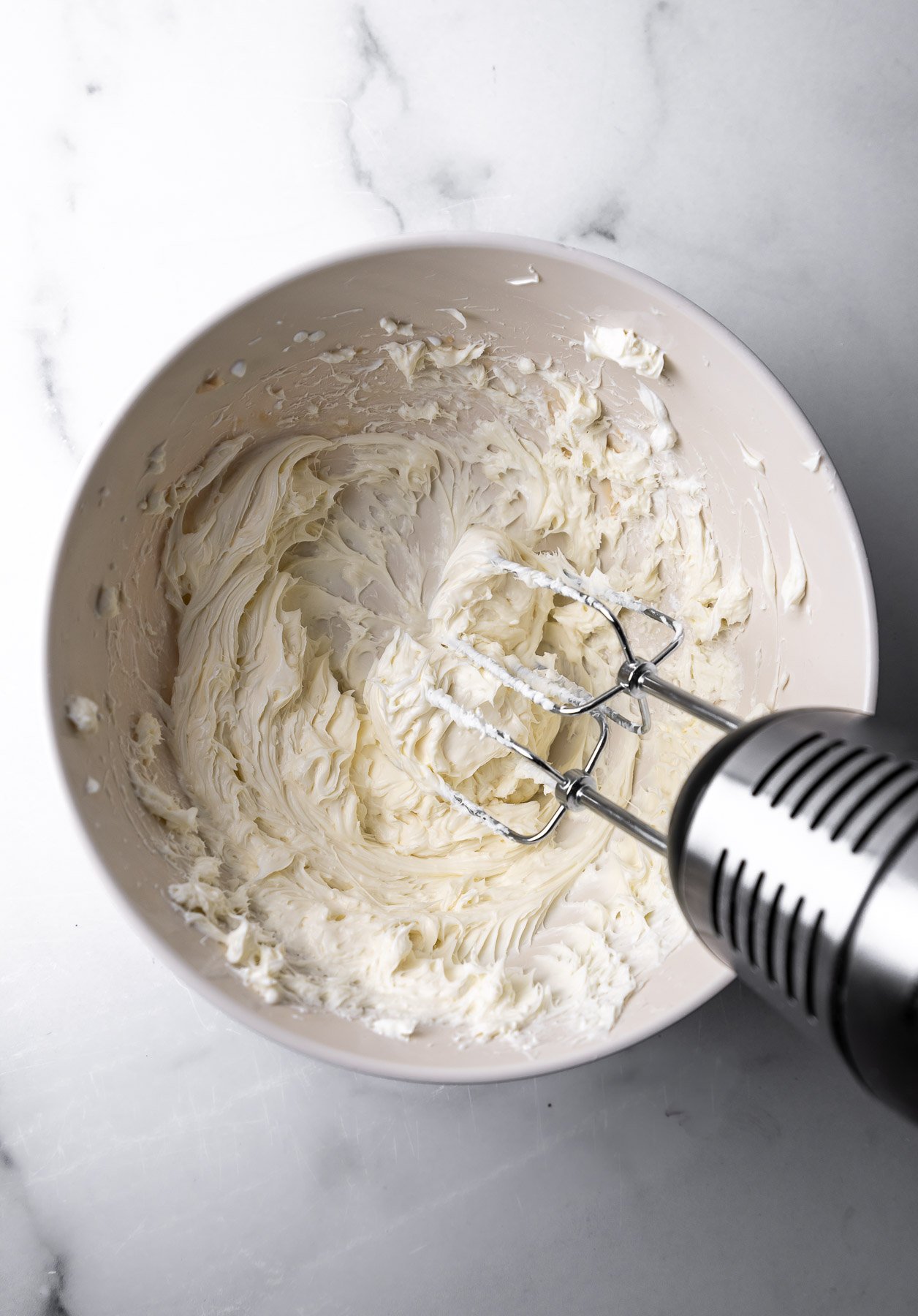 The no-bake cheesecake is only a whopping four ingredients: cream cheese, sour cream, powdered sugar, and vanilla extract. The cream cheese should be at room temperature to start with.
To make the cheesecake batter - All that needs to be done is to toss all four ingredients into a bowl and use a whisk or hand-held mixer to mix everything together until smooth and creamy.
After the batter has been made, transfer it into a piping bag or Ziploc bag and set aside while you prep the strawberries.
How to fill the Strawberries
While this recipe is so simple, I find that the biggest pain (that's really not even that bad) can be actually filling the strawberries. Once you've made the filling, you'll need to prep and fill the strawberries.
Prep the strawberries. Start by prepping the strawberries to be filled. After washing them, remove all of the leaves. Then, use a small paring knife to hollow out the insides. For ease of handling the strawberries, cut a small portion of the bottom to make it flat so the berries stand straight. My favorite trick is to use a wide straw and push through the strawberry from the bottom, removing the inside and the leaves all at the same time. Another fun trick would be to cut off the top part of the strawberries with the leaves to form a flat surface, flip the strawberry over, and cut a deep "X" down the tip to allow space for the filling.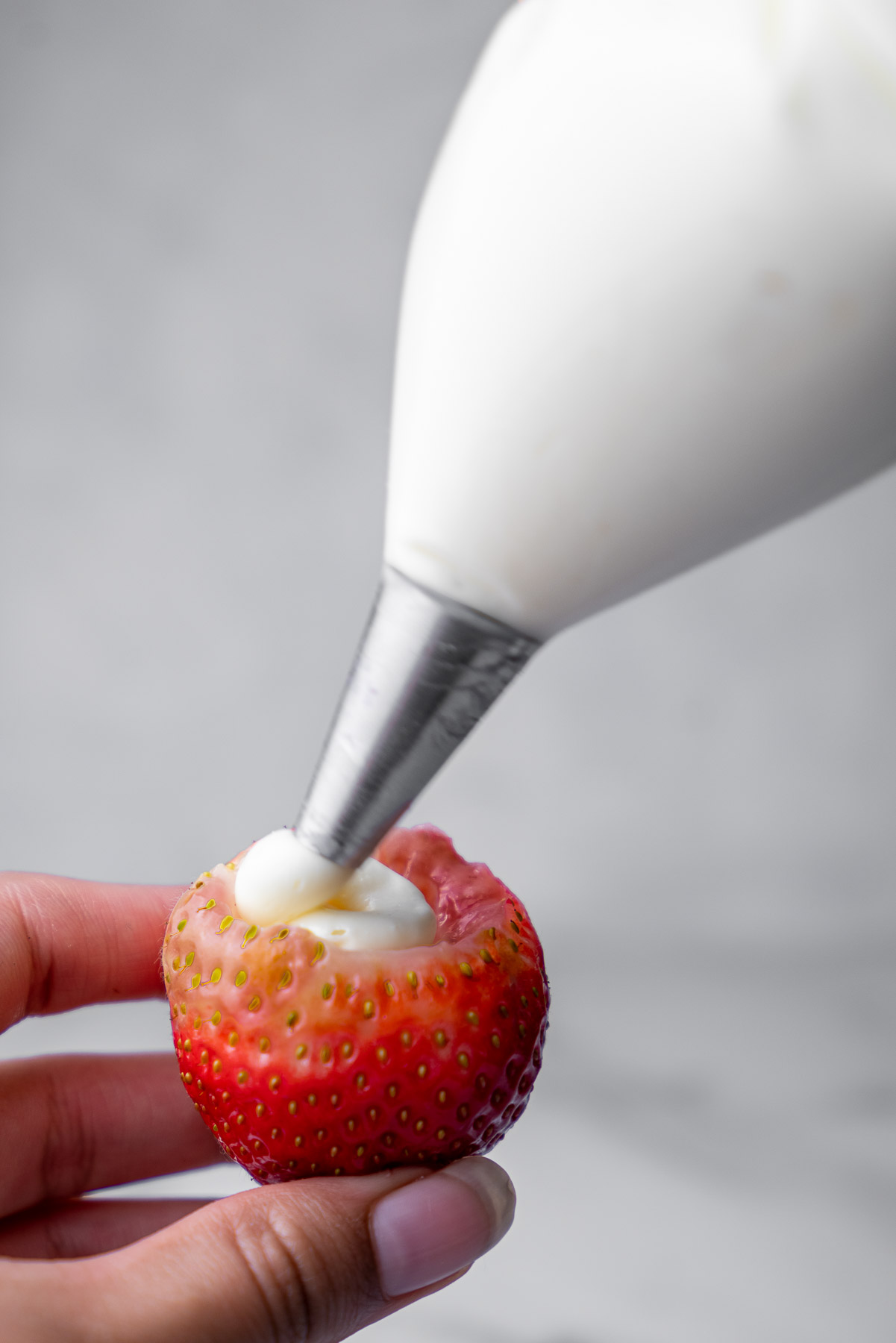 Fill the strawberries. Simply cut a small tip in the decorating bag with the no-bake cheesecake filling when ready to pipe. I like to use a round tip, but more decorative tips would be cute as well. Depending on the size of the strawberry, use about a teaspoon or more of cheesecake filling per berry and pipe until it slightly overflows. Repeat with all the strawberries.
The recipe for the cheesecake filling should fill about a quart of strawberries, depending on their size.
Suggestions for Toppings
The graham cracker crust topping is so so delicious and easy to make!
To make the graham cracker crust - Crush the graham crackers into crumbs. To do this, I put them in a Ziploc bag, seal it, and then use a rolling pin to crush them. Then, melt the butter and pour it into the Ziploc bag with the graham cracker crumbs. Massage the butter into the crumbs, and you're done! Sprinkle it on to the cheesecake batter that is overflowing for it to stick.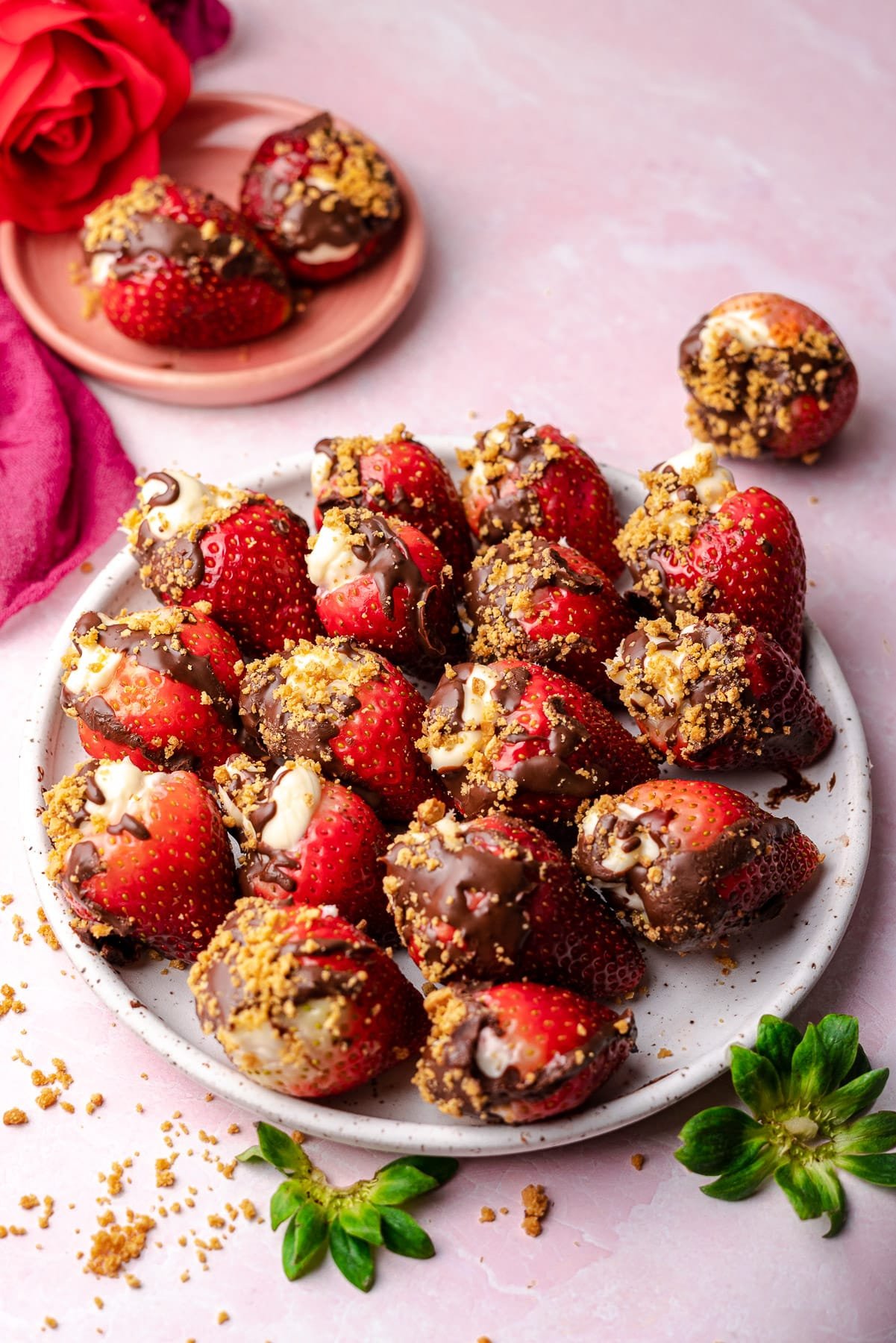 I also think chocolate is so so dang good for this! It's basically a hybrid of a strawberry cheesecake and chocolate strawberries! Melt your choice of chocolate, and drizzle it over the strawberries. This also makes it much easier to get the graham cracker crust to adhere to the strawberries.
Some other delicious toppings include:
Sprinkles
Whipped cream
Caramel
Nutella
Peanuts
Expert Tips
This recipe is fail proof because it's so easy, but here's a few of my favorite tips!
Cut off a small portion of the tip of the strawberry so that it can lay flat without falling over.
Hollow out the strawberry with a metal straw by pushing the straw from the bottom to the top which will remove the middle and the stem.
Over fill the strawberry to get the perfect strawberry to cheesecake ratio/
Add sour cream to get a bit of the tangy cheesecake flavor.
If you don't have powdered sugar, transfer granulated sugar to a blender or coffee grinder and run it until it becomes a powder.
Frequently Asked Questions
How do you hollow out a strawberry?
Hollow out a strawberry but using a paring knife to remove the stem and then carefully remove the inside.
Is the cheesecake filling eggless?
The cheesecake filling is a no-bake recipe and therefore does not require any egg or gelatin to maintain it's structure.
Does the no-bake cheesecake filling need time to set?
No, it doesn't! The cheesecake filling doesn't need anytime in the fridge unless you plan on keeping it outside for a while, since it still is a dairy product.
Can I prep this ahead?
Absolutely! You can make the cheesecake filling a day or two ahead of time and store it in the refrigerator in an airtight container. The strawberries filled with cheesecake can be stored in the fridge for 3-5 days in an airtight container. although the graham cracker crust may become a bit soggy.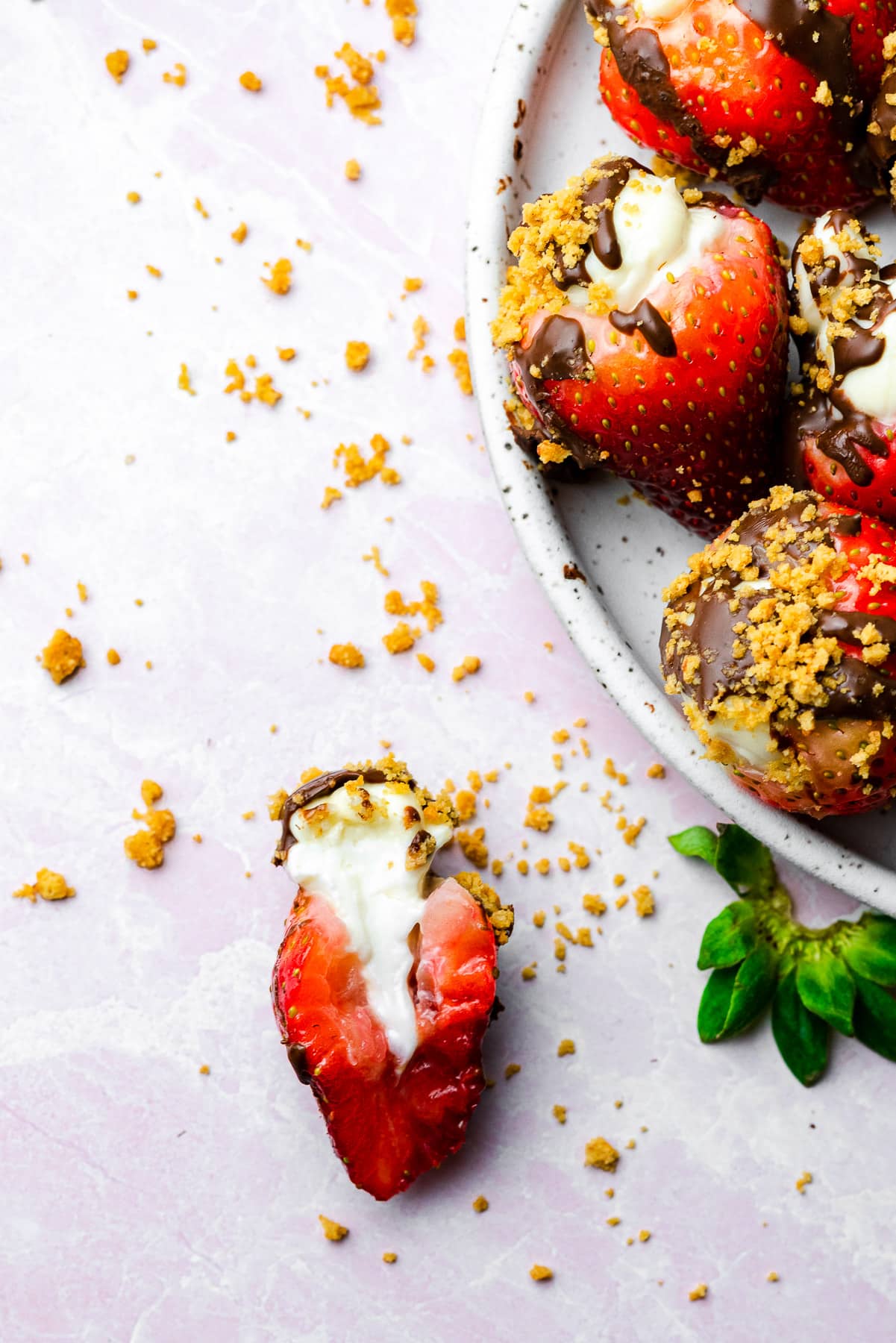 More Dessert Recipes to try
Looking for more Valentine's Day dessert recipes? Here's a few to try!
Recipe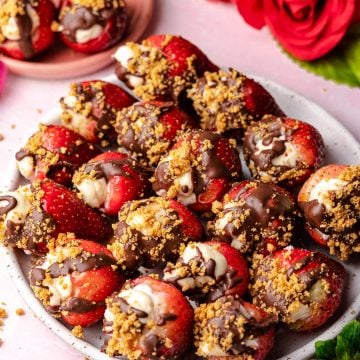 Cheesecake Stuffed Strawberries
Make these glorious no-bake Cheesecake Stuffed Strawberries, a decadent and simple dessert. It will absolutely impress your boo for Valentine's Day and your gals for Galentine's Day!
Servings:
35
strawberries
Print
Rate
Ingredients
1

quart

strawberries

8

oz

cream cheese

2

tablespoon

sour cream

⅓

cup

powdered sugar

½

teaspoon

vanilla extract

3½

oz

graham crackers

1

tablespoon

butter

,

melted

1

oz

chocolate

,

melted
Instructions
Prep the strawberries by removing the stems. Use a paring knife to hollow out the white parts of the strawberries.

In a large bowl, cream together the cream cheese, sour cream, powdered sugar, and vanilla extract with a handheld mixer. Transfer the cheesecake mixture into a decorating bag.

Add the graham crackers to a ziploc bag and seal it tightly. Crush the graham crackers by gently hitting them with a rolling pin. Pour the melted butter into the ziploc bag and seal it again. Rub the butter together with the graham crackers.

Assemble: Assemble the strawberries. Cut a small tip in the piping bag and pipe about 1-2 teaspoon of cheesecake filling into the strawberries. Drizzle the melted chocolate over the strawberries and then sprinkle with the graham cracker crust.
Notes
For ease of handling the strawberries, cut off a small part of the bottom of the strawberry to create a flat surface.

The cheesecake filling does not need time to set in the fridge.
Nutrition
Calories:
56
kcal
|
Carbohydrates:
6
g
|
Protein:
1
g
|
Fat:
3
g
|
Saturated Fat:
2
g
|
Cholesterol:
8
mg
|
Sodium:
41
mg
|
Potassium:
58
mg
|
Fiber:
1
g
|
Sugar:
4
g
|
Vitamin A:
105
IU
|
Vitamin C:
16
mg
|
Calcium:
14
mg
|
Iron:
1
mg