This tangy, sweet Strawberry Lassi is ready in just 10 minutes using 4 main ingredients! Enjoy this Indian lassi using fresh or frozen strawberries that's fragrant with freshly ground cardamom. It's the perfect fruity drink for warm weather!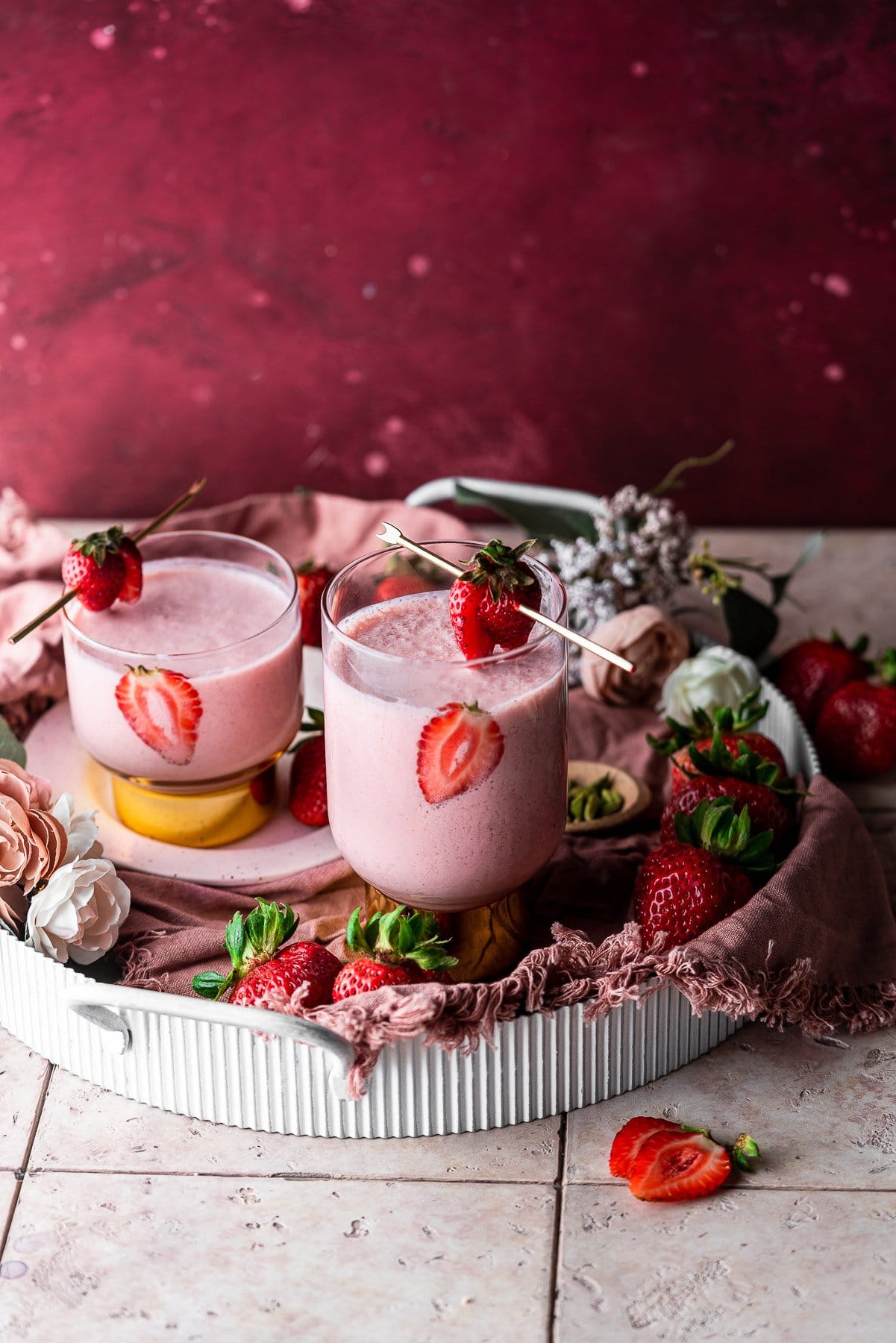 The summer is for lassis and lassis are for the summer! I especially love making a weekly lassi or two during humid weather with fresh, in season fruit and homemade dahi. You may know of the classic Mango Lassi and have enjoyed it at an Indian restaurant or with your take out.
Strawberry Lassi is a fun take on a classic Indian lassi and an alternative to regular American strawberry yogurt-based smoothies and drinks. It's made with fresh strawberries, milk, tangy yogurt, and fragrant cardamom.
It's quick and easy to make in a blender, so much so that even your kids can make it for you! Sit back, relax, and have a strawberry lassi poolside or maybe as a refreshing after school drink.
If you have a ton of fresh strawberries, try out these Cheesecake Stuffed Strawberries and Strawberry Cream Cheese Turnovers!
Jump to:
What is Lassi?
Did you know lassi is a type of drink in the Indian subcontinent?
Lassi is a yogurt-based drink that originates from the Indian subcontinent. It's typically made sweet, or sometimes even salty with a blend of yogurt, milk, spices, and fruit or some type of flavoring.
Mango Lassi is the most popular version, but you can also find rose lassi or salty (namkeen) lassis at Indian restaurants.
Ingredients - Notes and Substitutions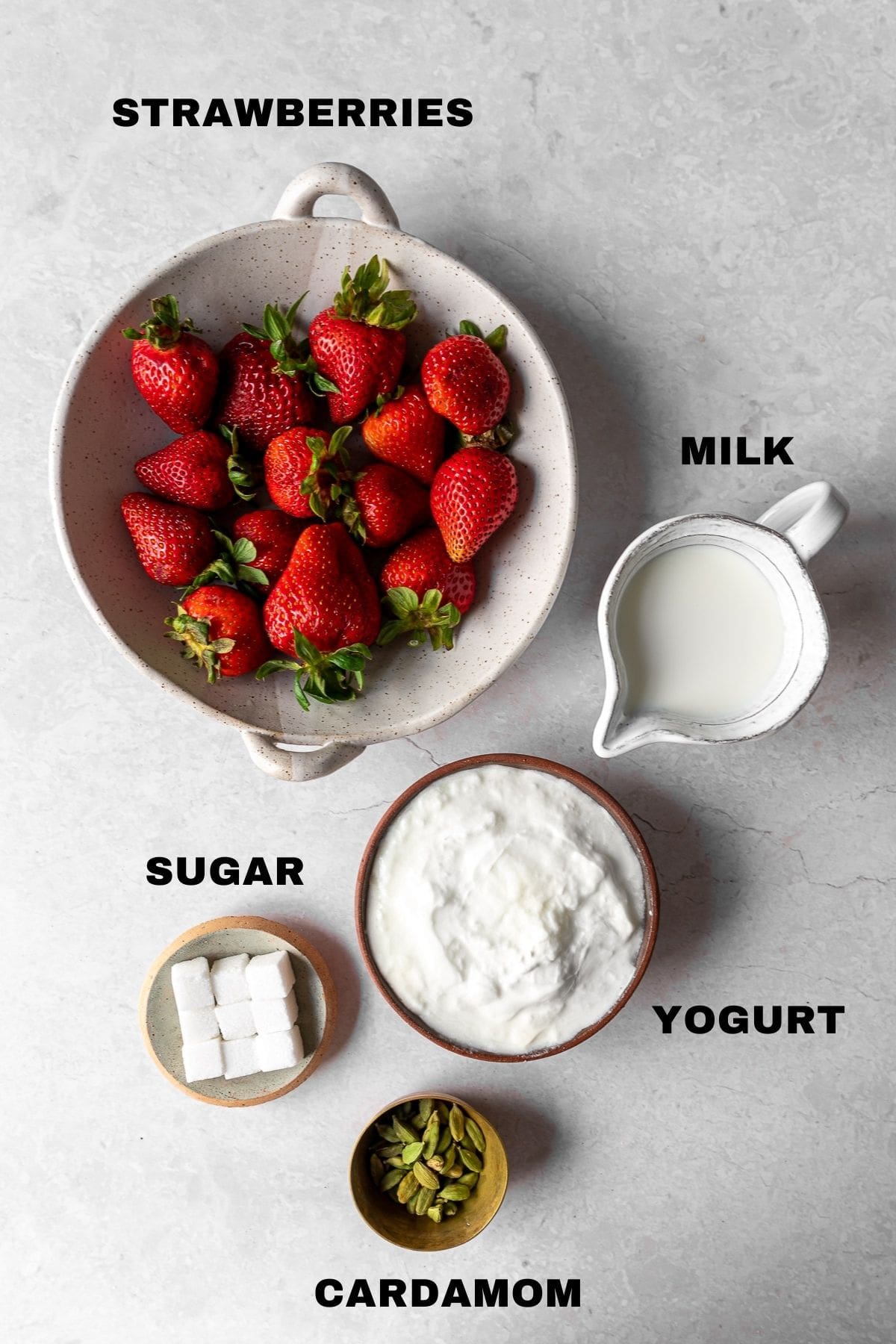 Strawberries - Use fresh or frozen strawberries. You can also use strawberry jam / preserve or strawberry syrup. I'd start by adding a tablespoon per serving and adjust per your taste.
Dairy - Plain whole milk yogurt, like desi dahi, is the best but you can use low-fat plain yogurt or Greek yogurt. Milk thins out the lassi for a thinner consistency, but it can be omitted or substituted with water depending on your desired consistency. I recommend whole milk. To make this lassi vegan, you can use a plain vegan yogurt of your choice (coconut is preferred) and almond or cashew milk.
Sweetener - The amount of sweetener you add is based on personal preference. My strawberries weren't super sweet so I ended up adding a bit more. Use maple syrup, honey, stevia, or monkfruit as substitutes to granulated sugar.
Spices - Strawberries with cardamom are one of my favorite fruit and spice combos. Freshly ground cardamom makes a huge difference for fresh fragrance and flavor.
How to make Strawberry Lassi
1. Prep the Strawberries.
First, begin by prepping the fresh strawberries.
Note: If they're frozen strawberries, you may want to run them in room temperature water so they're easier to blend with the thick yogurt. Use milk to thin out the lassi as needed. For strawberry preserves / syrup, start by using around a tablespoon of each per serving and adjusting to your taste.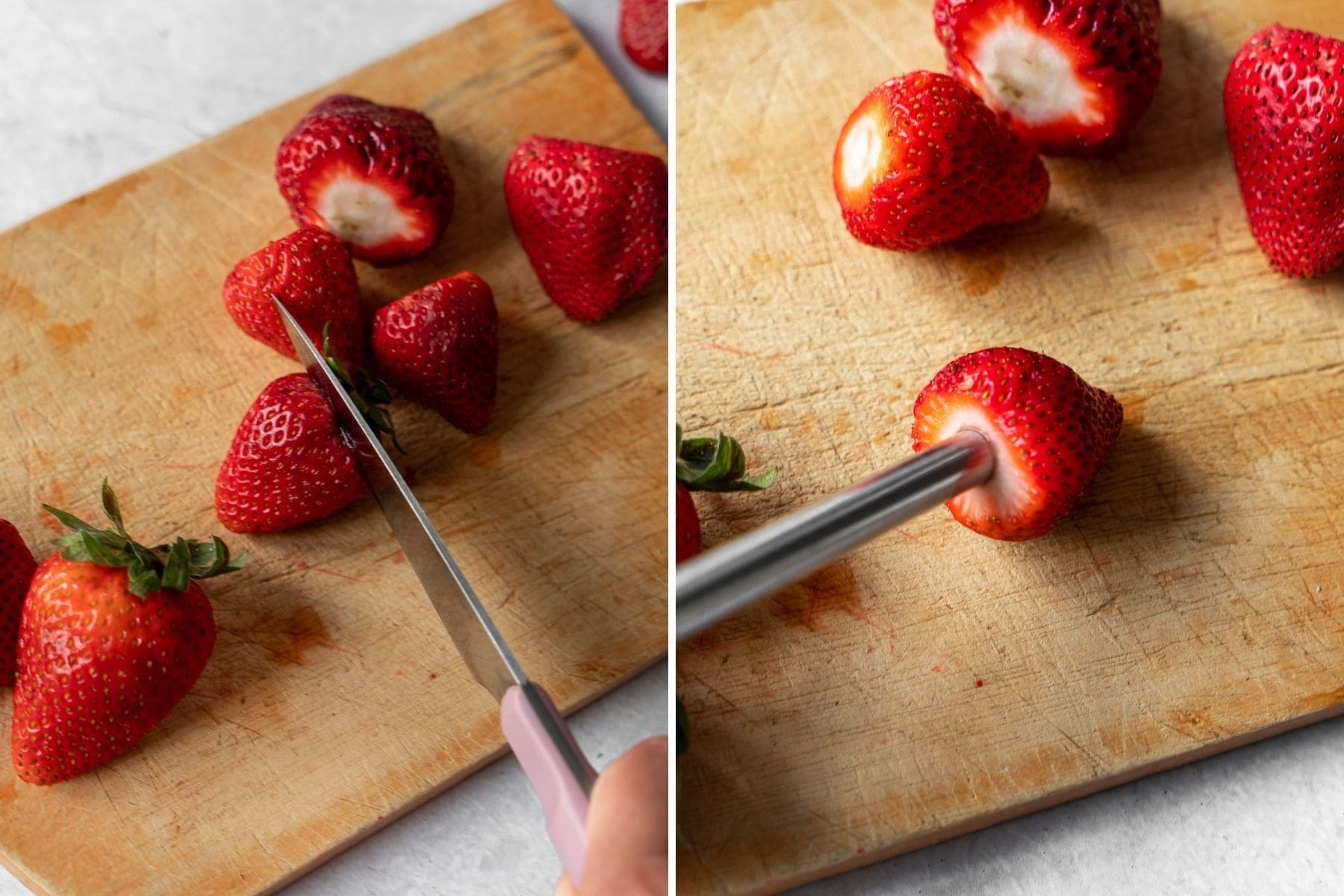 Remove the stems of the strawberries. Optionally, core the strawberry by pushing a straw through the center to remove the majority of the white parts. These have less flavor and tend to be sour.
Pro Tip: Halve or quarter the strawberries if you don't have a high speed blender.
2. Blend the Lassi
If you're using fresh cardamom, transfer the pods to a spice grinder or to a mortar and pestle. Grind them into a powder. Remove any large pieces of the shell.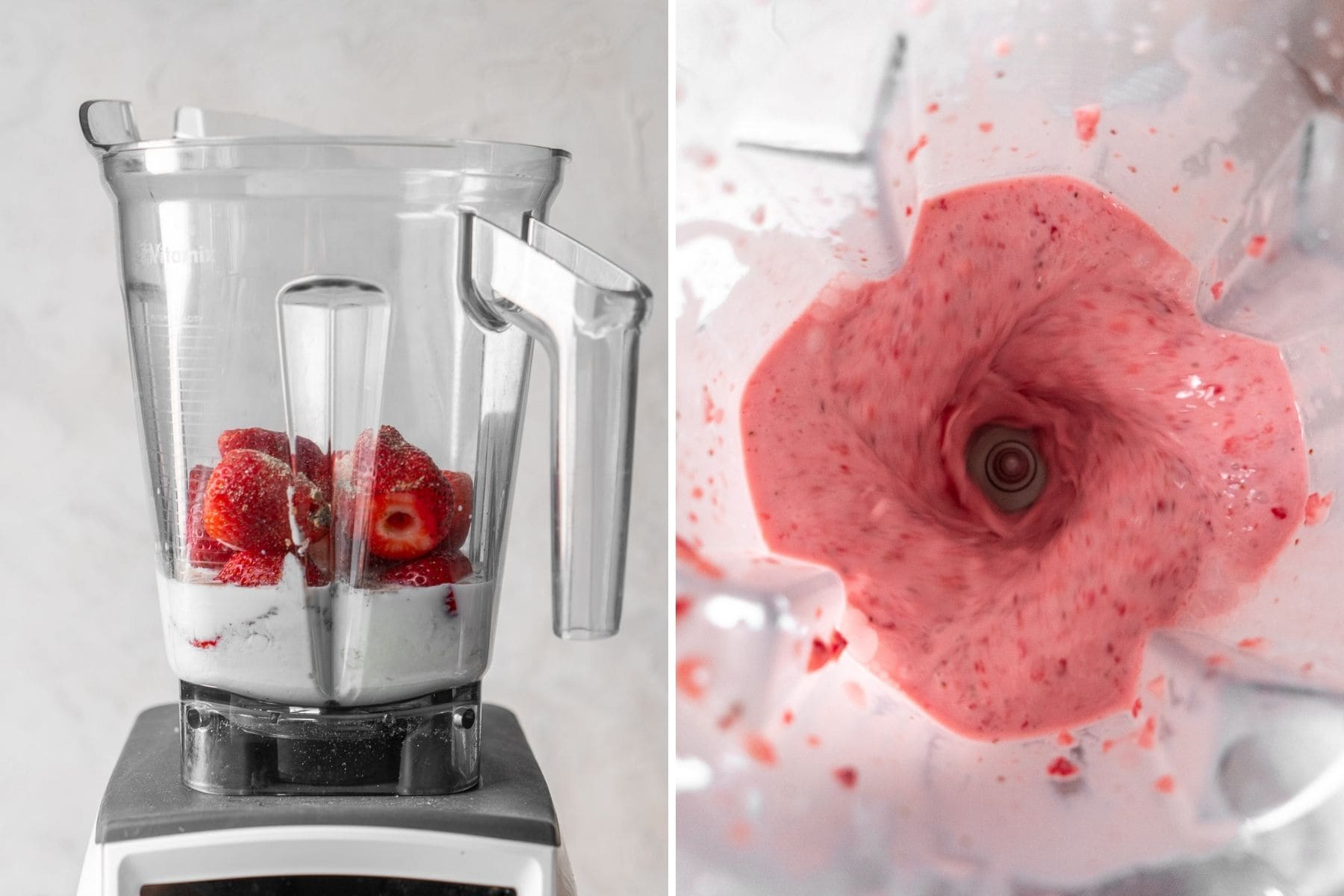 Add the dahi, milk, strawberries, ground cardamom, and sugar to a blender. Turn it to a medium to high speed and run the blender for 2-3 minutes until most of the strawberries have broken down.
Pro Tip: Use ingredients that are cold. Otherwise, add ice as necessary to have a cold lassi without transferring to the refrigerator to chill.
Serving Instructions
Lassis are typically enjoyed when the weather is super warm and humid or with spicy food as a cooling drink. Serve the lassis chilled in tall glasses. Add ice cubes as needed, but they're generally served without to prevent separation and watering down the drink.
Garnish the lassis with fresh strawberries on a cocktail pick or with slices of strawberries pressed against the glass. The lassi is also great with whipped cream or vanilla / strawberry ice cream.
They can be made ahead and kept in the fridge overnight in a covered pitcher. Give it a stir before serving in case of mild separation and to redistribute the flavors.
Strawberry lassis are also perfect for a romantic date night, Valentine's Day, or Galentine's Day with the bright pink color!
Serve it with a spicy appetizer like Samosa Chaat or pair it with Indian-Style Tea Sandwiches.
Expert Tips
As an avid lassi drinker over the past few decades, here are my recommendations:
Freshly ground cardamom gives the best aroma and flavor enhancement
Use dahi if possible, otherwise use full fat plain yogurt
Whole milk gives the best taste and consistency
Add a teaspoon of rosewater for a floral flavor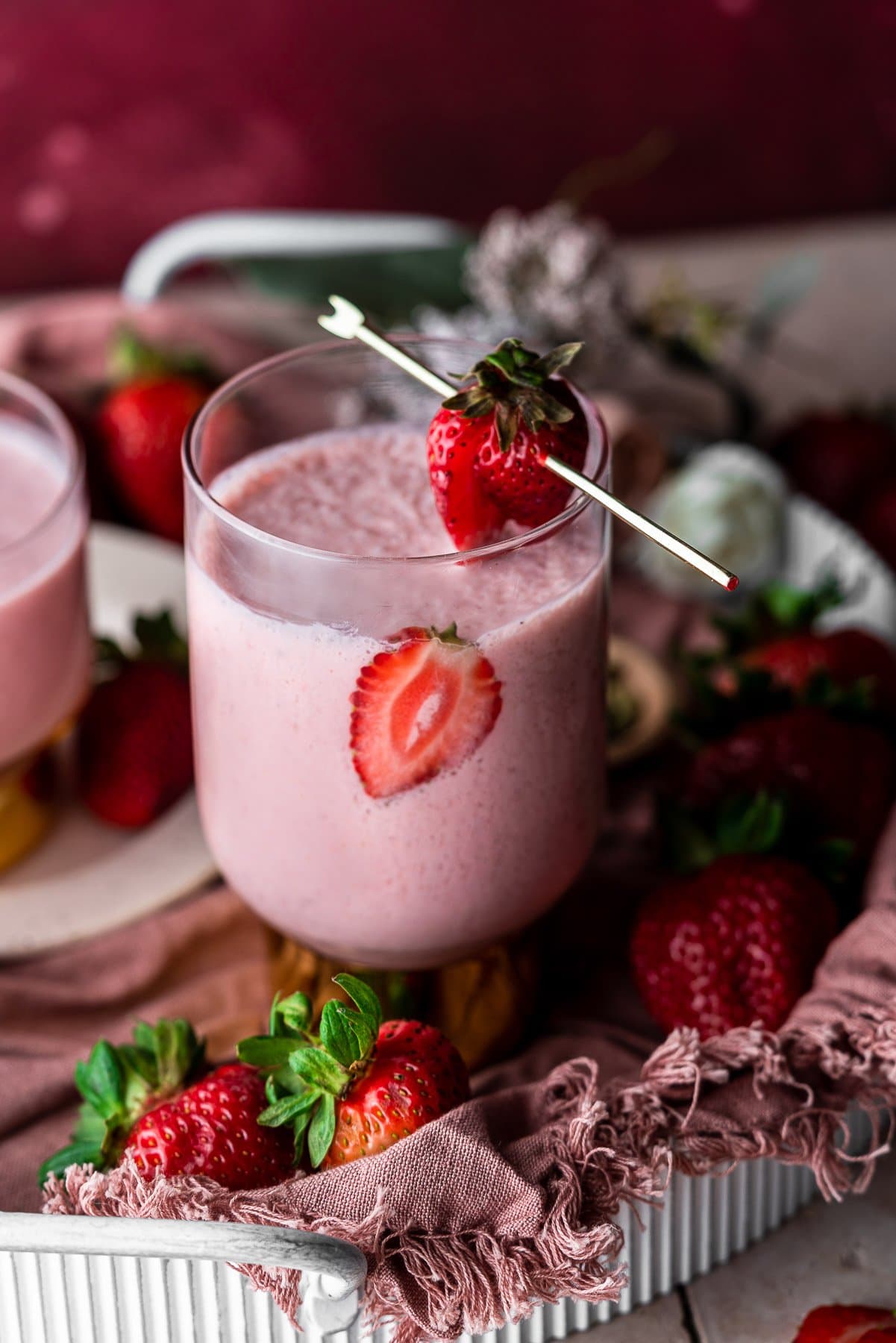 More Indian Drinks to try
Recipe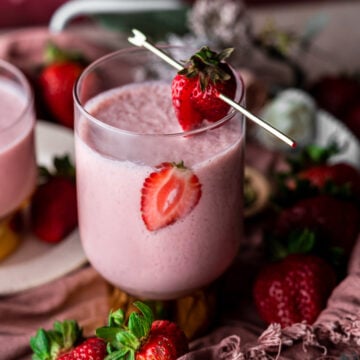 Strawberry Lassi
This tangy, sweet Strawberry Lassi is ready in just 10 minutes! Enjoy this Indian lassi using fresh or frozen strawberries that's fragrant with freshly ground cardamom. It's the perfect fruity drink for warm weather!
Print
Pin
Rate
Ingredients
1

cup

dahi

½

cup

whole milk

8

oz

strawberries

,

(10-15 strawberries)

1

teaspoon

ground cardamom

2

tablespoon

sugar

ice

,

optional
Instructions
Wash all the strawberries thoroughly. Remove the stem. (Optional) Push a straw through the core of the strawberry to remove a majority of the white part.

Add the strawberries, dahi, milk, ground cardamom, sugar, as ice as needed to blender. Blend on high speed until smooth and frothy.

Serve the lassi chilled in tall glasses. Garnish with strawberries.
Notes
SUBSTITUTIONS
Use fresh or frozen strawberries. Alternatively, strawberry preserves or syrup will work as well. Start with a tablespoon per serving.
Substitute dahi with plain whole milk yogurt or plain Greek yogurt.
Use plant-based milk or coconut milk as vegan options to whole milk.
Nutrition
Serving:
1
lassi
|
Calories:
197
kcal
|
Carbohydrates:
30
g
|
Protein:
7
g
|
Fat:
6
g
|
Saturated Fat:
4
g
|
Polyunsaturated Fat:
0.4
g
|
Monounsaturated Fat:
2
g
|
Cholesterol:
23
mg
|
Sodium:
81
mg
|
Potassium:
466
mg
|
Fiber:
3
g
|
Sugar:
26
g
|
Vitamin A:
234
IU
|
Vitamin C:
68
mg
|
Calcium:
245
mg
|
Iron:
1
mg