These Strawberries and Cream Cheese Turnovers are the ideal handheld individual treats for breakfast with a hot cup of tea or dessert with a heaping scoop of ice cream! They're layered with tangy cream cheese, sweet homemade jammy spiced strawberries, and baked to golden perfection in a buttery flaky puff pastry crust!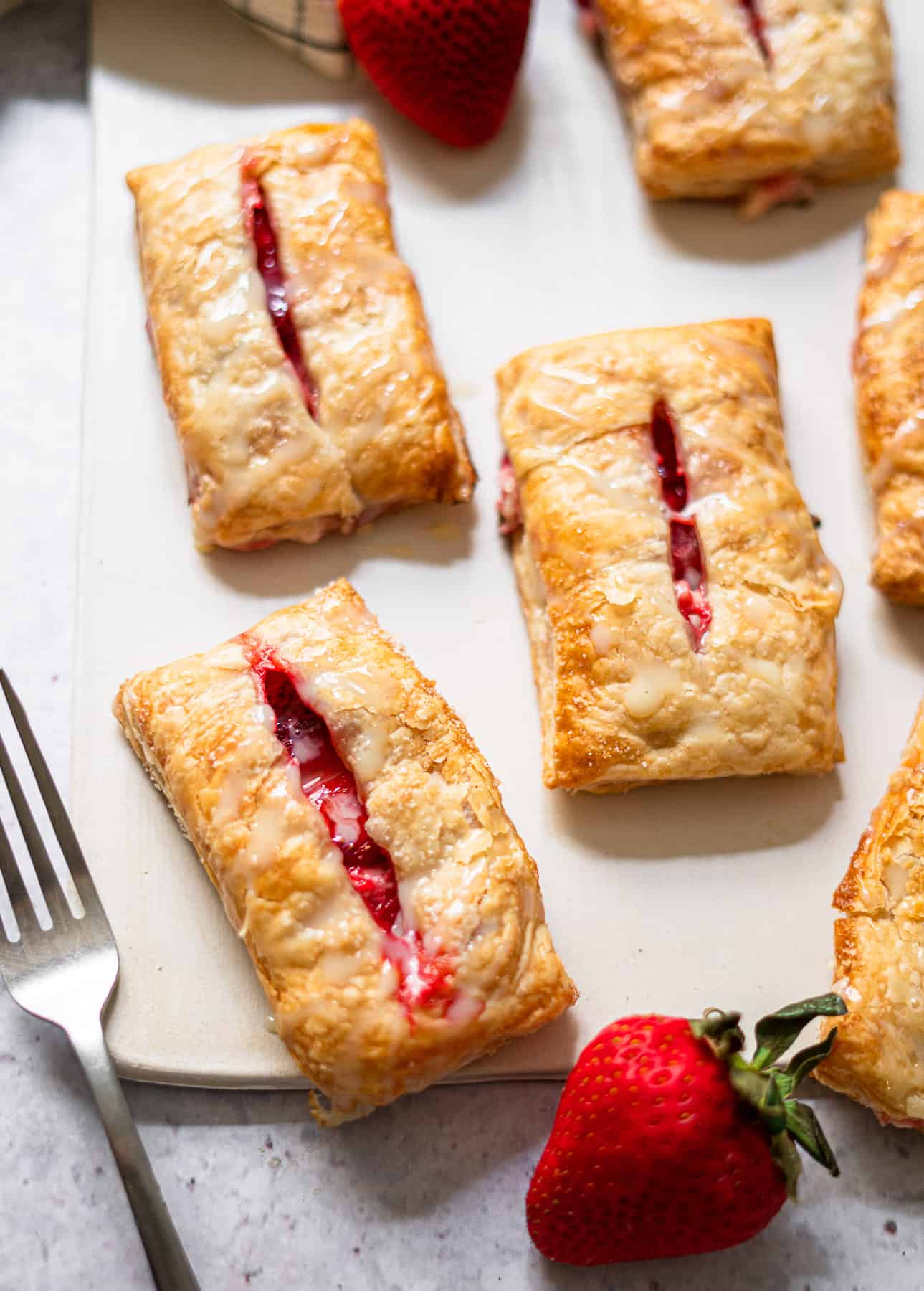 Turnovers are like mini, individual handheld pies made with your favorite pie fillings! The best part is you can take them to go, nbd! They're my favorite to bite into when they're crispy and flaky fresh out of the oven.
Almost every culture has their version of a turnover - whether it's a patty, empanada, calzone, or a pasty. When I immigrated to the U.S., I loveddd exploring all the treats in the bakery aisle of the grocery store. I especially grew up loving the sticky tangy cherry turnovers that had that perfect drizzle of icing to balance it all out!
But these Strawberry Cream Cheese Turnovers are a nice change from the classic Apple Turnovers, especially with strawberries in season and bountiful during the summer! They're bright and bursting with flavor, especially with a little added cardamom and nutmeg.
They make the perfect treat for the Fourth of July with a scoop of Blueberry Pie ice cream!
Jump to:
🥧 What is a Turnover?
Is it pie? Is it a pop tart? Are a lot of people quitting their company? (ha! I think I'm funny...)
A turnover is a flaky handheld pastry where the dough is folded over a sweet or savoury filling, sealed, and baked until golden brown. It's a quick breakfast, a single-serving snack, or even a great dessert that you don't need to share! They're traditionally folded into a triangle but can be found in half moons, rectangles, or really any shape.
It's very common for sweet turnovers to have jammy fruit or custard fillings made with pastry dough that's baked in the oven (or fried) and then drizzled with an icing. The fruit can be fresh or frozen, making it super convenient to make these.
On the other hand, savory turnovers have a meat and veggie filling that are popular for grab-and-go lunches in the U.S. The dough is more commonly made of puff pastry or phyllo for the flaky, crispy, golden brown crust.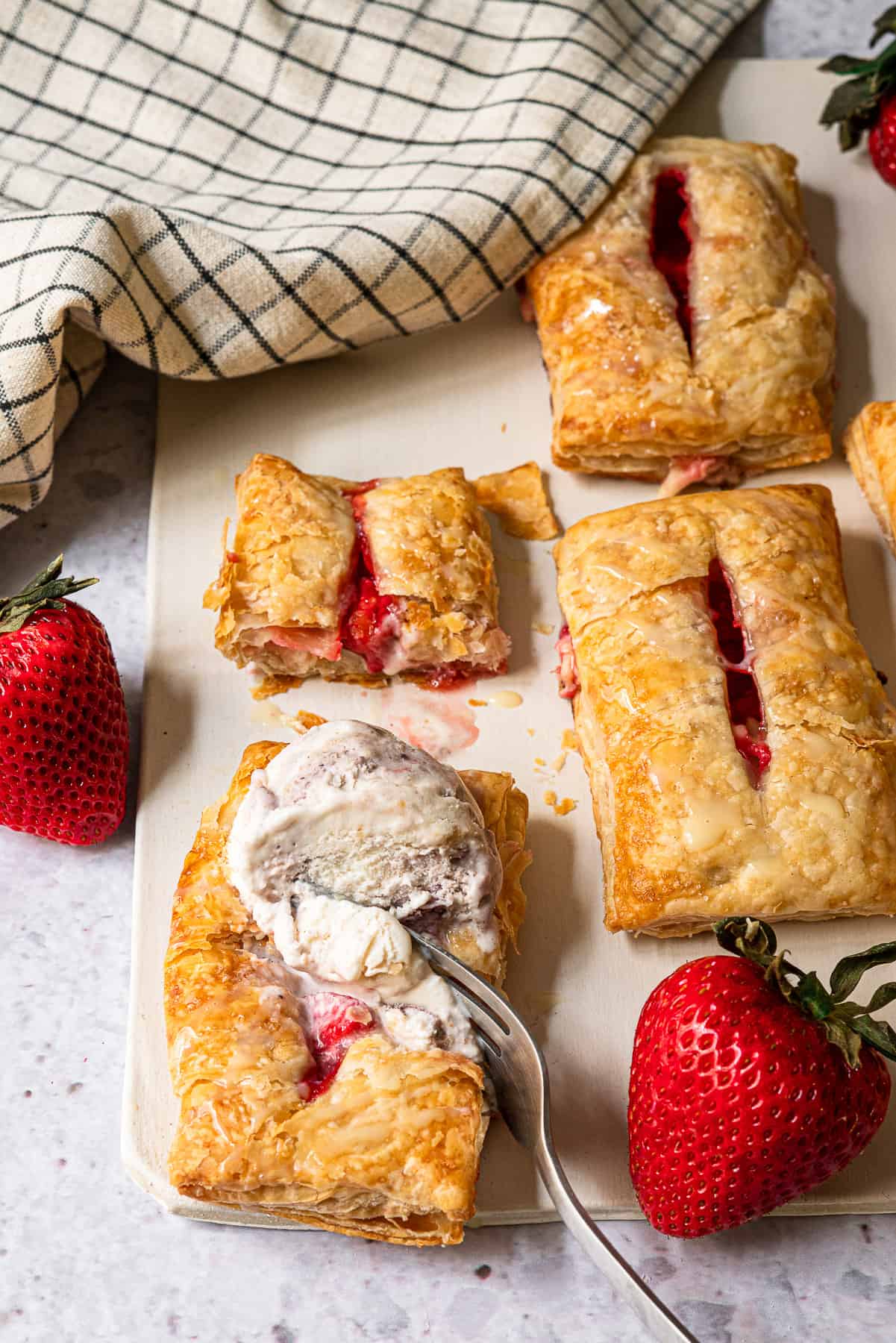 While the concept of turnovers has been around for ages, turnovers made a solid traceable appearance in the 1700s as Apple Pasties in England. The original was similar to an apple pie turnover. It has been called fruit pasties and puffs as well over the past two centuries.
Turnovers can be easily made at home or found in the bakery section of a grocery store, and sometimes even in the freezer aisle for the savoury versions.
The Ingredients - Notes and Substitutions
Strawberries - Use the freshest strawberries that you can find but frozen will work as well!
Sugar - We use both granulated sugar and confectioners' sugar in this recipe. The granulated sugar sweetens the jammy strawberries and forms a thick syrup. You'll also need a bit for sprinkling on to the pastries before baking! The confectioners' sugar mixed into the cream cheese almost tastes like cheesecake and is utterly addicting.
Corn Starch - Thickens the strawberry syrup
Spices

- Cardamom and nutmeg

add a bit of warmth and fragrance to the strawberries that really gives you that * oomph * where you close your eyes as you take the perfect bite.
Puff pastry - Make your own at home or grab some from the grocery store. You can also use phyllo or pie crust as a last resort.
Cream cheese - We can't just have normal strawberry turnovers, right? They must be done in a strawberries and cream-esque fashion!
Sour cream - The sour cream is completely optional, but it adds a bit of tang that will remind you of cheesecake.
Sweetened condensed milk - My favorite turnovers are drizzled with sweetened condensed milk but plain icing works just as well!
How to make Strawberry Turnovers
🍓 Step 1: Make the Spiced Strawberry Filling
Use fresh strawberries if you can, otherwise frozen strawberries work just as well!
Remove the stems from the strawberries, which should leave about 8 oz of strawberries. Slice them evenly into about eighths, depending on the size of the strawberry. They should be small enough to layer into the pastry without bursting at the seams. Keep in mind they'll soften and reduce in size a bit as you cook them down.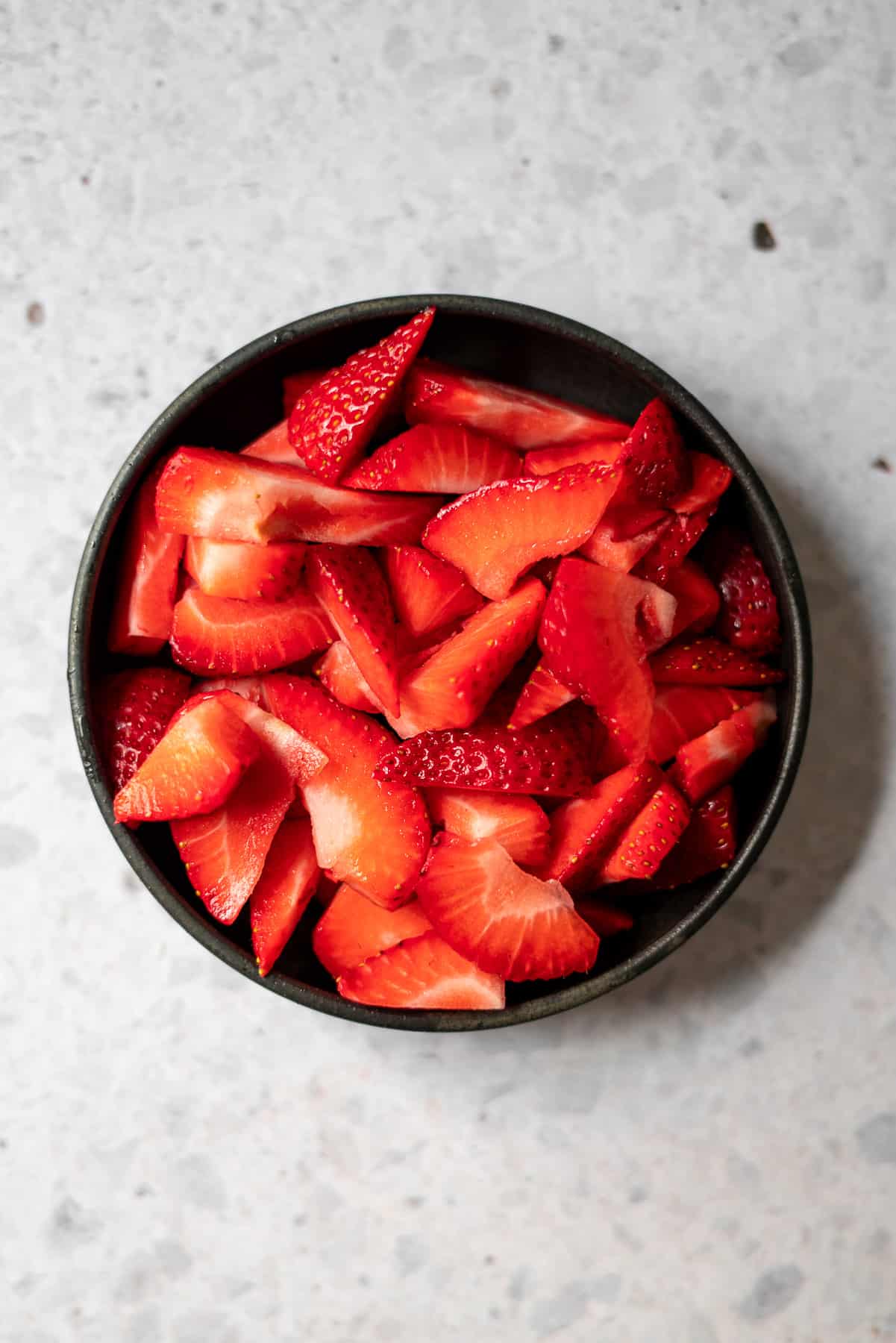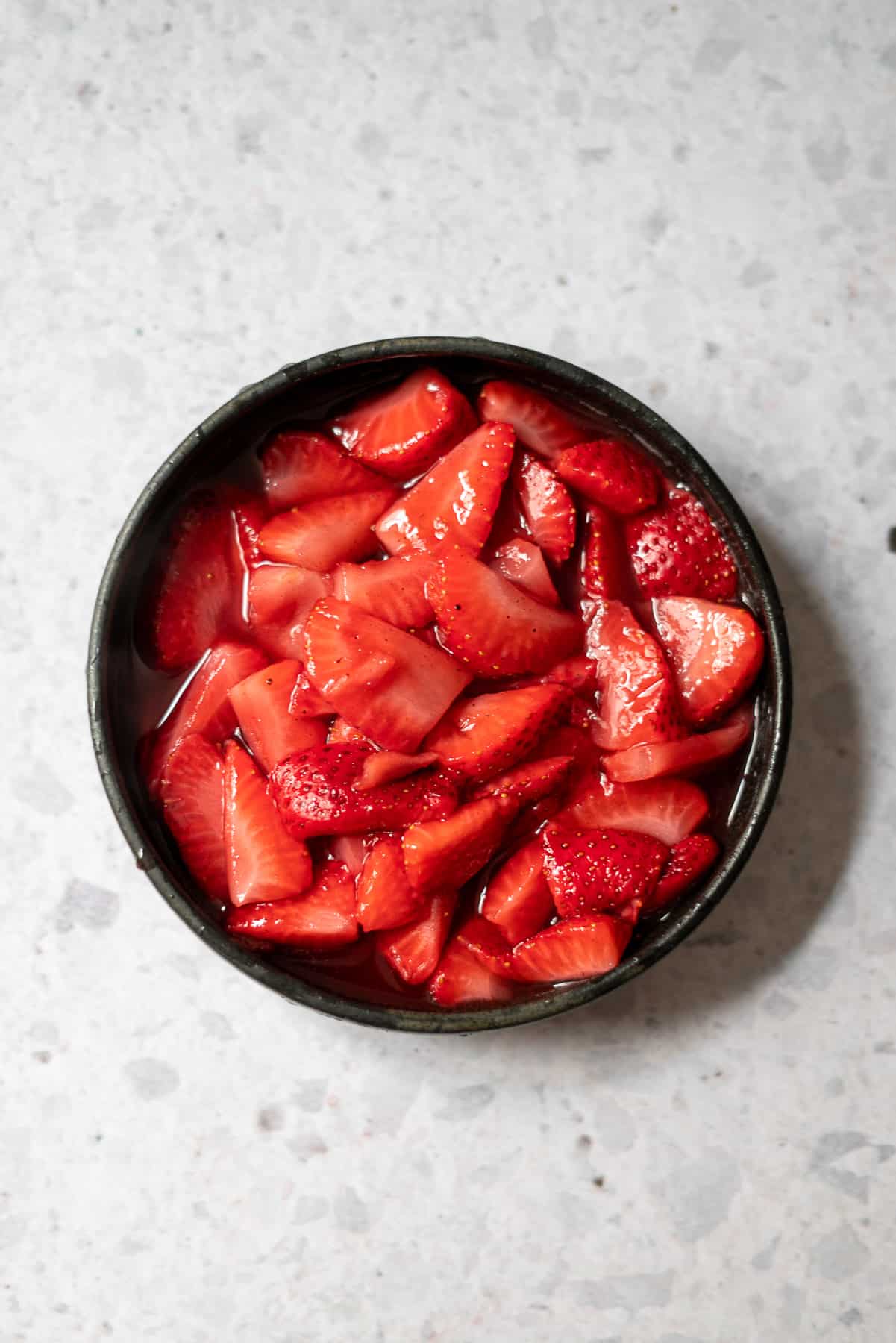 Once the strawberries are prepped, add them into a saucepan on low to medium heat with the granulated sugar, lemon juice, salt, ground green cardamom, and freshly grated nutmeg. Toss everything until the strawberries are well coated and cook for 2 or so minutes until the strawberries begin to release their juice.
In the meantime, mix together the cold water and corn starch in a separate bowl to form a slurry. When the strawberries have softened and released their juice, pour the slurry into the saucepan and mix well. Cover the saucepan with a lid for 2-3 minutes until it's thickened up a bit. Remove from heat and allow it to cool.
We don't make a full on strawberry jam to preserve some texture but store-bought jam will work just as well!
Step 2: Whip the Cream Cheese
While the strawberries are cooling, let's prepare the cream cheese filling! This is also my favorite easy no-bake cheesecake recipe, but the sour cream is completely optional. The cream cheese should also be softened at room temperature for 15 minutes.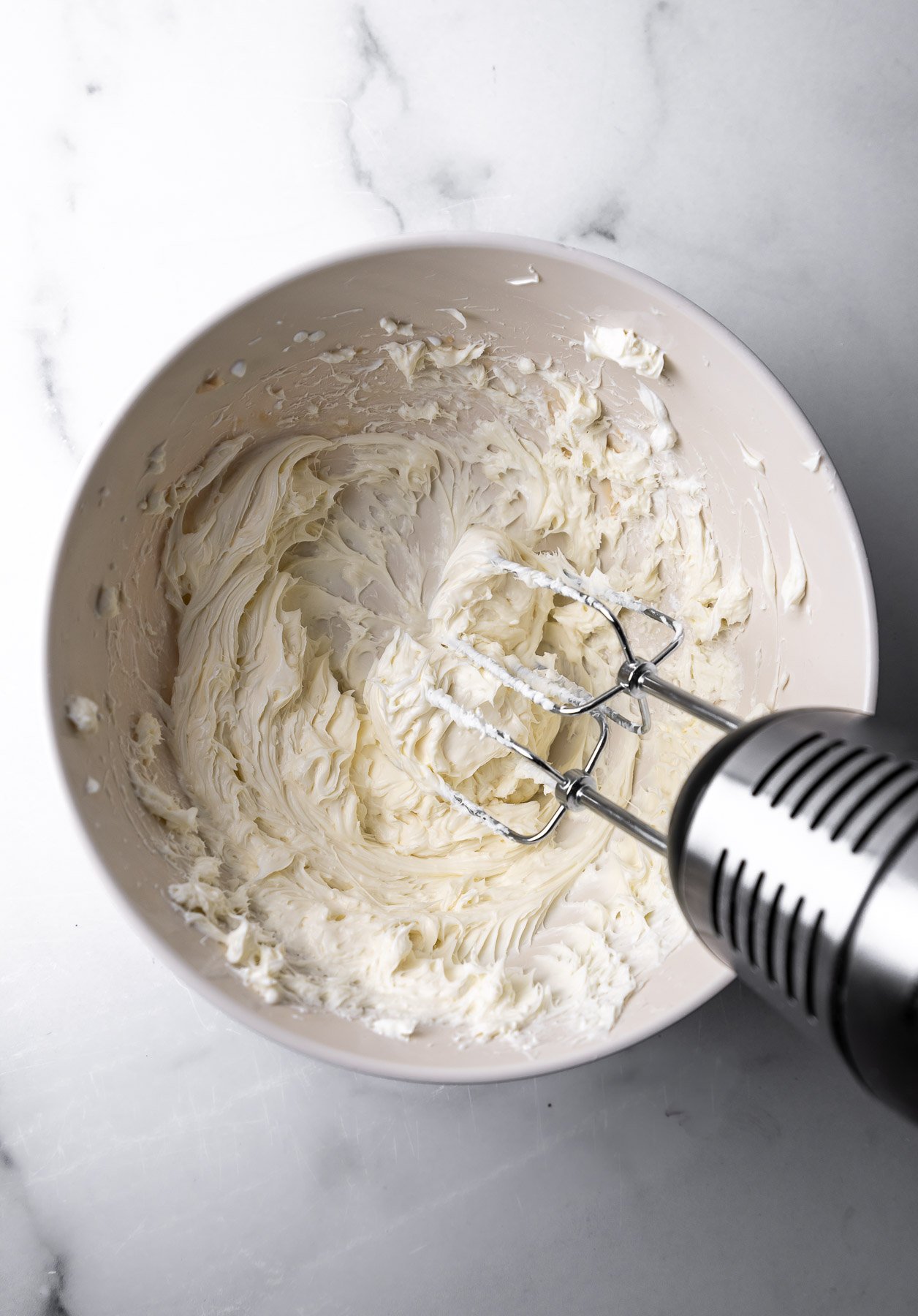 In a bowl, combine the cream cheese, powdered sugar, vanilla extract, and sour cream in a large bowl. Whip the mixture with a handheld mixer at medium speed until it's smooth and lightly fluffy, around 3 minutes.
That's it! It's easiest to transfer the cream cheese filling into a decorate bag, no piping tip needed. Set it aside as you prep the puff pastry.
Step 3: Assemble and Bake
Preheat the oven to 425°F.
Now that the strawberries and cream cheese are prepped, it's time to start assembling the turnovers! I'll provide tips on how to work with readymade frozen puff pastry, but any other substitutes like phyllo or pie crust should be as easy as following the packaging instructions.
With puff pastry, you'll typically receive two individually packaged rolls that need to be frozen until it's ready to use. If it's thawed, it should be used within a certain timeframe that the brand will specify.
Pro Tip: The dough can become sticky really fast once it reaches room temperature. I like to place a sheet tray in the freezer for 10-20 minutes and then work with the pastry dough on the sheet tray with a bit of all-purpose flour.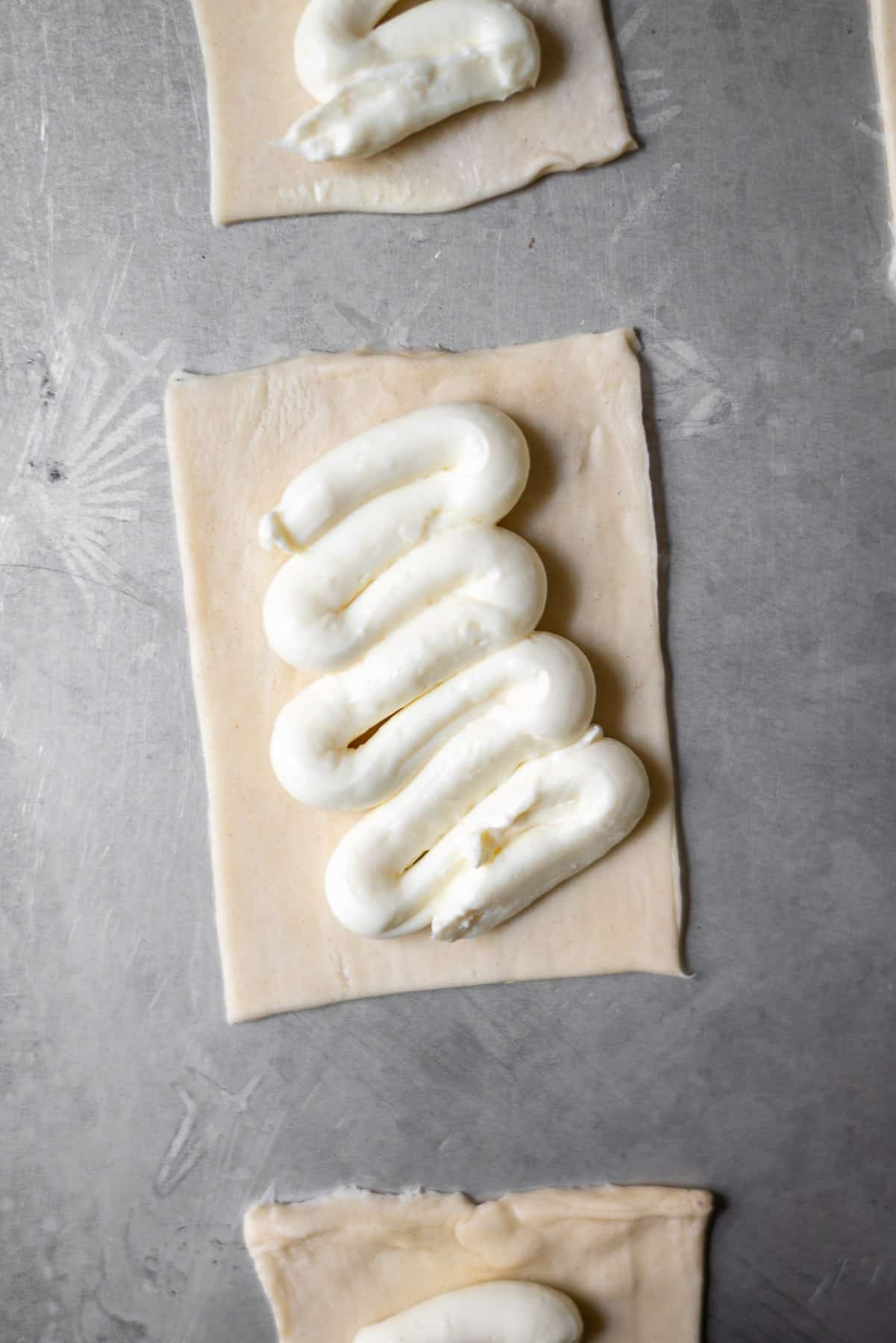 Once the dough has thawed, unroll both of them on a smooth surface. They shouldn't need to be rolled out but some may be especially thick so those will need to be thinned out.
To make an actual turnover, cut each sheet into 4 very long rectangles. You'll fill a half of it, and then fold over the other half on top of the filling and seal it. You can also make 8 smaller rectangles if you want to seal the filling with another piece, which I found to be easier.
Which ever method you choose, you'll have precious turnovers at the end! At this point, you can snip a dime sized hole on the decorating bag and pipe the cream cheese first on to the puff pastry, making sure to leave ½" space around the edges.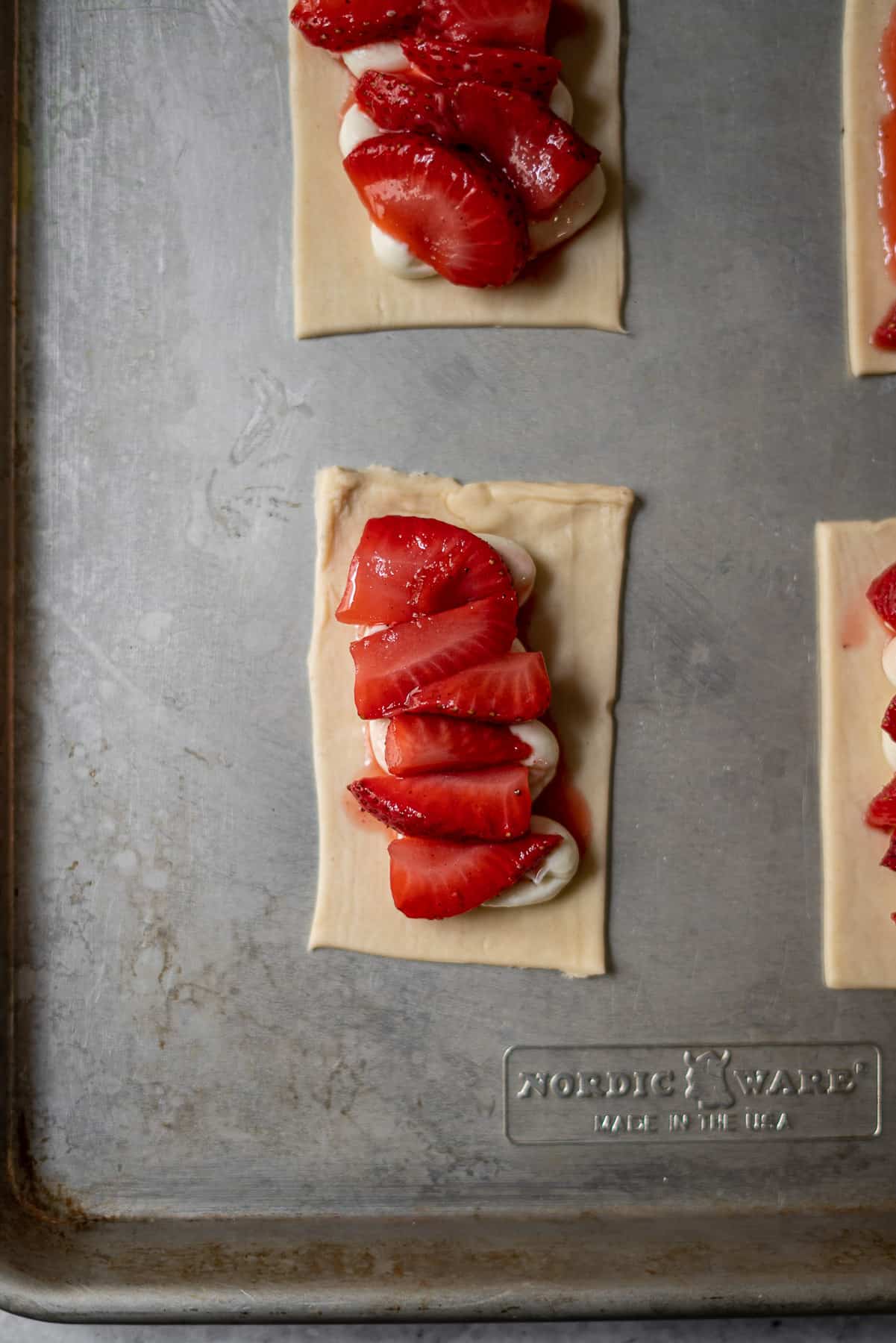 Then, carefully spoon the strawberries over the cream cheese being sure not to layer them over each other. Placing them in a single layer is the best.
Pro Tip: It's also ideal to avoid spooning too much of the syrup on to the puff pastry because it'll become very soggy and difficult to manage.
Once they are filled, turn over the other half of the dough and seal the edges with your fingers. Sprinkle a bit of granulated sugar. Use a sharp knife to cut a slit down the middle to reveal the strawberries. Alternatively, you can cut three slits diagonally for a classic look.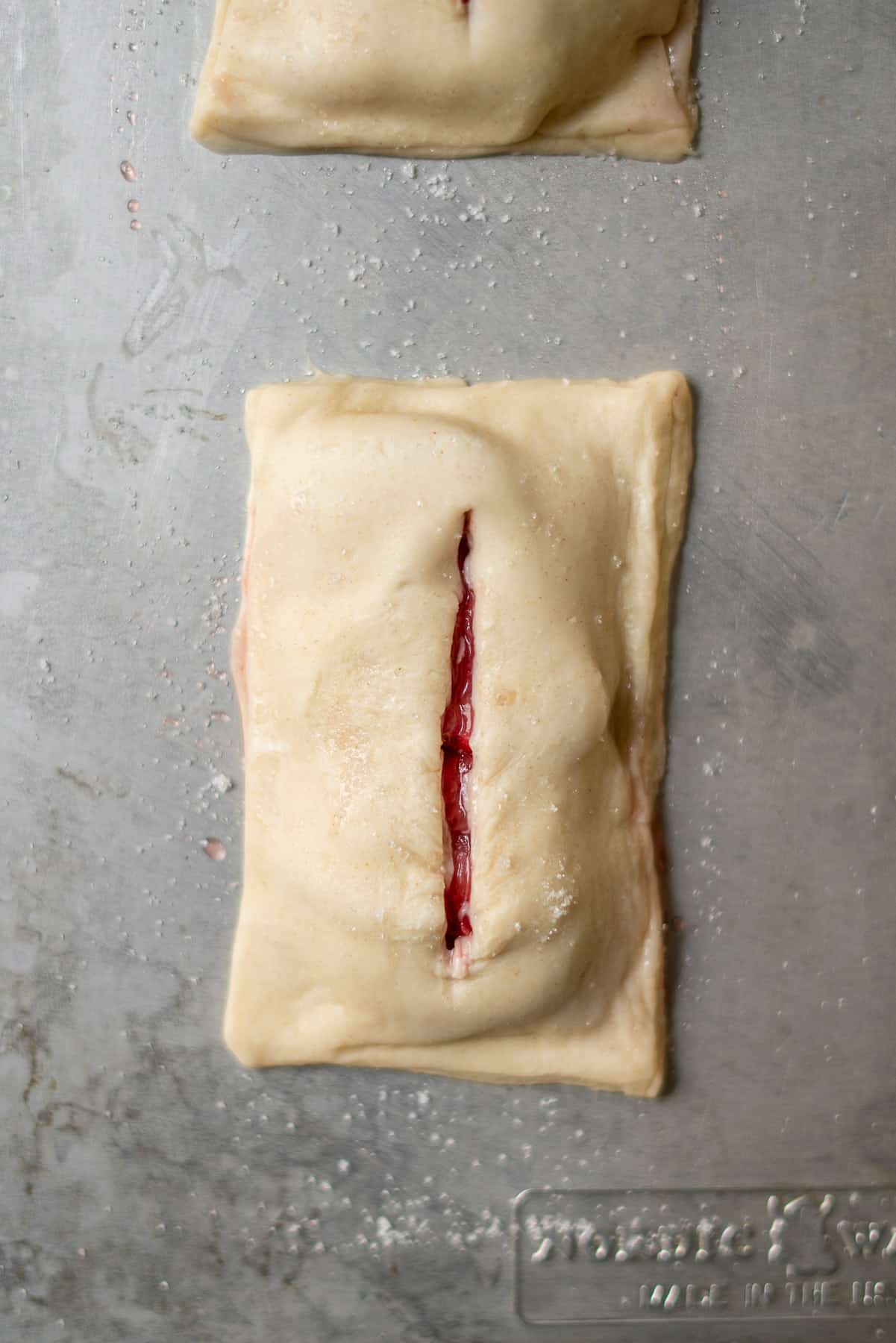 Bake the turnovers in the oven on a parchment paper lined baking sheet at 425°F for 30 minutes. The timing is dependent on the brand of puff pastry - so definitely take a look at the instructions first and there should be a general range to follow.
A few of the strawberries may ooze out and burn if the edges aren't properly sealed. Just scrape away any of the burned bits.
Remove from the oven and transfer them to a cooling rack. The turnovers will puff up and expand to reveal the beautiful filling from the slit in the middle.
How to Serve
My absolute favorite way to enjoy a homemade turnover is to drizzle it with sweetened condensed milk! The classic way is to mix ½ cup of confectioner's sugar with 1 tablespoon of water, thinning out with more water as necessary, and drizzling it back and forth.
You may also have some strawberry syrup leftover which would be amazing thickened into an icing with confectioner's sugar or used with tomorrow morning's breakfast yogurt.
For a breakfast option, serve the pastries cold with a hot cup of tea. For a dessert option, serve the turnover warm with a spoon of ice cream for dessert!
It would also be great paired with Guava Cheese Pop Tarts, Chocolate Stuffed Coffee Brioche French Toast, and Mango Juice for breakfast.
Frequently Asked Questions
Can I make my own homemade dough?
Homemade puff pastry dough would be even more amazing than store-bought! Store-bought is a quick option because making puff pastry at home can be quite the task for beginner to intermediate bakers.
What is the difference between pie and turnover?
Turnovers and pies may have some of the same fillings, however the crust and look is completely different. Turnovers are smaller, individual portions made with puff pastry dough that's flaky with several layers whereas pie is typically baked in a round shape with a harder shell.
Are turnovers and hand pies the same?
Turnovers and hand pies are very similar. Hand pies are typically round in shape and use pie crust. Turnovers will never be round, but may be in a half moon shape, triangles, rectangles, etc. They also typically use puff pastry dough.
What can I use other than puff pastry dough?
You can use phyllo or pie crust.
Why is it called a turnover?
They call it turnover because it usually involves filling half of the pastry and then turning the dough over the filling to seal it.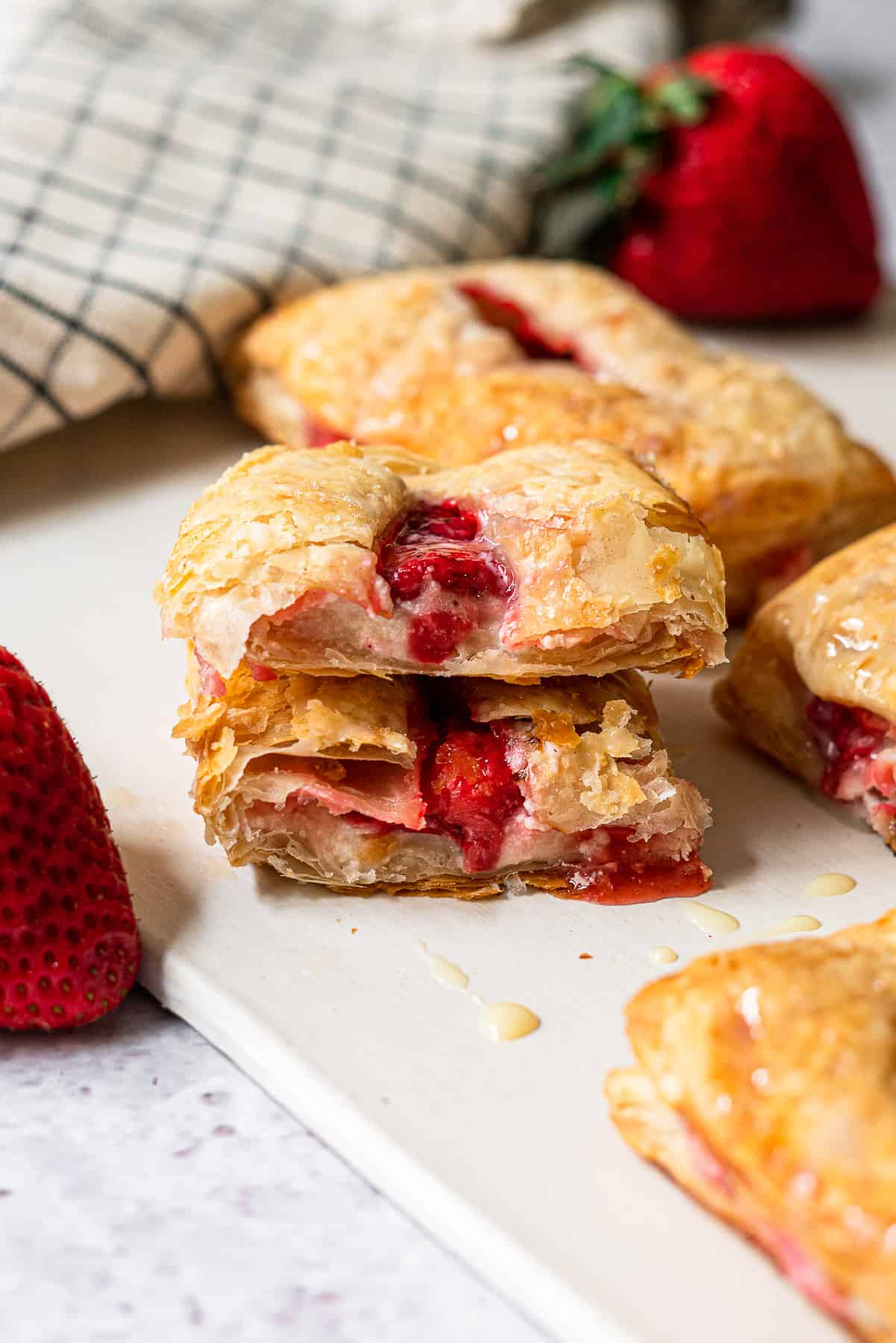 More Breakfast Recipes to try
If you love strawberries, check out these no-bake Cheesecake Stuffed Strawberries!
Recipe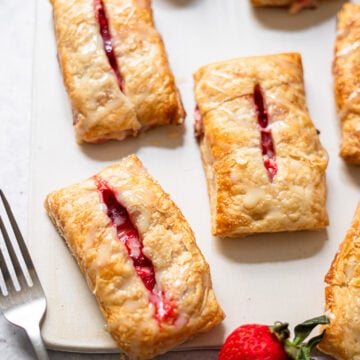 Strawberries and Cream Cheese Turnovers
These Strawberries and Cream Cheese Turnovers are the ideal handheld individual treats for breakfast with a hot cup of tea or dessert with a heaping scoop of ice cream! They're layered with tangy cream cheese, sweet homemade jammy spiced strawberries, and baked to golden perfection in a buttery flaky puff pastry crust! 
Print
Pin
Rate
Ingredients
16

oz

puff pastry

9

oz

strawberries

¼

cup

sugar

½

tablespoon

lemon juice

¼

teaspoon

ground green cardamom

¼

teaspoon

nutmeg

pinch of salt

¼

cup

cold water

1

tablespoon

corn starch

8

oz

cream cheese

½

teaspoon

vanilla extract

1

tablespoon

sour cream

¼

cup

confectioners' sugar

sweetened condensed milk

,

for drizzling
Instructions
Preheat the oven to 425° F. Defrost the puff pastry at room temperature.

Prep the strawberries by removing the stem and cutting each strawberry into eighths. Transfer the strawberries to a sauce pan on low to medium heat and add the sugar, lemon juice, cardamom, nutmeg, and a small pinch of salt. Toss everything together really well and leave it on the heat for about 2-4 minutes until the strawberries begin to release their juice.

While waiting on the strawberries, combine cold water with the corn starch in a bowl and mix together really well until it forms a slurry.

Once the strawberries have started releasing their juice and the sugar has fully melted, add in the corn starch slurry. Allow the strawberries to simmer with the lid covered for another 2-4 minutes until the strawberries have softened and the syrup has thickened into a maple syrup consistency. Remove from heat and allow to cool.

While the strawberries are cooling, combine the room temperature cream cheese, vanilla extract, sour cream, and confectioners' sugar in a medium sized bowl. Use an electric mixer with the beater attachments at medium speed to mix together the cream cheese until it's smooth and fluffy, about 3-4 minutes. Transfer into a decorating bag and cut the tip so there's a dime-sized hole.

Unroll the defrosted puff pastry from it's packaging. If the pastry dough is thick, roll it into ⅛"-¼" thick. Working with one roll at a time, remove the rounded edges to form a square, and then cut the square into four long rectangles.

Pipe about 2 tablespoons worth of cream cheese evenly on the bottom half of each rectangle, making sure to leave ½ inch on each side for sealing. Spoon 6-7 slices of strawberries on top in a single layer. Do not overfill.

Fold the top half of the rectangle over and seal the edges really well so that the filling doesn't explode out of the sides.

Repeat with the other sheet of puff pastry. Transfer the pastries to a baking sheet with parchment paper.

Sprinkle each pastry with a bit of granulated sugar. Cut a slit down the middle of the puff pastry, leaving 1 ½ inches on both the top and bottom. Pop the baking sheet into the preheated oven.

Bake the pastries for 30 minutes, or according to pastry packaging instructions, until golden brown. Remove them from the oven and transfer to a cooling rack. Drizzle sweetened condensed milk over them and enjoy with a scoop of ice cream.
Notes
Do not overstuff the pastries! They will explode
Substitute puff pastry for phyllo or pie crust as a last resort
The homemade jammy strawberries can be replaced with a store-bought strawberry jam. I would suggest adding a bit of cardamom powder and nutmeg for some added flavor.
Alternatively, instead of 4 long rectangles, cut one sheet of the puff pastry into 8 rectangles. Layer the cream cheese and strawberries on 4 of the rectangles, and use the remaining four pieces to close and seal the pastries.
To store - Store the turnovers in an airtight container in the refrigerator for up to five days. 
To reheat - Reheat the turnovers in a toaster oven or oven at 425

° F for 5 minutes.
Nutrition
Serving:
1
turnover
|
Calories:
374
kcal
|
Carbohydrates:
37
g
|
Protein:
6
g
|
Fat:
22
g
|
Saturated Fat:
14
g
|
Polyunsaturated Fat:
3
g
|
Monounsaturated Fat:
15
g
|
Cholesterol:
32
mg
|
Sodium:
234
mg
|
Potassium:
127
mg
|
Fiber:
2
g
|
Sugar:
13
g
|
Vitamin A:
395
IU
|
Vitamin C:
19
mg
|
Calcium:
41
mg
|
Iron:
2
mg