Honey-Roasted Delicata Squash with pomegranate seeds and walnuts is a delightfully easy way to enjoy this winter squash. It's simply roasted with honey until tender and caramelized. Add this as a side dish for your Thanksgiving Day spread!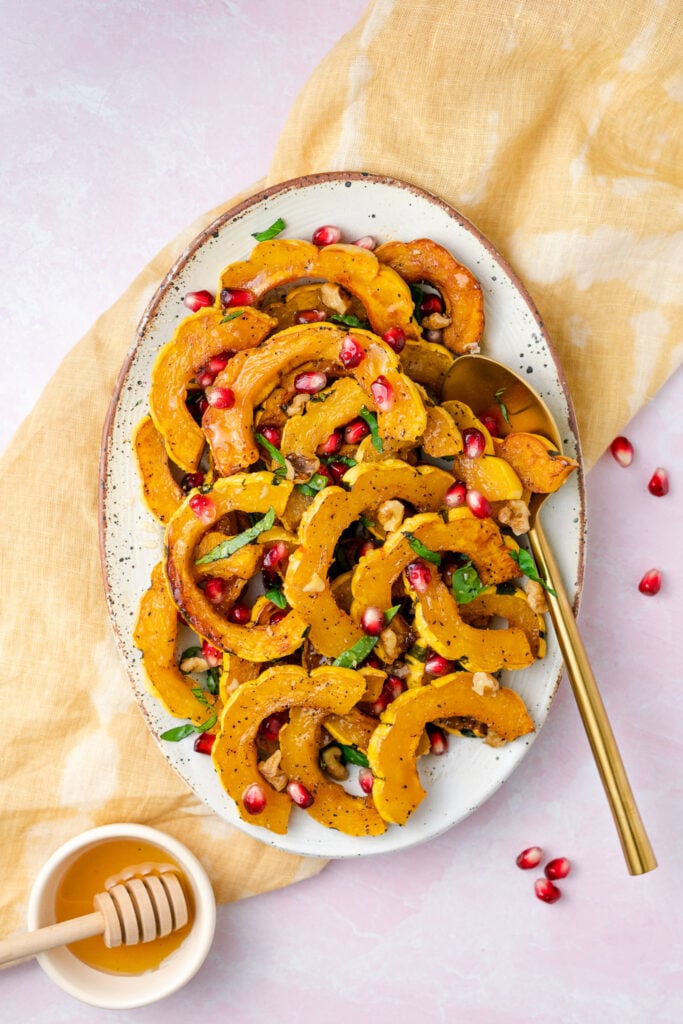 I first fell in love with delicata squash at Dell'anima in Hell's Kitchen. In addition to their stupid good pasta, I was also blown away by the side of delicata squash. When I asked the chef what the heck it was, he said, "It's simple... it's just delicata squash roasted with honey." I was like ....dassit? There's no way!
The slight caramelization on the squash when it's roasted?? UFFFF so good! Oven roasting the squash with just a bit of honey enhances it's natural sweetness!
Top the roasted delicata squash with some in-season pomegranates and chopped walnuts and this sweet and savory side dish will be a hit at your dinner table.
Jump to:
What is Delicata Squash?
Delicata squash is part of the winter squash family, with a cream-colored cylindrical shape and orange and green stripes. Also called the sweet potato squash, the delicata squash tastes like a cross between butternut squash and sweet potato.
When roasted, the squash caramelizes giving it some sweetness. As you may be able to guess, the skin is really quite delicate, hence the name "delicata" squash. This also means that you don't have to peel the skin for consumption and it's much easier to cut through.
Delicata squash is ridiculously versatile for just about any fall dish you can think of. The most common way to prepare it is by roasting, but you can also steam, sautée, or even microwave it! You can find it in salads, filled with meat and rice, tossed with pasta, top with any fruits or nuts and yogurt, etc.
I'm weirdly very passionate about this squash? Like I genuinely don't care for butternut squash ever again. Delicata squash is much easier to transport home from the winter market, you don't need to peel the rind, it's easier to cut through, and has a faster cooking time.
Say lesssss.
How to Honey Roast Delicata Squash
When choosing your squash, make sure you get similar shape and sizes to ensure even cooking and avoid any with bruises, soft spots, or mold.
Prep the squash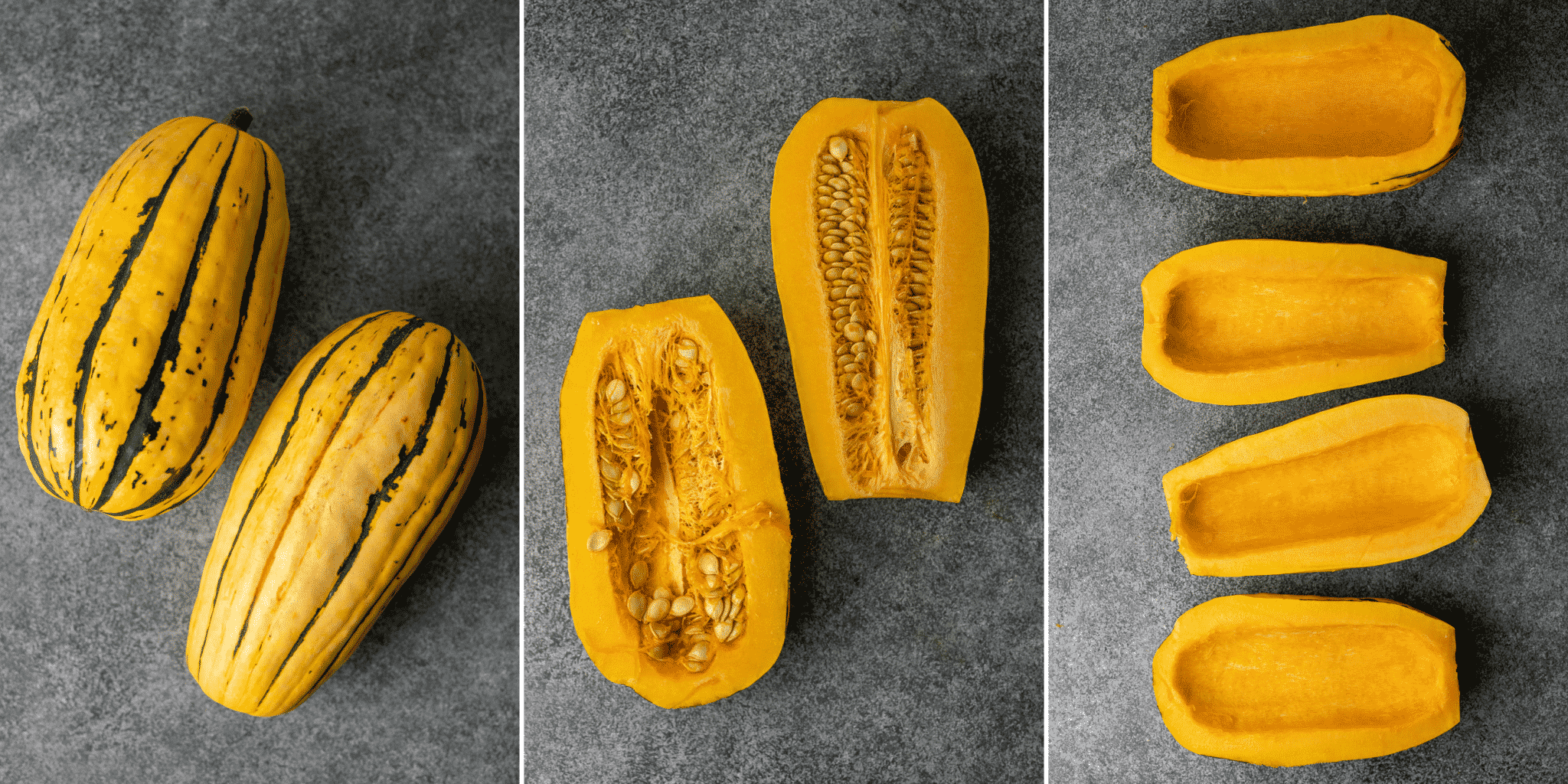 Begin by scrubbing the exterior of the squash as much as possible, since you'll be eating the skin as well. Cut the ends off of both sides so you have flat surface to work with. Use a large sharpened knife and cut it down the middle lengthwise.
With a spoon, scrape out the seeds and fibrous strands attached to the seeds. Cut the halves into half moon shapes that are about ¼" to ½" thick.
Roast in the oven
Preheat the oven to 425°F.
Space out the squash on two metal half sheet baking trays. Don't use parchment paper to allow the heat from the metal to caramelize the squash. I eyeball how much olive oil, salt, black pepper, and honey to use for roasting depending on the size of the squash.
Toss to thoroughly coat. Roast for 20 minutes, or until it begins browning on the sides. Flip a few over to check that it has browned on the bottom. If it has, remove the tray from the oven and flip each piece. Roast for an additional 15 minutes. Keep an eye on them to ensure they don't burn.
Remove them from the oven once they've browned and caramelized.
Serving Ideas
While the squash roasts, chop the walnuts into pea-sized pieces and chiffonade cut the basil. Deseed a large pomegranate.
My favorite way to do this is to cut off the top and slice the pomegranate along where the pithy white parts surrounds the seeds. It's much easier to pull off the wedges and deseed with my hands into a bowl this way.
When the squash is done, toss it with pomegranates, walnuts, and basil. Plate the squash on a serving platter and drizzle with honey. I like to use Mike's hot honey to add a little kick to this dish, but feel free to use regular honey.
Leftovers? Here are some ideas
If you're lucky enough to have leftovers, I found it awkward to try and warm up this dish because of the pomegranates and walnuts mixed it. Instead, you can:
Toss the delicata squash with the pomegranates, walnuts, and basil into a salad and add protein with a green goddess dressing.
Cook up some quinoa with cucumbers, avocado, and kale
Add feta or goat cheese, tzatziki, and arugula
More Thanksgiving Dishes to add to your spread
Recipe
Honey-Roasted Delicata Squash with Pomegranates and Walnuts
Learn how to honey roast delicata squash to make this delicious side dish! Topped with pomegranates and walnuts, this is dish is going to stand out on your dinner table.
Print
Rate
Ingredients
2

delicata squash

,

(about 2.5-3lbs)

2

teaspoon

olive oil

½

teaspoon

salt

2

tablespoon

honey

2

tablespoon

hot honey,

see notes

1

large

pomegranate

15

chopped walnuts

handful of basil
Instructions
Preheat the oven to 425°F. Wash and scrub the delicata squash. Cut the ends off of both sides to create a flat surface. Cut it in half lengthwise and scrape out all the seeds and fibrous threads with a spoon. Cut the squashes into ¼" to ½" half moons.

Lay the half moons on 2 metal baking sheets and drizzle 2 tablespoon honey, 1 tablespoon olive oil, ¼ teaspoon salt, and ¼ teaspoon black pepper per sheet. Toss the squash to ensure it is fully coated and roast in the oven for 20-25 minutes on one side. Remove from the oven and flip each slice. Roast for an additional 15 minutes.

While the squash is roasting, deseed a pomegranate and chop the walnuts into preferred size. Chiffonade cut a handful of basil.

Transfer the roasted delicata squash to a serving platter. Toss with the pomegranate seeds, chopped walnut, and basil. Drizzle hot honey and serve warm.
Notes
To make hot honey, simply mix honey and hot sauce (amount to preference) in a bowl and warm in 30 second intervals. Stir well to combine.
Alternatively, use extra plain honey before serving.
Measurements of olive oil, honey, black pepper, and salt are approximated based off of 2.5lbs of delicata squash and is subject to change according to size. Use enough to thoroughly coat the squash.
Nutrition
Calories:
244
kcal
|
Carbohydrates:
51
g
|
Protein:
4
g
|
Fat:
6
g
|
Saturated Fat:
1
g
|
Sodium:
303
mg
|
Potassium:
976
mg
|
Fiber:
7
g
|
Sugar:
32
g
|
Vitamin A:
3096
IU
|
Vitamin C:
35
mg
|
Calcium:
74
mg
|
Iron:
2
mg