Learn how to make mini funnel cakes that are an ideal for eating only a few or going crazy with different toppings! All of the ingredients are pantry staples and it takes under 20 minutes to prepare! No deep fryer necessary.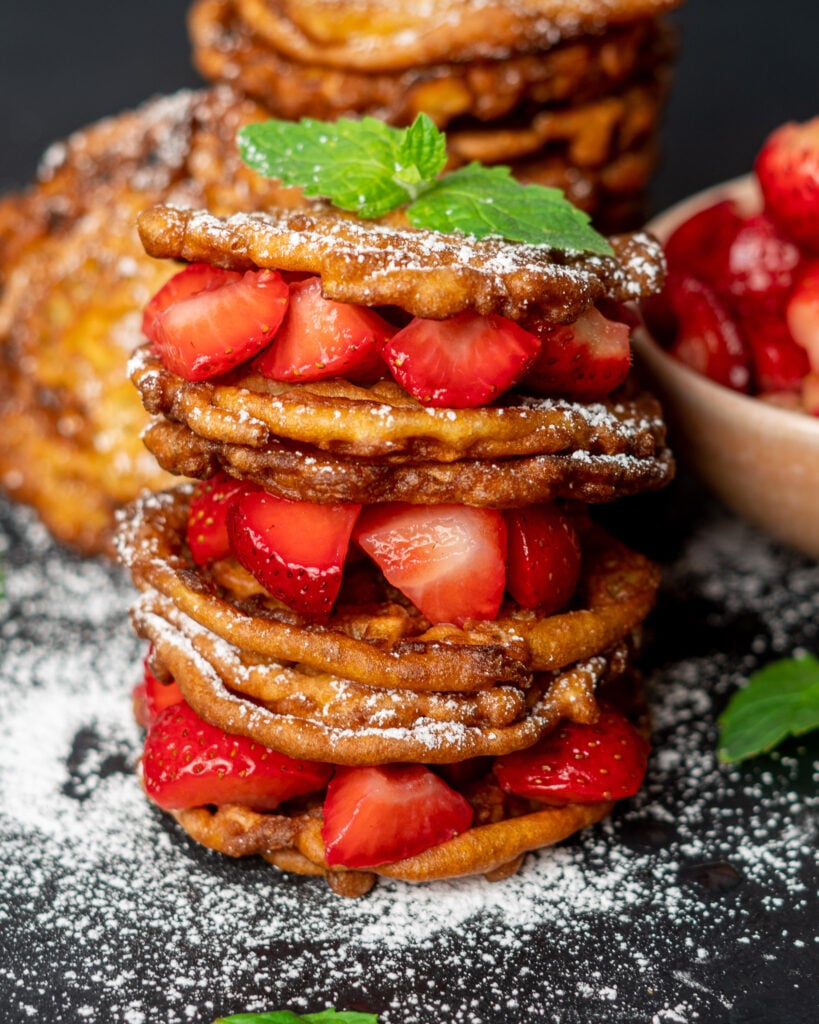 Jump to:
Every now and then I have a random, unexplained craving for funnel cake. But sometimes I don't want a whole entire 6 inch fried funnel cake drowned in sugar like you get from the State Fair, although those are totally acceptable. I just want a few crispy fried carbs that's soft on the inside and a joy to eat.
Making these mini funnel cakes at home is so fun and friendly year round! Get creative with your toppings and drizzle caramel sauce, chocolate sauce, nutella, powdered sugar, strawberries... Whatever your heart desires! This is a quick and easy crowd pleaser for a party!
What is Funnel Cake?
Funnel Cake is a flour-based batter poured through a funnel in circular patterns into hot oil and fried until golden brown. It's typically crispy on the outside and light and fluffy on the inside.
Funnel cakes are most often found at state fairs, carnivals, or amusement parks. They are best served fresh to maintain the the crispy exterior. And no, funnel cakes are not cakes. Some people even classify them as doughnuts.
How to make Funnel Cakes
You do NOT need a funnel to make funnel cakes. I'm sorry to those who care, but we can save on the time and mess! I used a squeeze bottle but you can also tip over a measuring cup to get a steady thin stream of batter. You can also use a piping bag or ziploc bag with a small tip cut open and plug it in between use. I also used a ~4 inch cookie cutter that I set in the hot oil as a barrier for the funnel cakes. A mason jar lid will also work to help keep a circular shape.
Funnel cake batter is very similar to pancake batter. Some recipes even call for ready made pancake mix with a leavening agent where you just add water and a pinch of sugar! The ingredients are basic and may already be in your pantry.
Instructions
Step 1. Mix together the wet ingredients - the milk and the eggs.
Step 2. Whisk in the dry ingredients - the flour, sugar, salt, and baking powder until smooth. If the batter is too thick, add more milk until it is a steady pouring consistency. It should be fairly runny. Transfer the batter to a squeeze bottle.
Step 3. Line a small, deep pan with about ½ inch of oil. Turn the stove onto a medium heat. Test the oil by adding a drop of batter to see if it starts bubbling. If it does, carefully place the cookie cutter into the middle of the oil with tongs.
Step 4. Quickly squeeze the batter in circular/criss cross overlapping motions all the way up to the edges of the cookie cutter. Leave a few holes to get the signature funnel cake look. Cook on each side for 30-60 seconds until golden brown. Remove the cookie cutter from the oil if needed to flip with tongs.
Step 5. Remove the funnel cake from the oil and briefly onto a paper towel lined plate to allow the excess oil to seep out. Repeat with the rest of the batter.
Step 6. Serve the funnel cakes hot with powdered sugar and any other toppings.
Best Toppings for Funnel Cakes
The best part about funnel cakes? The toppings. Without a doubt in my mind. Are you the type to go wild with toppings or keep it simple with one or two? A mountain of powdered sugar is the traditional topping but here are a few other fun ones:
Ice Cream - Funnel cake will go with literally every ice cream ever. I'm thinking Phish Food from Ben & Jerry's. MMMM YUM!
Syrup/Sauce - Fudgey chocolate sauce, caramel, dulce de leche, nutella... The possibilities are ENDLESS.
Fruit - I've seen bananas and strawberries as the most common toppings. I macerated my strawberries and stuffed them between two mini funnel cakes with mint!
Various Toppings - Peanuts, chopped pecans or walnuts, whipped cream, sprinkles, chocolate chips
Storing Tips
I tested this for you! You're welcome! You can refrigerate funnel cakes that have already been fried for up to a week. To reheat, toss it in the oven at 350 degrees or even put it in a toaster at a low setting. Just note that it won't be the same texture or as satisfying, but you can.
You can also refrigerate the batter. Store it in an airtight container for 2-3 days maximum. Once it has started to separate, it needs to be tossed.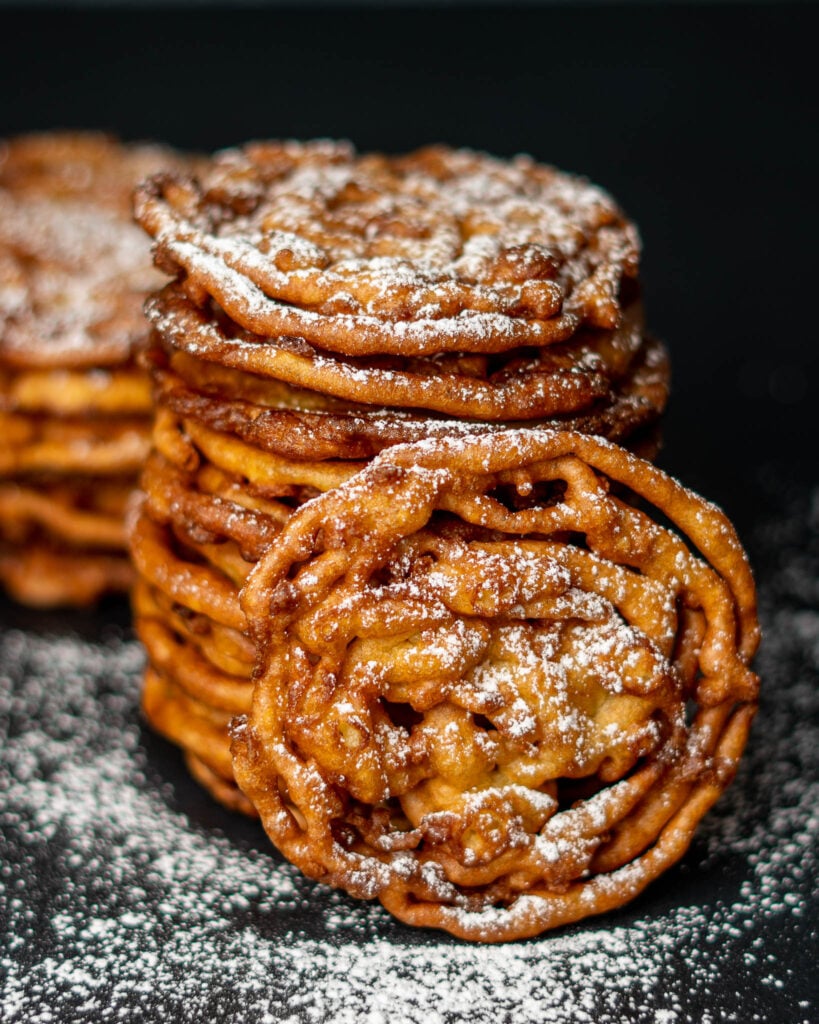 More Dessert Recipes to try
Recipe
Mini Funnel Cakes
Bring the State Fair directly to your home and fry these mini funnel cakes in the comfort of your own kitchen! They are crispy on the outside and fluffy on the inside and the toppings are customizable.
Print
Rate
Servings:
20
mini funnel cakes
Ingredients
1

cup

AP flour

1

tablespoon

sugar

½

teaspoon

salt

1

cup

milk

1

egg

½

teaspoon

baking powder

neutral oil

,

for frying
Instructions
In a bowl, mix together the egg and milk. Sift in the all purpose flour, salt, sugar, and baking powder and whisk until smooth to form a runny batter. Pour the batter into a squeeze bottle.

In a small deep pan, heat ~1 inch of neutral oil on medium heat. Put a drop of batter in the oil to see if it bubbles. If it does, the oil is ready.

Carefully place a 4in wide cookie cutter in the oil. Drizzle the batter in circular/criss cross motions within the cookie cutter, letting the batter overlap but leaving holes. Cook for 30 seconds to 1 minute until golden brown. Remove the cookie cutter and flip the cake. Cook the second side until golden brown.

Remove from oil and allow it to drain on paper towel. Repeat with the rest of the batter.

Dust the funnel cakes with powdered sugar and eat while warm.
Notes
If your batter is too thick, add in more milk or water until the batter is pourable.
Nutrition
Calories:
49
kcal
|
Carbohydrates:
7
g
|
Protein:
2
g
|
Fat:
1
g
|
Saturated Fat:
1
g
|
Cholesterol:
9
mg
|
Sodium:
160
mg
|
Potassium:
37
mg
|
Fiber:
1
g
|
Sugar:
2
g
|
Vitamin A:
32
IU
|
Calcium:
34
mg
|
Iron:
1
mg