Toss the store-bought version and make your own chocolate hazelnut spread at home with only 7 ingredients! This Homemade Nutella is incredibly easy to make at home in a food processor. It's silky smooth, chocolatey, and healthier than store-bought.
Any one else have jars and jars worth of pretty much every nut butter in existence? I have almond butter, coconut butter, peanut butter, chocolate hazelnut spread, and cookie butter at all times!
Jump to:
Why make Chocolate Hazelnut Spread at home
As I've gotten older, I've started to prefer products with less processed sugars to add to oatmeal, smoothie bowls, toasts, or yogurt! Nutella is for when I'm feeling something extra indulgent and chocolatey, and I love being able to control what's in it with this homemade vegan Nutella recipe.
Store-bought Nutella's first ingredient is sugar and has a whopping 3.5 times more sugar than this homemade version for the same serving size! That's why it's so addicting and sweet. Additionally, it contains palm oil and dairy products. The homemade version is just as addicting, but less processed and vegan!
While this recipe isn't necessarily "healthy" (well, depending on your standards), it's healthier. It results in the same addictive, creamy, chocolate-y nutty spread that you can slather on anything.
Just 7 Ingredients for the best Nutella Recipe
This homemade Nutella recipe comes together with just 7 ingredients! The best part is that it's naturally vegan and dairy-free!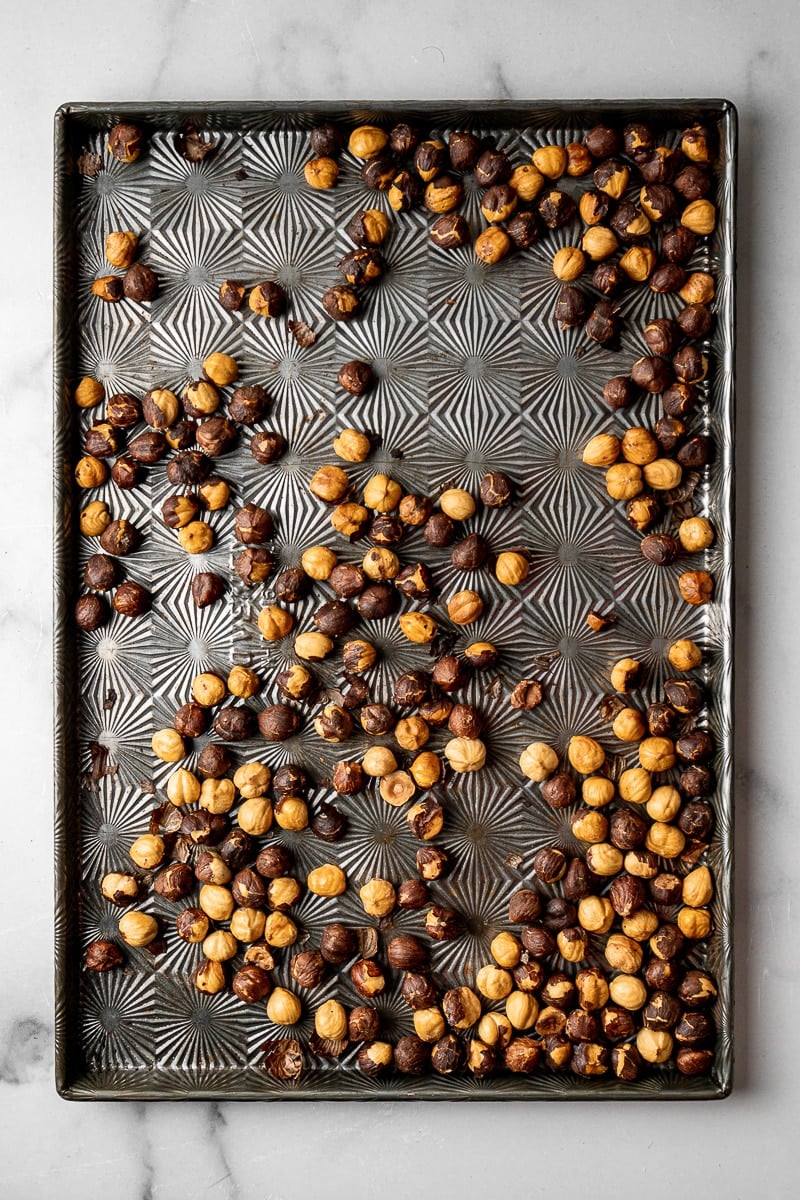 Raw Hazelnuts: The main ingredient is nutty and toasty and pairs wonderfully with chocolate.
Vanilla Extract: Deepens the richness of the chocolate hazelnut spread.
Salt: Always add a pinch to balance out the sweetness.
Powdered Sugar: The powdered sugar adds sweetness. Do not use granulated sugar. You can also use coconut sugar for an unprocessed sugar, just make sure it's blended until it's a powder before adding it in otherwise the Nutella will be grainy.
Natural Cocoa Powder: Adds the deep chocolate flavor.
Dark Chocolate: Use the best quality chocolate you can find, like Valrhona, Guittard, or Callebut at 60-70% dark chocolate. Bars work best! You can also use semisweet chocolate. This can also be omitted.
Coconut Oil: Helps to make the consistency smooth and creamy. You can also substitute for other neutral oils.
I have not tested other substitutions, but I'd assume you can substitute the powdered sugar for monkfruit and Erythritol if you're doing keto or low carb. Just keep in mind granulated sweeteners sugar will make the Nutella gritty and needs to be pulverized.
How to make Homemade Nut Butter
Roasting the hazelnuts first help them release their natural oils which makes the Nutella super creamy. If they're already pre-roasted, you can skip the first step and save half the cook time! Begin with preheating the oven to 375°F.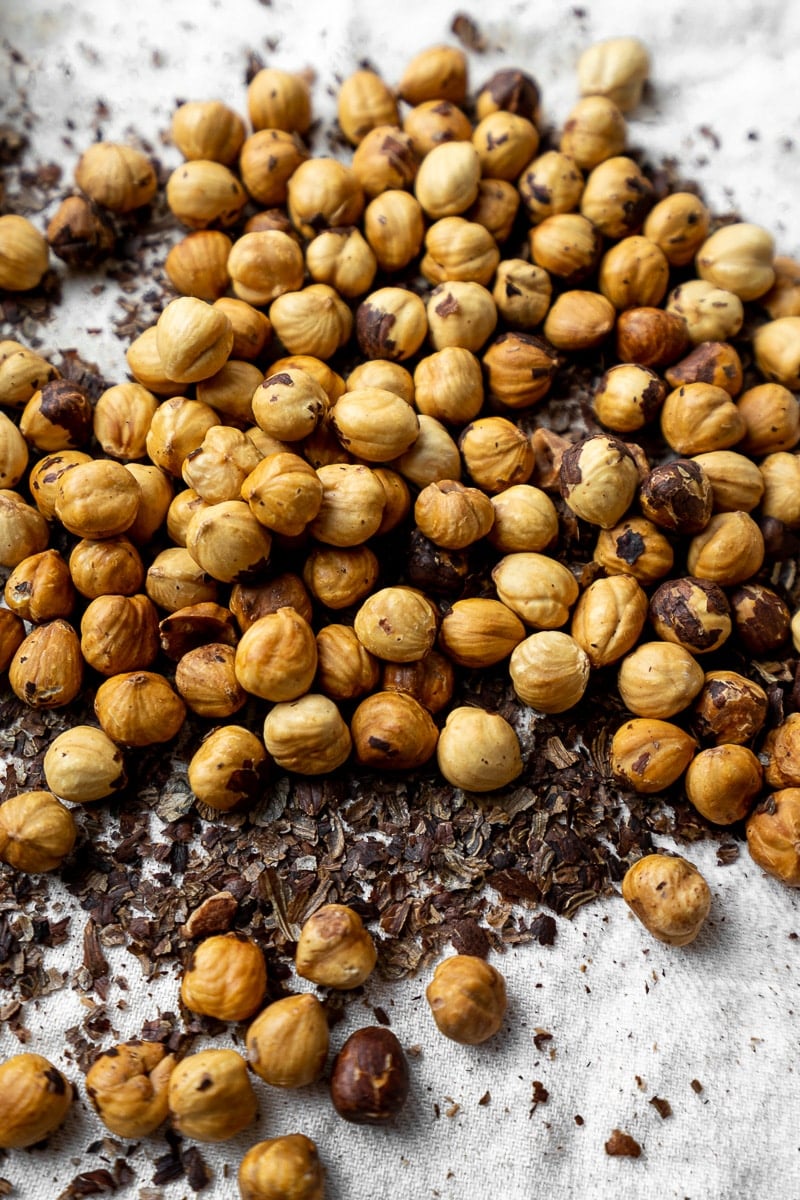 Roast the hazelnuts. Spread the hazelnuts out on a sheet pan and roast for about 10-12 minutes, until the hazelnuts begin to brown and the skin cracks.
Remove the shells. Once the hazelnuts have cooled, transfer them to an old kitchen towel. Bring the edges of the towel into the center to create a sack and rub them vigorously until most of the skins have come off.
Blend into a butter. Transfer the hazelnuts into a food processor, making sure none of the skins make it inside. In a food processor, blend the hazelnuts for about 3-5 minutes until it becomes a paste or creamy butter depending on preferred consistency.
Add the rest of the ingredients. Add the salt, vanilla extract, cocoa powder, melted chocolate, coconut oil, and powdered sugar. Continue to run the food processor for 2-3 minutes until the everything has combined.
Serve or store. Pour the Nutella into a santized airtight container. Consume right away or store for later.
Storage Instructions
Homemade Nutella won't last in your pantry as long as the store-bought version. This is because it has been processed and has preservatives which makes it shelf stable. It shouldn't last more than 2 weeks in your home, anyway!
For the homemade version, store it in an airtight container preferably in the fridge for 2-3 weeks. It'll harden up, so pop it into the microwave at 15 second intervals to return it to it's creamy consistency.
Frequently Asked Questions
Do I need to roast the hazelnuts?
If they're raw and unroasted, you absolutely need to roast the hazelnuts. It helps the nut release it's natural oils and create a smooth butter base.
Can I use maple syrup or honey instead of powdered sugar?
I'm going to say no. While you can use a small amount, the Nutella seizes with too much liquid sweeteners. It gets super thick and unspreadable, but not to the point where you have to toss it out like chocolate when it seizes. It just doesn't get back to the creamy consistency no matter how much oil or water you add. Stick to powdered sugar. If it does seize up, try making power balls instead.
Can I use a blender instead of a food processor?
You totally can, but I'd double the recipe otherwise it's hard to get the blender going. Unless you have a $400 blender... Otherwise you need at least an 8-cup food processor.
Why is the Nutella so firm after making it?
Don't worry, you didn't mess up! Leave it at room temperature and it'll soften up again. You can also pop it into the microwave for 15 second intervals to make it spreadable again.
Why is the spread so grainy?
This can happen for a few reasons! The hazelnuts may not be roasted enough to release it's natural oils, this can especially happen if you buy pre-roasted hazelnuts. You may have also used a granulated sugar - definitely only use a powdered sweetener for the best consistency! Lastly, when making the initial hazelnut butter, keep running the food processor until you get a smooth shiny butter if possible. If you like it a little chunkier, you can stop when it's a paste (see video).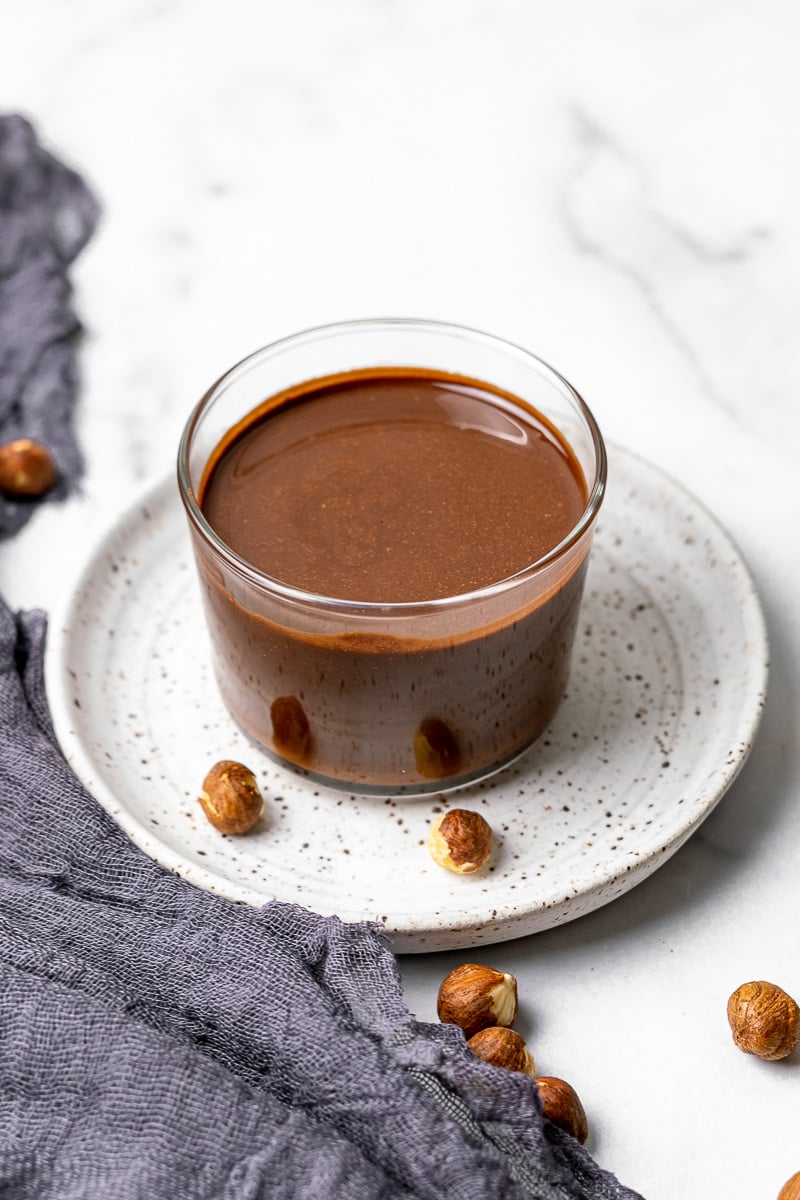 More chocolatey recipes to try
Looking for more to satiate your chocolate cravings? I gotchu!
Recipe
Homemade Nutella
Beat the store-bought version and make your own nutella at home! This Homemade Nutella is incredibly easy to make at home in a food processor. It's silky smooth, chocolatey, and healthier than store-bought.
Print
Pin
Rate
Ingredients
9

oz

hazelnuts

,

raw and unroasted

¼

teaspoon

vanilla extract

¼

teaspoon

salt

⅓

cup

powdered sugar

3

teaspoon

cocoa powder

6

oz

dark chocolate

,

melted

1

tablespoon

coconut oil
Instructions
Preheat the oven to 375°F. Spread raw, unroasted hazelnuts on a sheet pan and bake for 12-15 minutes until they've lightly browned and the shells have cracked. In the meantime, melt the chocolate in a heat safe bowl in 20 second intervals in the microwave. Remove the hazelnuts from the oven and allow them to cool.

Pour the hazelnuts into an old kitchen towel. Fold the edges in to create a sack and rub the hazelnuts for 3-5 minutes until most of the skin comes off. Pick out the hazelnuts, leaving the skins behind, and put them into a food processor.

Run the food processor on high for about 5 minutes until a paste forms, scraping down the sides as necessary. Add in the vanilla extract, salt, powdered sugar, cocoa powder, dark chocolate, and coconut oil. Continue running the food processor until all the ingredients have combined in a smooth and creamy spread.

Pour the spread into a sanitized container. Serve immediately or store.
Notes
Disclaimer: This Homemade Nutella is not a suitable ingredient for baking recipes with Nutella, unless the recipe is tested for a homemade chocolate hazelnut spread. This is due to the lower amounts of sugar and cocoa powder that can affect the outcome. It is suitable for unbaked desserts.
Nutrition
Serving:
2
tablespoon
|
Calories:
182
kcal
|
Carbohydrates:
10
g
|
Protein:
3
g
|
Fat:
15
g
|
Saturated Fat:
4
g
|
Cholesterol:
1
mg
|
Sodium:
39
mg
|
Potassium:
187
mg
|
Fiber:
3
g
|
Sugar:
6
g
|
Vitamin A:
7
IU
|
Vitamin C:
1
mg
|
Calcium:
26
mg
|
Iron:
2
mg