Between the sweet candied lemons, the savoury and moist lemon olive oil cake, and the scent of cardamom, this refined upside down cake is incredibly soft and pleasing to all the senses!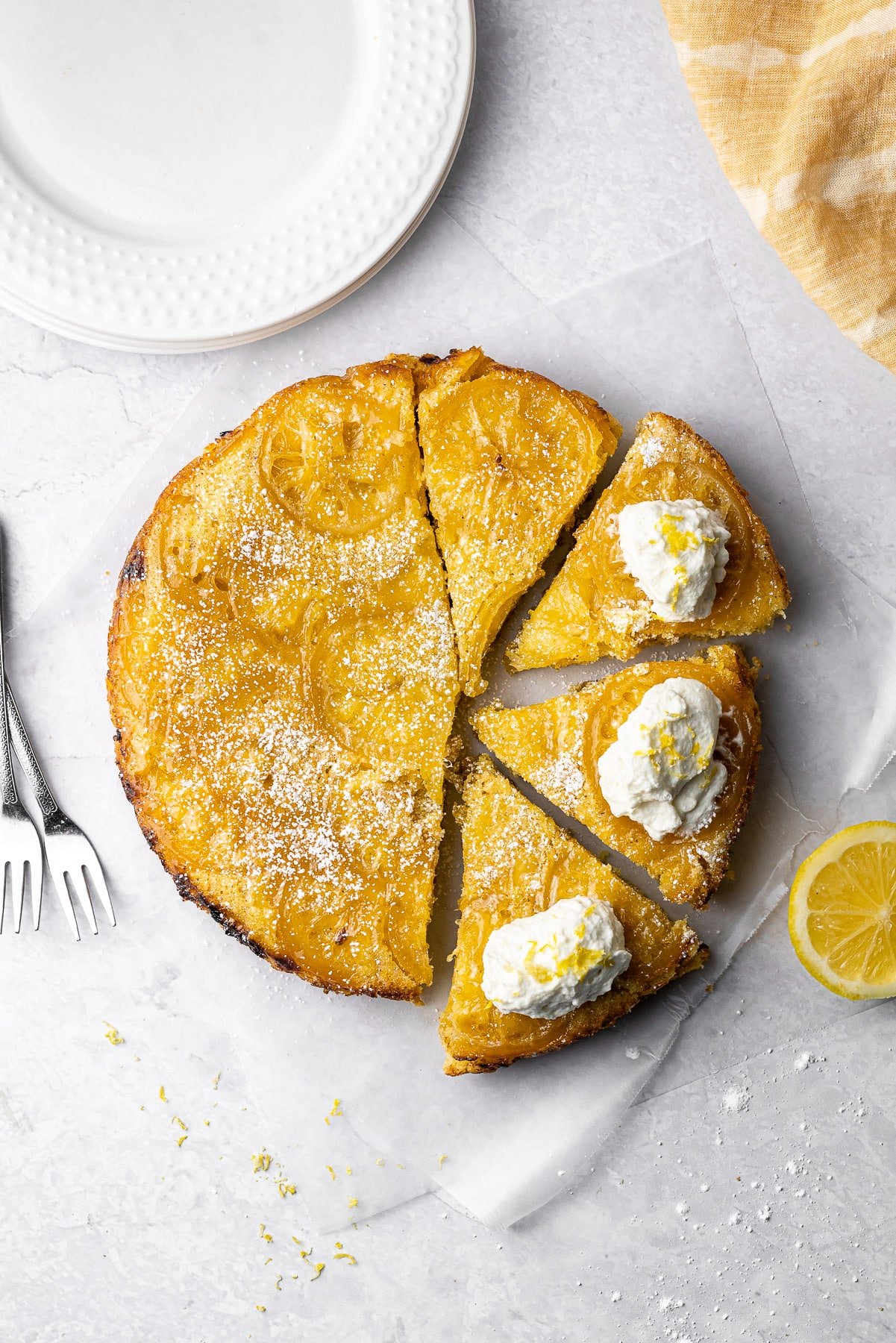 Lemon-Cardamom Olive Oil Cake Recipe
This easy, one-bowl Lemon Olive Oil Cake spiced with aromatic cardamom is an awesome change of pace for bakers that always bake with butter. I know it was for me, since this is the first cake I've made with only olive oil for the fat. And it definitely won't be the last! This cake was ridiculously soft and tender, and surprisingly not heavy or greasy.
I accidentally left this cake open in the fridge for a few days and I was shocked to see it didn't dry out at all! It stayed moist and tasted as fresh as when it was first baked.
This is definitely a cake I'll keep making year round - especially since lemons are always available! It's also an easy, light and elevated option for serving guests.
Olive Oil vs. Butter
Olive oil is 100% fat whereas butter is about 80% butterfat in the United States. Olive oil is a great option for those looking at their unhealthy fat intake, as it has less artery-clogging saturated fats than butter does. The extra fat is what keeps this cake so soft and tender! That's just plain 'ol baking science facts.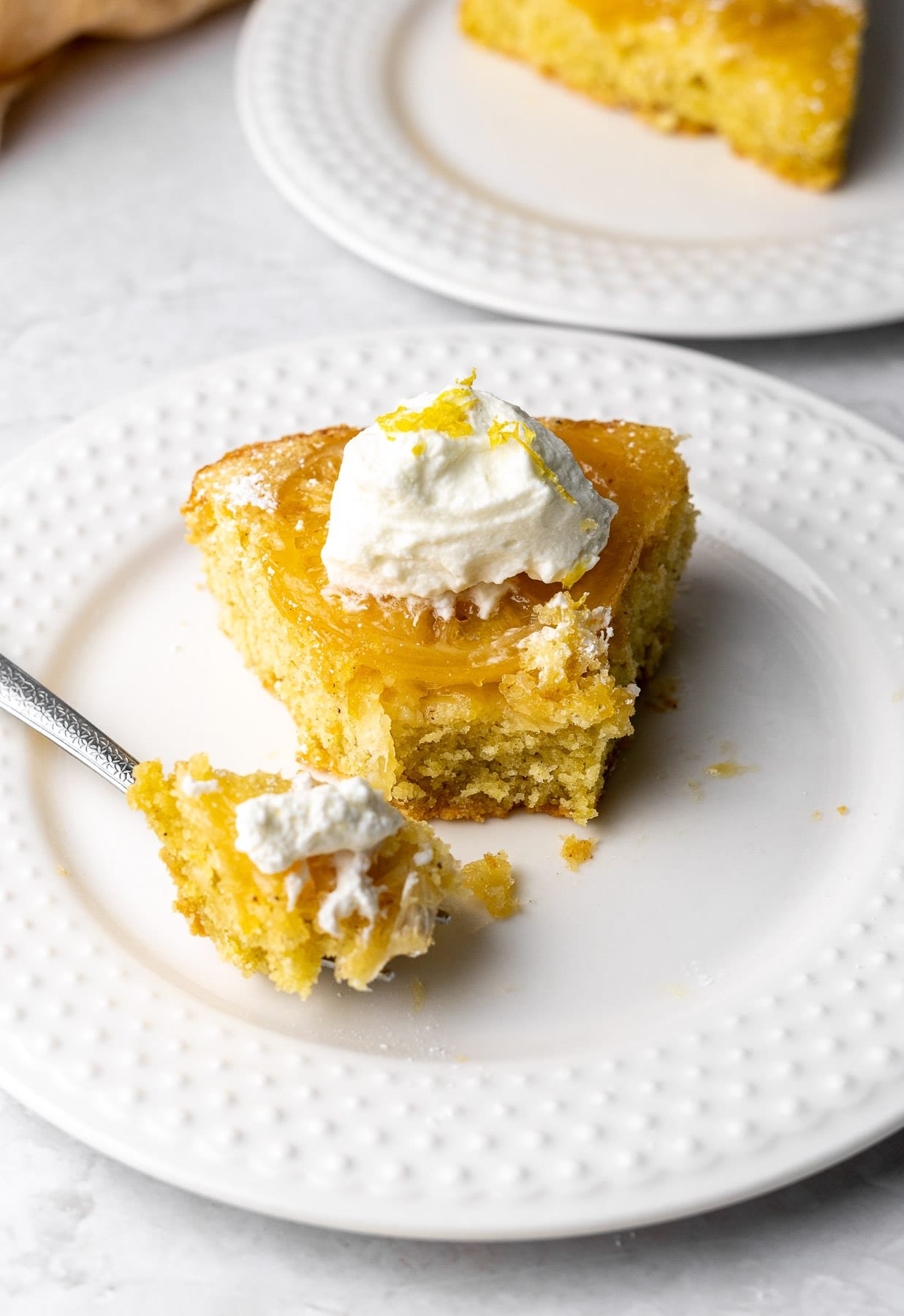 And while butter makes things taste dang good, this olive oil cake gives it a run for its money! Olive oil has a distinct taste compared to neutral oils like vegetable oil or coconut oil, but it's not overwhelming. The taste of olive oil is subtle, and lends more of a savory flavor that is well complimented by the scent of cardamom and candied lemons.
CITRUS GALORE
The lemon flavor is incorporated in three ways: the candied lemon slices that top the cake, the lemon zest and juice that are incorporated into the batter. Another great addition would be a bit of limoncello for an alcoholic twist.
The lemons can also be substituted for just about any citrus - orange, grapefruit, key limes, or blood oranges would be great during citrus season!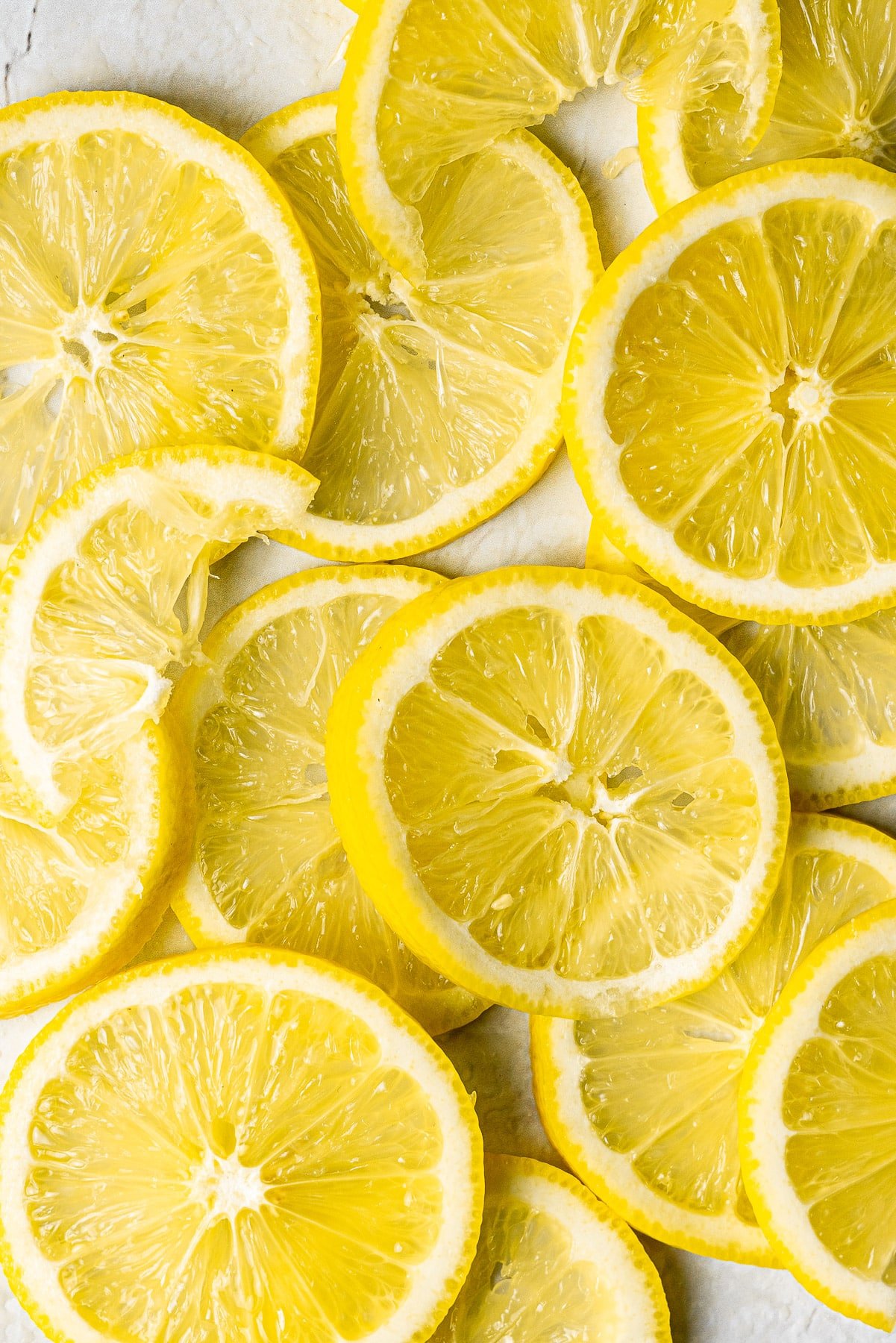 INGREDIENTS IN OLIVE OIL CAKE
I liken olive oil cakes to fancy $15 cakes I see at Italian restaurants in New York City. They're not as sweet as a chocolate cake which feels out of place for me after pasta, so olive oil cakes are a bit more refined. They're typically served with a dollop of cream or fruit, a sprinkling of confectioner's sugar, maybe even some gelato. Turns out, you don't need much to make them past what may already be in your pantry.
Candied Cardamom Lemon Slices
Sugar: The granulated sugar sweetens and candies the lemon slices when boiled. Also makes the syrup for brushing.
Water: Softens the lemon slices to make them tender and consumable. It also coats the lemons in a cardamom lemon syrup.
Cardamom Pods: Crushed cardamom pods add so much fragrance and a sweetness to the candied lemon slices and syrup.
Lemons: Sliced thinly, less than a fourth of an inch, so that they can be candied and layered for the top of the cake.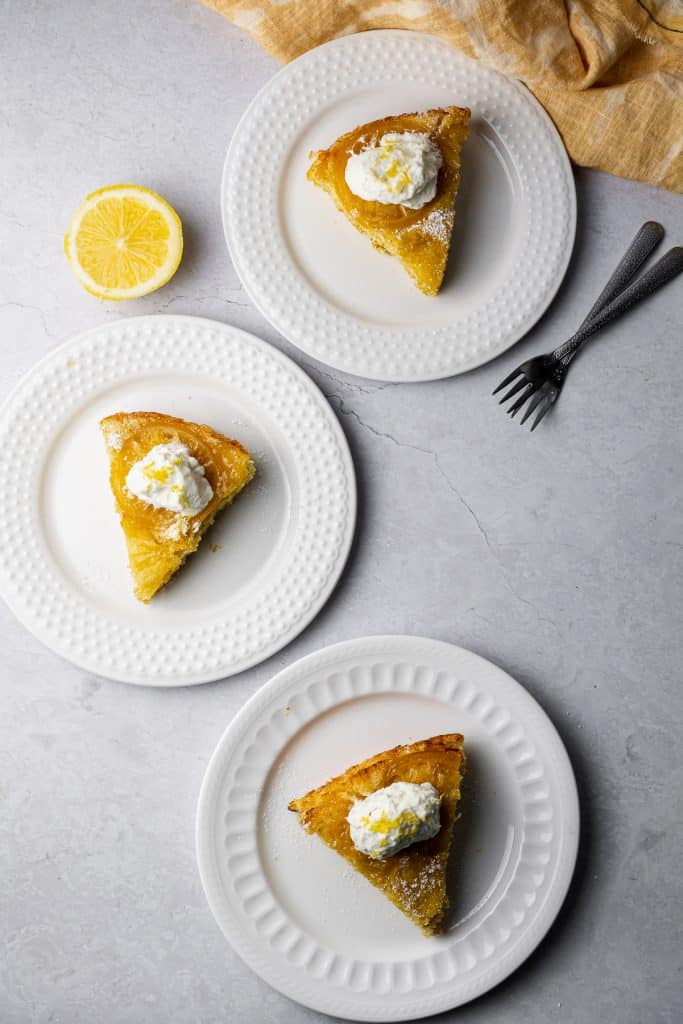 Lemon Olive Oil Cake
The cake has the usual culprits - flour, sugar, eggs, etc. Besides that, you'll need a few things that are probably already in your kitchen.
Vanilla extract: Deepens the flavor of the cake.
Extra virgin olive oil: Use the highest quality plain EVOO that you can find, preferably no spiced or infused olive oils.
Lemon zest & Juice: Adds tons of lemon flavoring in the cake!
Ground cardamom: Cardamom is incredibly fragrant and slightly sweet, and adds a layer of flavor in addition to olive oil and lemon.
Leavening: This recipe uses both baking powder and baking soda for the cake to rise.
HOW TO MAKE CARDAMOM SPICED CANDIED LEMON SLICES
You'll want to make sure you use an incredibly sharp knife to cut the lemon slices. You don't want anything that will be dull against the lemon peel and create wonky uneven slices. I find that a ridged knife works best.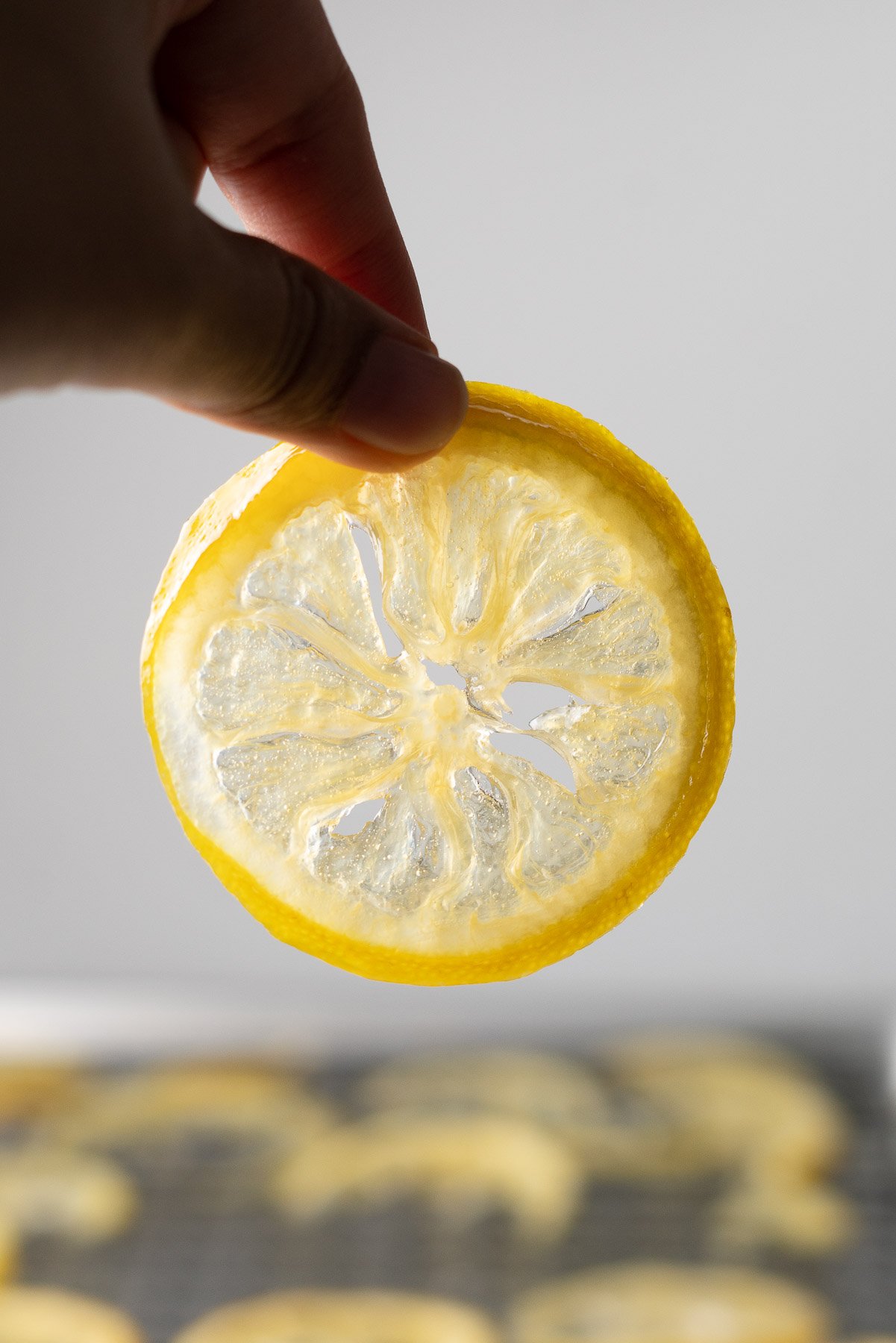 Slice the lemons. You'll want three large, even sized lemons. Nothing weird that's lumpy or too plump to cut. Cut slices that are less than a quarter of an inch thick. Deseed slices.
Candy the lemons. Use a medium sized saucepan for this. I tried a pan and it had a much longer simmering time and uneven results. Pour in the water, sugar, and crushed cardamom pods and bring it to a boil. Once it begins to boil, reduce the heat to a simmer. Carefully place the lemons in the sugar water. Give them a stir every now and then so that they're evenly translucent and tender after 15 minutes.
Cool the candied lemon slices. Allow the candied lemon slices to cool on a cooling rack over a sheet tray. They'll look glassy.
Make the syrup. The syrup is brushed on to the top of the cake at the end. To make the syrup, continue to simmer the sugar water until it significantly reduces into a syrup. It's done when it forms a layer on the bottom of a spoon. If the sugar water is pulpy after simmering the lemons, strain it before continuing to simmer it.
The cardamom lemon syrup is so dang good! I bottled anything left at the end as a delicious flavored sweetener.
HOW TO MAKE OLIVE OIL CAKE
Making the olive oil cake could not be easier! It's a one bowl, no mixer recipe.
Mix the wet ingredients. That would be the eggs, sugar, olive oil, vanilla extract, ground cardamom, lemon zest, and lemon juice. The easiest way to mix in the olive oil is to slowly pour it in as you whisk it in with the eggs and sugar instead of pouring it all in at once.
Sift in the dry ingredients. Sift the all purpose flour, leavening, and salt into the wet ingredients. Gently fold everything together.
Bake. After preparing the springform pan and layering the candied lemon slices, gently pour the cake batter into the cake pan. It won't seem like a lot of batter, but the cake will rise significantly. Bake according to the instructions. You'll know the cake is done when a toothpick is inserted into the center and comes out clean. The cake will be a golden brown.
WHAT TO SERVE OLIVE OIL CAKE WITH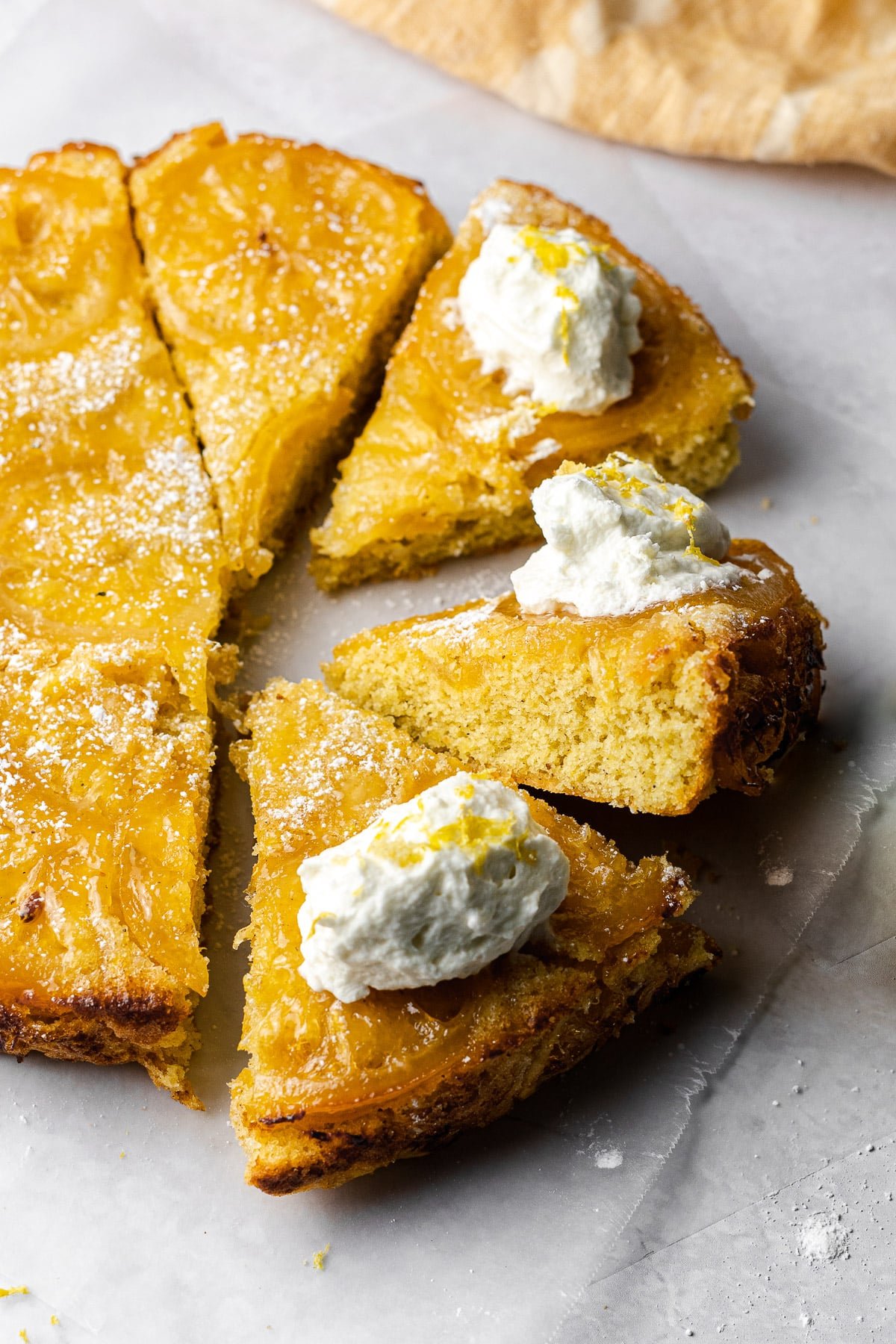 There are so many amazing options for serving! Here are some suggestions:
Plenty of the cardamom lemon syrup to soak into the cake
A healthy dusting of confectioners' sugar
Homemade whipped cream. Add a bit of confectioners' sugar to heavy cream and some lemon zest. Use a hand mixer to whip it until stiff peaks are achieved
Greek yogurt
A fruity gelato
WHAT'S THE BEST OLIVE OIL TO USE?
I grabbed my favorite extra virgin olive oil from Whole Foods. You'll want to make sure you get a traditional blend of olive oil, something that you may use everyday for marinades or salads. Avoid refined or virgin olive oil if possible.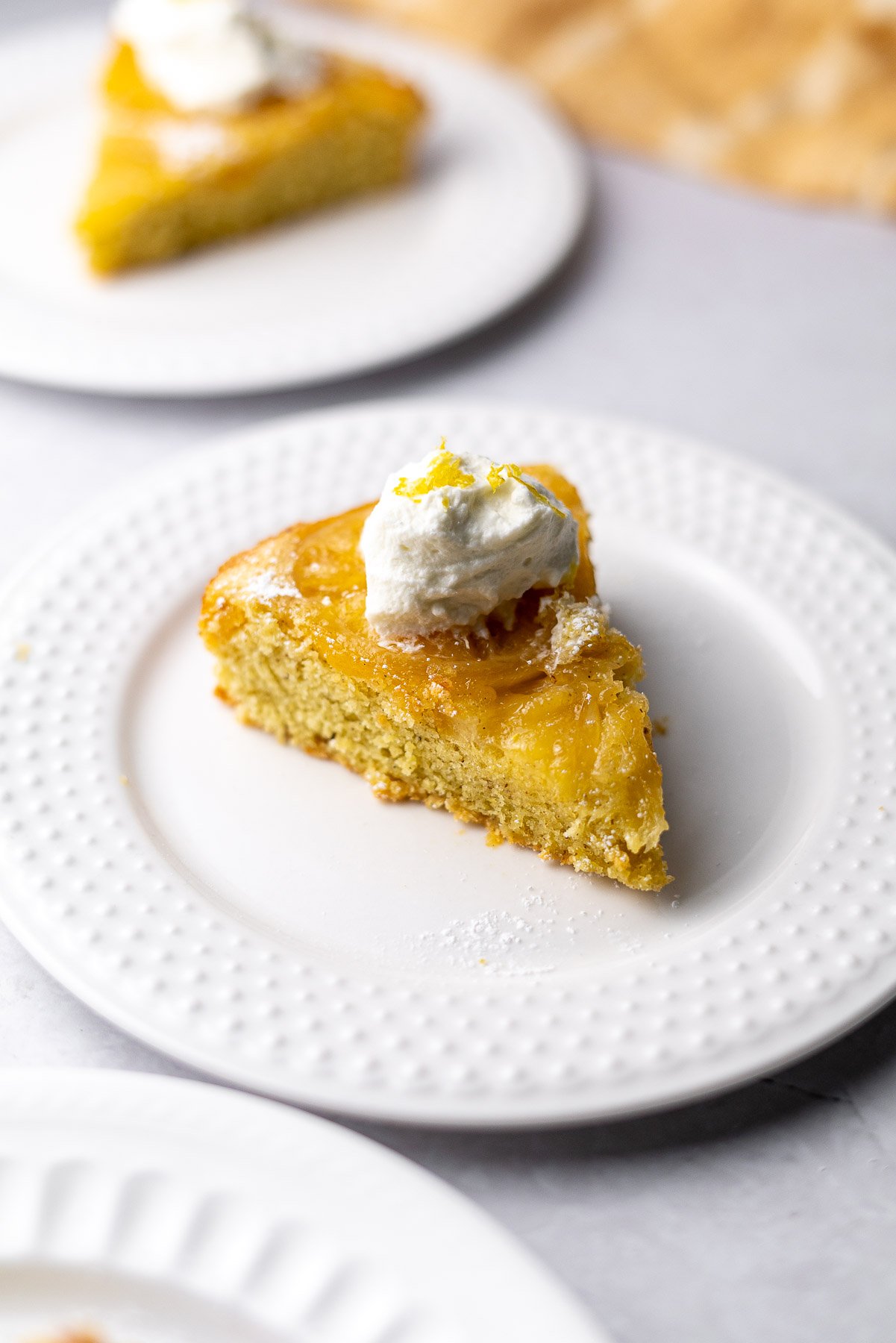 TIPS FOR MAKING LEMON-CARDAMOM OLIVE OIL CAKE
The springform pan - Use an 8-inch or 9-inch springform pan. A regular cake pan will not work for this recipe, as this cake rises close to 3 inches. A regular cake pan is not deep enough nor provides easy release for the sticky candied lemons.
Baking time - You'll want to closely monitor this cake towards the end of it's baking time. If there's too much liquid from the lemons, it'll require a much longer baking time and the cake will be susceptible to a collapsed center if underbaked.
Oven temperature - The cake will need to bake in low heat, especially so that the lemons don't caramelize or burn. The cake pan itself gets very hot, which is why the parchment paper is essential in between the cake and the pan so that the lemons don't burn. If they do burn a bit, remove them before consuming as the crunchy bits are unappealing.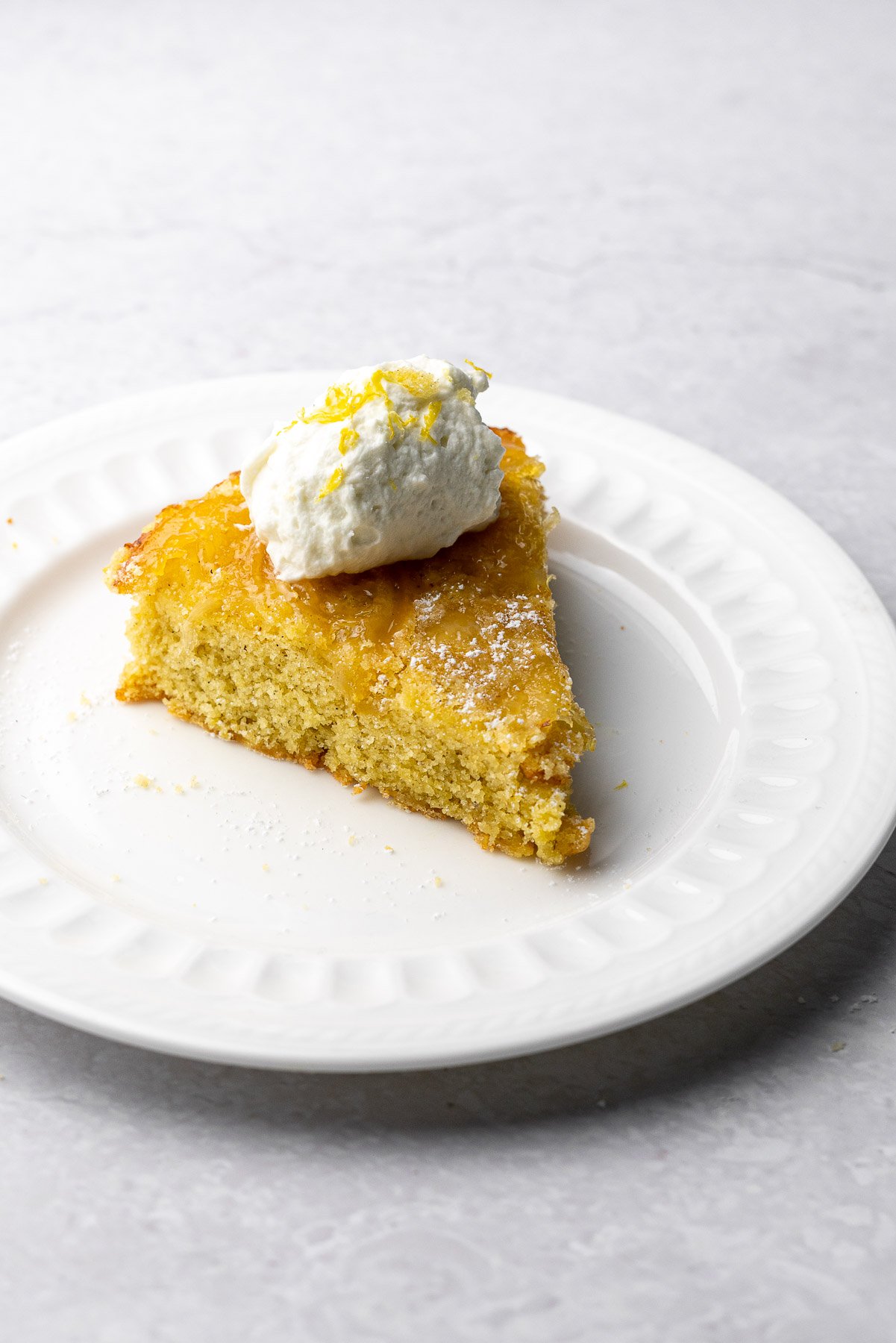 MORE CAKE RECIPES TO TRY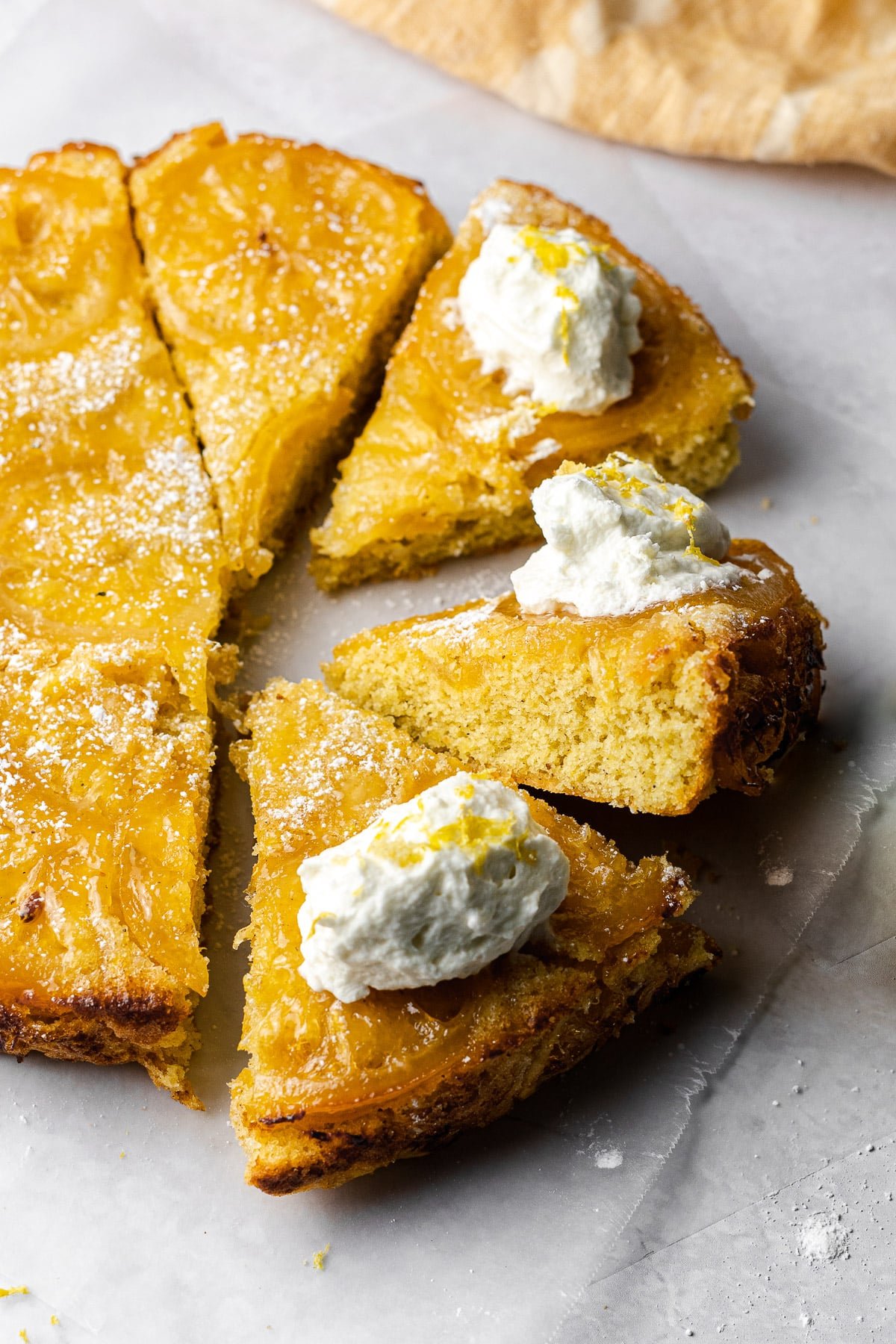 Print Recipe
Lemon-Cardamom Olive Oil Cake
Between the sweet candied lemons, the savoury and moist lemon olive oil cake, and the scent of cardamom, this refined upside down cake is incredibly soft and pleasing to all the senses!
Ingredients
Candied Cardamom Lemon Slices
1

cup

sugar

1

cup

water

2

cardamom pods

crushed

3

lemons

sliced
Lemon Olive Oil Cake
2

eggs

¾

cup

sugar

½

tsp

vanilla extract

½

cup

olive oil

extra virgin

zest from ½ a lemon

juice from ½ a lemon

1

tsp

ground cardamom

½

tsp

baking powder

¼

tsp

baking soda

1

cup

flour

¼

tsp

salt
Instructions
Candy the Lemon Slices
Bring the water and sugar to a boil in a medium sized sauce pan. Crush 2 pods of cardamom and add them into the water. In the meantime, wash and scrub the lemons. Cut thin slices of lemons, resulting in about 20 full slices and 10 halved slices.

Once the water and sugar reach a boil, reduce it to a simmer and gently place the lemon slices into the water. Simmer for 15 minutes, or until the lemon slices become translucent. Stir every few minutes.

Place the lemon slices on a cooling rack in a sheet pan and allow them to cool. Continue to simmer the sugar water until it thickens into a syrup.
Make the Lemon Olive Oil Cake
Preheat the oven to 350°F. Prep a 8-inch springform cake pan with a sheet of parchment paper on the bottom and around the sides.

Add the eggs and sugar into a large bowl. Cream together the eggs and sugar until it's paler in color and fluffy. Slowly pour in the olive oil while whisking the mixture until it's fully incorporated into the batter. Stir in the vanilla extract, ground cardamom, lemon juice, and lemon zest.

Sift the baking powder, baking soda, flour, and salt into the wet mixture. Gently fold the dry ingredients in until fully incorporated into a light and fluffy batter.

Layer the bottom of the cake pan with the candied lemon slices and the sides with the halved slices. Gently pour the cake batter over the lemon slices. Place the pan onto a baking sheet to catch any juices and pop it into the oven. Bake for 30 minutes, or until a skewer is inserted into the middle and comes out clean.

Allow the cake to cool for 10 minutes. Open the latch on the springform and peel off the parchment paper from the sides. Carefully flip the cake on to a plate so that the lemons are facing up. Brush the top of the cake with leftover lemon cardamom syrup. Serve with yogurt or homemade whipped cream.
NUTRITION
Nutrition Facts
Lemon-Cardamom Olive Oil Cake
Amount per Serving
% Daily Value*
* Percent Daily Values are based on a 2000 calorie diet.
Did you make this recipe?
Tag @masalaandchai in your post and stories on Instagram!
I'd love to know what you thought of this recipe! Leave a comment and rating below! You can also find me on Pinterest and Facebook, or stay in touch with me via my Newsletter!