Scrumptiously soft Lemon Poppy Seed Cupcakes topped with a gorgeous American-style Lavender Buttercream frosting are a perfect floral and bright pairing! They're a lovely light treat during the winter citrus season.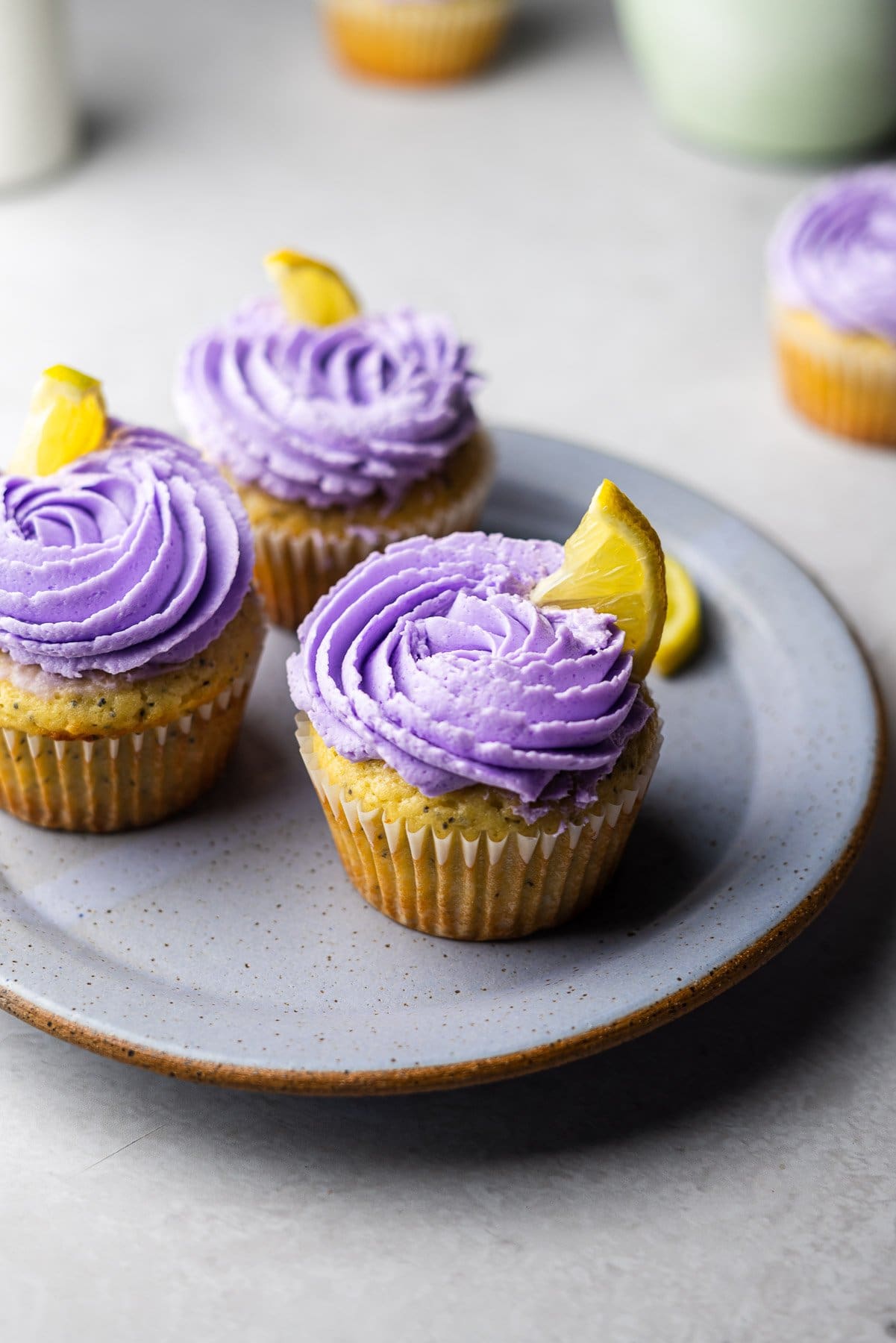 One of the most underrated pairings? Lemon poppyseed with lavender!! The soft floral from the lavender with bright lemons and earthy poppy seeds make a well-balanced sweet treat. I've used it for lemon shortbread cookies with fresh lavender baked in, as well as these cupcakes. It's honestly been a hit.
These cupcakes are made with a super flavorful lemon poppyseed batter that results in a soft, scrumptious, fluffy base. They're paired with an American buttercream that's flavored with lavender extract. You'll have bright, beautiful cupcakes that, in my opinion, are not painfully sweet and hits all the best favorite flavor profiles - tangy, earthy, and floral.
I especially love whipping up these easy cupcakes during the winter citrus season, or towards the end of summer when there's tons of fresh lavender at the farmer's market. Emphasis on the easy! They are stunning and deserve to be shared with friends and family.
Jump to:
Ingredients - Notes and Substitutions
The cupcake's base doesn't have your regular ½ cup of butter like most recipes - and that's to make them especially light and scrumptious against a heavier American buttercream. Instead, we use olive oil!
All purpose flour - This recipe has only been tested with all-purpose flour. A 1-to-1 gluten-free flour should also work.
Sugar - Please don't reduce / replace the amount of sugar in these cupcakes! It ensures a really soft, moist cupcake.
Leavening - Use baking powder, which will react with the lemon as the acidic agent.
Poppy seeds - I love Burlap & Barrel's Blue Poppy Seeds for these cupcakes!
Yogurt - The addition of yogurt makes these cupcakes especially light, scrumptious, and delicious. Use plain whole milk yogurt. I haven't tried substitutions with Greek yogurt, but I'd assume it would work!
Lemon juice / lemon zest - Freshly squeezed lemon juice gives these cupcakes a ton of flavor.
Olive oil - I'm a huge fan of how scrumptious these cupcakes are from the olive oil instead of using butter, and the taste is virtually unintelligible but adds a little extra something. It gets better and better each day and stays moist over several days.
Vanilla extract - Adds a bit of extra flavor to these cupcakes.
Recommended Kitchen Ingredients
How to make Lemon Poppyseed Cupcakes
I love that these cupcakes are non-fussy! You don't even need a stand mixer for this part. A whisk or electric mixer works just fine.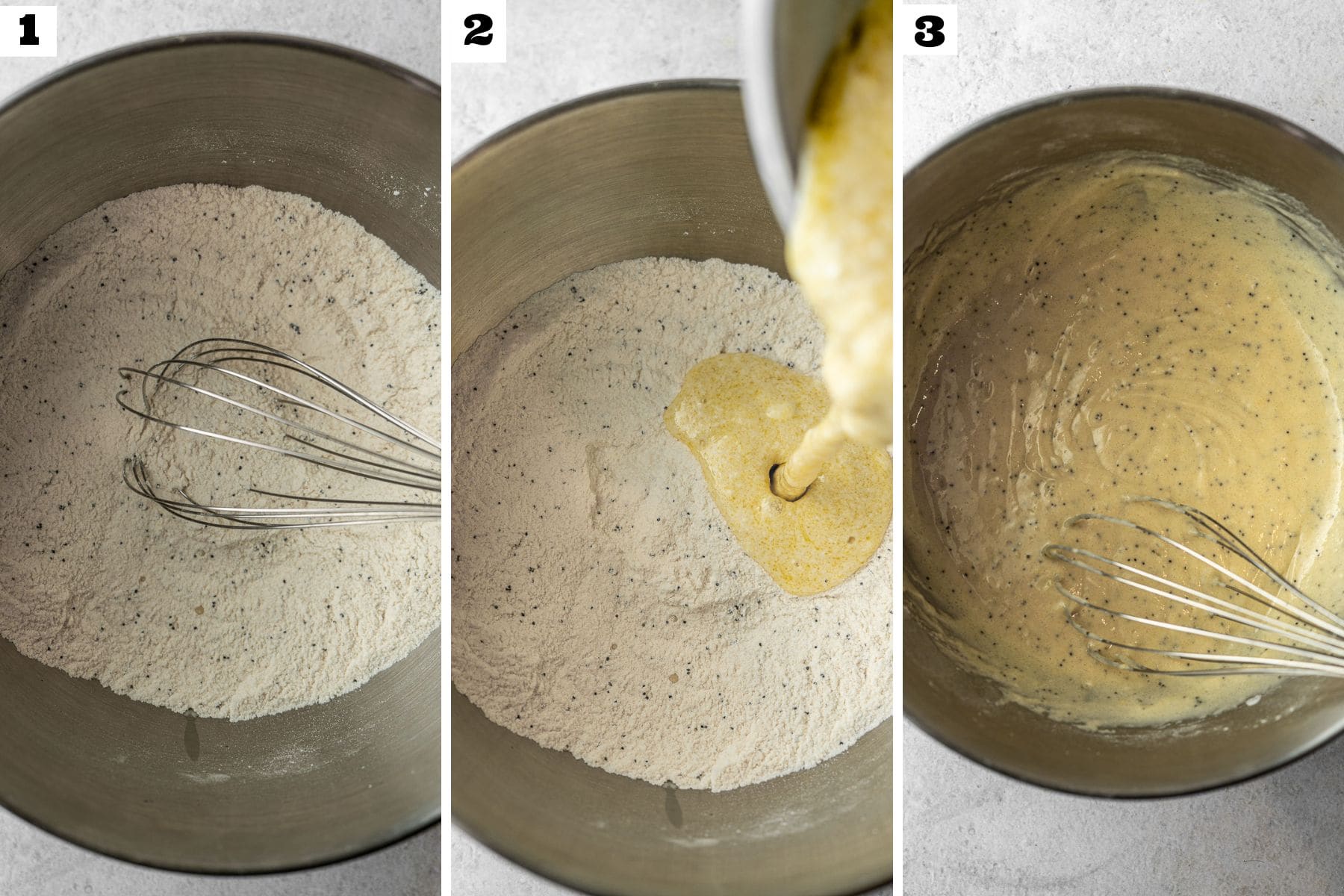 To make these cupcakes, start by mixing the dry ingredients - the flour, sugar, salt, baking powder, and poppyseeds - in a medium sized bowl. Once it's all whisked together, set it aside.
Then, in another mixing bowl, beat together the yogurt, milk, lemon juice, lemon zest, olive oil, egg, and vanilla extract. This will look like goop, bare with me here.
Add the wet ingredients into the larger bowl with the dry ingredients. Fold the dry ingredients into the wet ingredients with a rubber spatula. Only mix it until just combined, don't over mix the batter otherwise the cupcakes will be really dense. The texture will be a little more towards the runny side, but it should still be a little thick.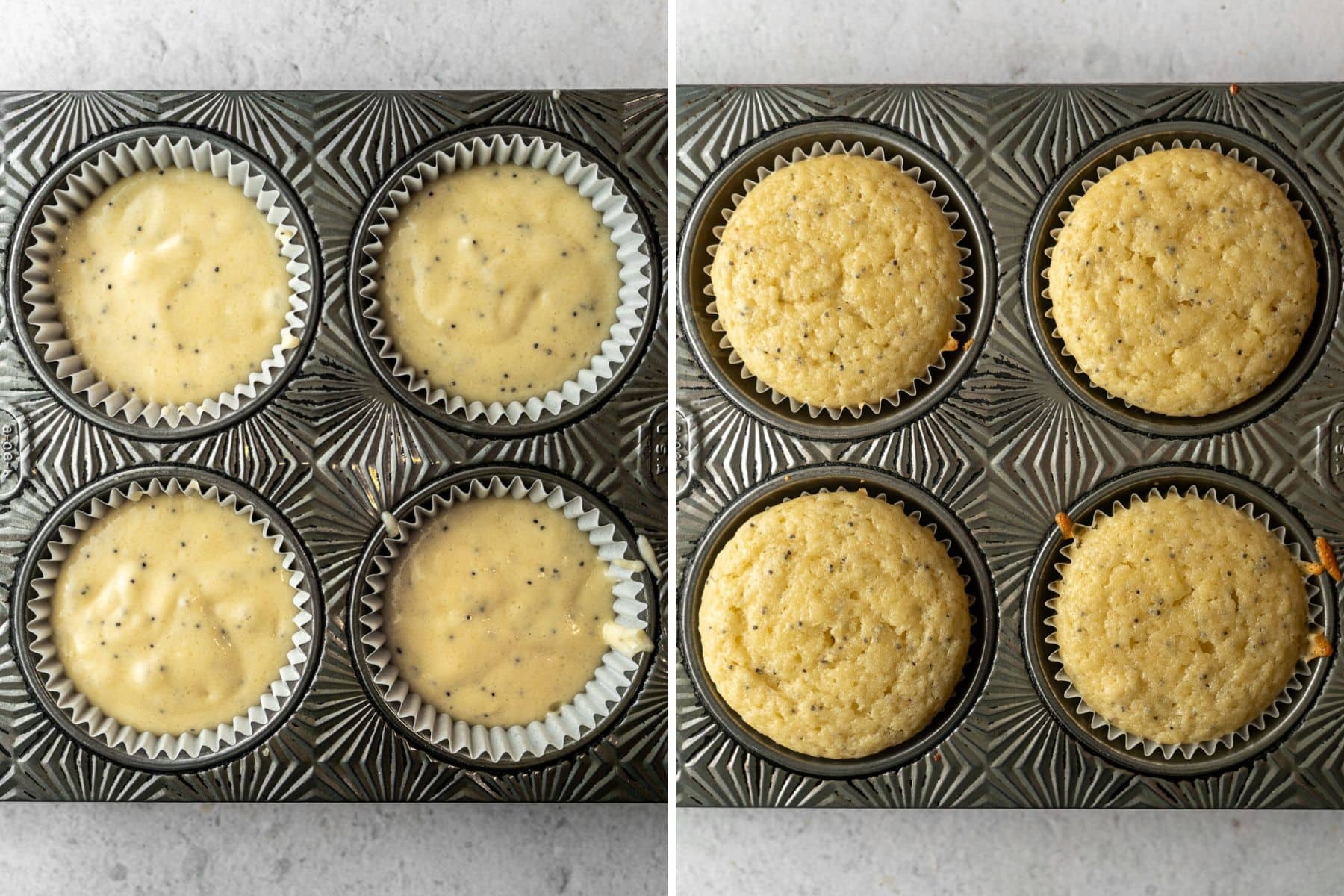 Line a muffin pan with cupcake liners. Fill them about ¾ of the way up. Give the pan a bang on a flat surface so that it releases any trapped air bubbles.
The cupcakes will bake in the oven at 350°F for 20-25 minutes. Insert a toothpick straight down the middle of a cupcake. If it comes out clean, the cupcakes are done.
Remove them from the oven and allow them to fully come down to room temperature on a cooling rack before frosting. You can also remove transfer them to a refrigerator or freezer for 15-30 minutes to speed up this process.
How to Make Lavender Buttercream
These cupcakes have a rich American-style lavender buttercream, which is a bit heavier than other frostings. I think it's the perfect pairing with the really light, moist lemon poppyseed cupcake!
First, you'll need lavender extract. You can also pair these cupcakes with any other flavor of frosting, and I'm sure it'll be delicious! Off the top of my head, I think frosting with coconut extract and coconut flakes mixed or a plain glaze would be incredible.
In addition to the lavender extract, I use a bit of Wilton's violet gel food coloring to get a lavender shade to the buttercream.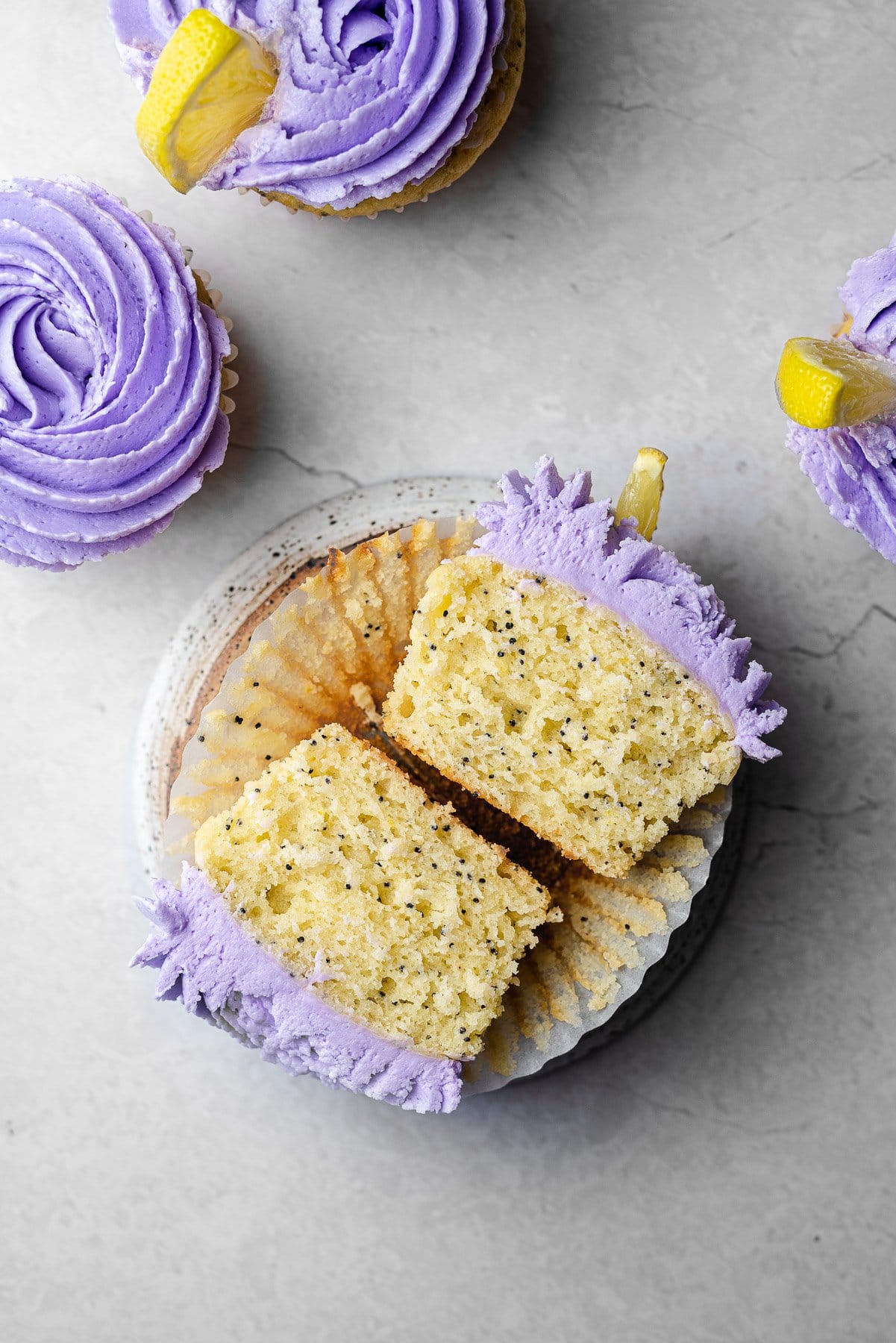 You can get started on making the buttercream as the cupcakes bake in the oven or while they cool down.
To make the buttercream, start by beating room temperature butter in the bowl of a stand mixer for about a minute. Once it's smooth, slowly begin adding the powdered sugar in small increments. Be really careful when adding in the sugar, otherwise you'll have a plume of sugar in your face!
About halfway through adding the sugar, stop the stand mixer and give everything a scrape. At this point, add the milk as well. Once the rest of the powdered sugar has been added, pour in the lavender extract and the gel food coloring.
Continue to beat the buttercream until it is gloriously smooth and fluffy. Give it a quick taste to ensure it's enough lavender extract.
Serving Suggestions
Piping Rosettes
While this is completely optional, I really love the spring feel that the buttercream roses gave to the cupcakes! It's actually a lot easier than you'd think, too.
These photos you're seeing are personally the first time I've ever piped roses and it took a few initial tries but eventually they came out halfway decent! I'd say they're a bit ~ rustic ~ and I challenge you to give them a try!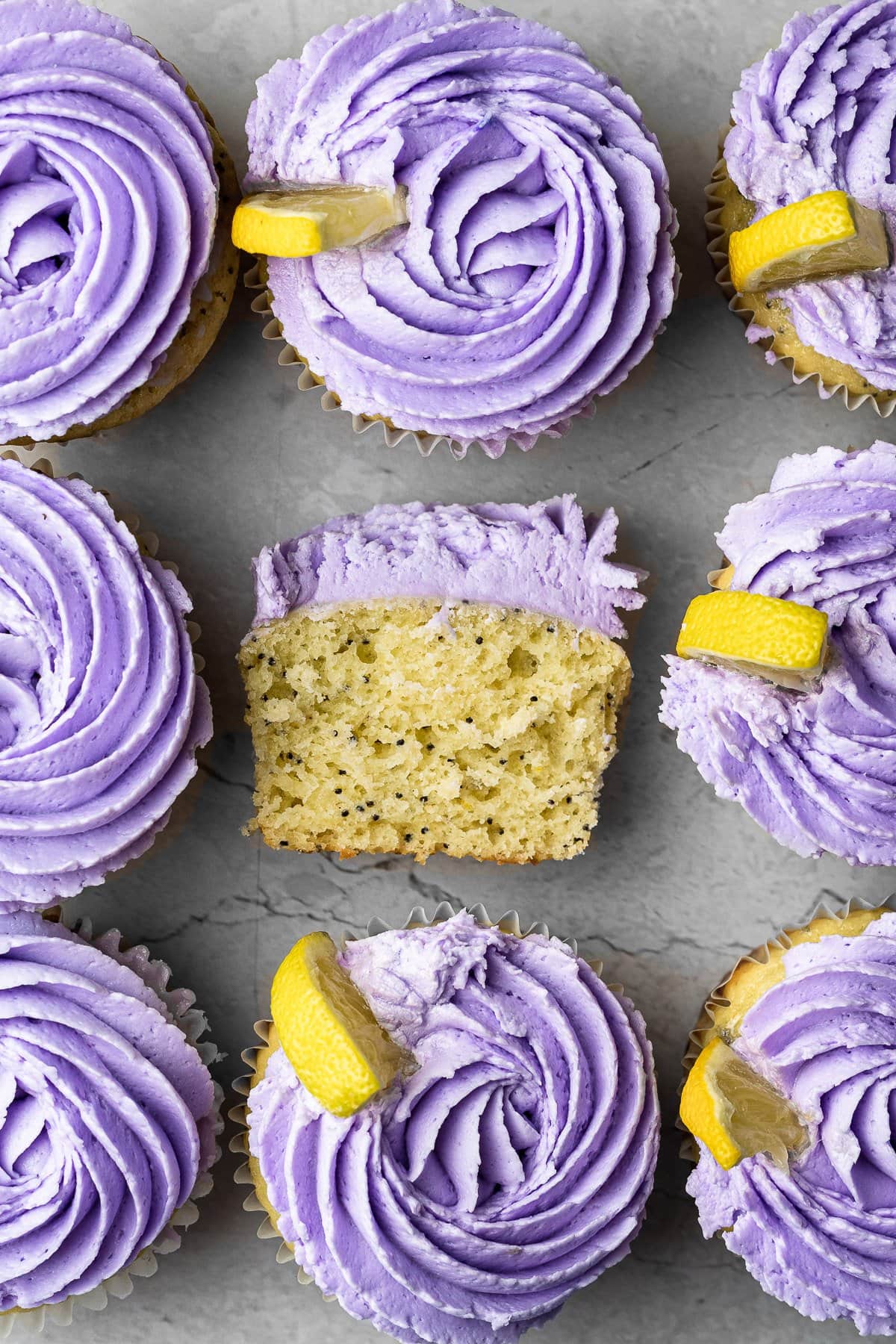 You'll need the star piping tip and a decorating bag. YouTube is truly your BFF here when it comes to decorating cupcakes!
I also want to note that I love the one layer of frosting here with the rose - any more and the cupcake would be way too sweet for me.
Fresh Lemon
A great way to utilize fresh lemon for garnish is with a sprinkle of lemon zest over the buttercream, or cutting a quarter lemon wedge and sticking it into the buttercream. Just note that if you do the latter, then it may make the buttercream a bit watery and should be added right before serving.
Fresh Lavender
If you have access to organic, pesticide-free lavender then they would make an absolute gorgeous addition to these cupcakes as well! Just place a small, trimmed stem offset from the lemon wedge.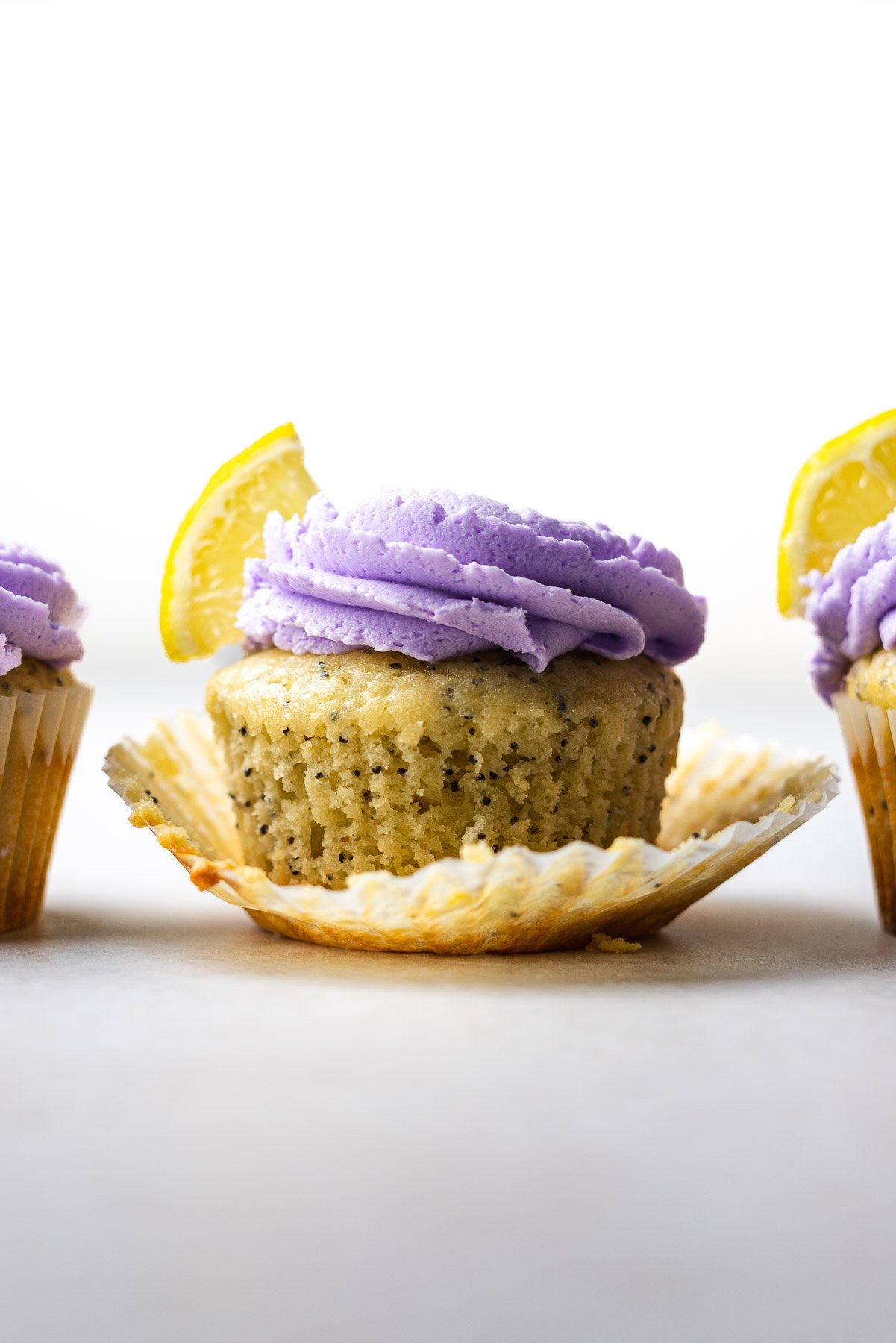 More Cake and Cupcake Recipes to try
Recipe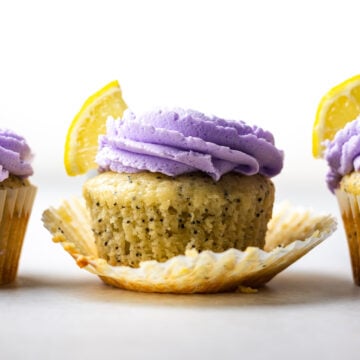 Lemon Poppy Seed Cupcakes with Lavender Buttercream
Scrumptiously soft Lemon Poppy Seed Cupcakes topped with a gorgeous American-style Lavender Buttercream frosting are a perfect floral and bright pairing! They're a lovely light treat during the winter citrus season.
Print
Pin
Rate
Ingredients
Lemon Poppy Seed Cupcake
1¼

cup

all purpose flour

1

cup

granulated sugar

1½

teaspoon

baking powder

pinch

of

salt

2

teaspoon

poppy seeds

5

oz

plain yogurt

¼

cup

milk

¼

cup

lemon juice

1

tablespoon

lemon zest

1

egg

¼

cup

olive oil

,

or neutral oil

1

teaspoon

vanilla extract
Instructions
Lemon Poppy Seed Cupcakes
Preheat the oven to 350°F. Line a muffin pan with cupcake liners.

In a medium-sized bowl, whisk together the flour, sugar, baking powder, salt, and poppy seeds. Set aside.

In a large bowl, beat together the yogurt, milk, lemon juice, egg, olive oil, vanilla extract, and lemon zest together.

Pour the dry ingredients into the wet ingredients. Gently fold everything together with a spatula just until the dry ingredients are incorporated.

Fill the cupcake liners ¾ of the way up with the batter. Give the pan a bang on a flat surface to release any bubbles. Pop the muffin pan into the oven for 20-25 minutes.

Insert a toothpick into the middle to check if the cupcakes are done baking. If it's clean, remove them from the oven. Allow them to cool down to room temperature before frosting.
Lavender Buttercream Frosting
In the bowl of a stand mixer, beat the butter for about a minute until it's smooth.

Slowly add in the powdered sugar in small increments, pausing in the middle to scrape down the bowl and to add in the milk. Towards the end, add the lavender extract and food coloring.

Continue beating until the food coloring is fully incorporated and the buttercream is light and fluffy.

Pipe the lavender buttercream frosting on to the room temperature cupcakes. Garnish with lemon zest or quarters of lemon slices.
Notes
This recipe was measured by weight (grams). Please use the metric measurements for the most accurate outcome.
Use room temperature ingredients.
This recipe was adapted from Chelsweets.
Nutrition
Serving:
1
cupcake
|
Calories:
336
kcal
|
Carbohydrates:
59
g
|
Protein:
3
g
|
Fat:
11
g
|
Saturated Fat:
4
g
|
Trans Fat:
1
g
|
Cholesterol:
29
mg
|
Sodium:
70
mg
|
Potassium:
54
mg
|
Fiber:
1
g
|
Sugar:
47
g
|
Vitamin A:
208
IU
|
Vitamin C:
3
mg
|
Calcium:
70
mg
|
Iron:
1
mg