Enjoy this minimalist Cacio e Pepe Orzo - a "cheese and pepper" pasta. It's an easy, dreamy creamy weeknight dinner option that comes together in under 25 minutes and only requires 5 ingredients!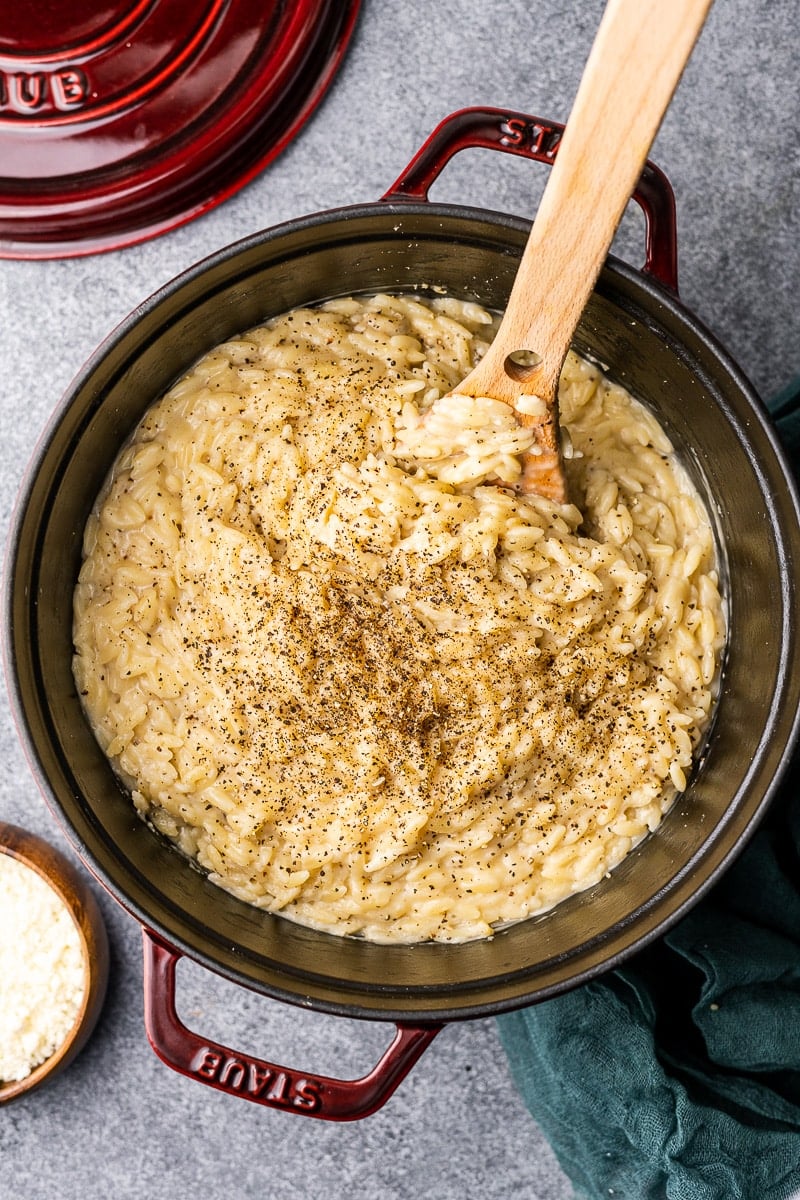 One of my favorite pastas ever? Cacio e Pepe (shhh, don't tell my Butter Masala Pasta)! It's like an adult fettuccine alfredo or a stripped-down mac and cheese that only requires 5 ingredients but is beyond delicious.
Jump to:
Cacio e pepe, translating to "cheese and pepper", are the star ingredients here. It's traditionally made with spaghetti or tonnarelli in modern Roman cuisine and it forms this glorious silky cheesy peppery sauce using leftover hot starchy water from cooking the pasta. This dish exemplifies using simple, quality ingredients to create an impressive meal.
My best friend and I have been eating WAY too much pasta because let's face it - we're both too lazy to cook. Orzo felt like a great alternative... maybe a little break from pasta... even though it's literally just more pasta. Sometimes we are too lazy to get groceries BUT who doesn't have black pepper and cheese in their fridge?? It be like that sometimes. It's a foolproof, accessible recipe that can easily feed a crowd and is absolutely addicting.
The Ingredients and which Cheese to use
As I mentioned, this recipe is so simple it only takes 5 ingredients. If you substitute the chicken stock for water, it's technically only 4! It's important to use high quality ingredients to get the most out of Cacio e Pepe.
Orzo: For this, we're using orzo. Orzo is a short-cut pasta that resembles long-grain rice or risotto. It's often used for its small size and texture.
Cheese: Preferably, Pecorino Romano. Parmigiano-Reggiano is an acceptable substitute as well. You'll want a finely grated room temperature cheese to melt into the starchy liquid.
Black Pepper: Freshly cracked ONLY. Please.
Chicken stock: I love using chicken stock for orzo because it soaks up all that flavor, but you can substitute it with water.
Butter: This varies among recipes but traditionally, it isn't used. Personally, I love the extra fat to create a luxurious sauce.
Thanks to the sodium in the chicken stock and the salty cheese, you don't even need to season the pasta with salt. It's THAT simple.
Using Parmesan vs. Pecorino
"Cacio" is Romanesco for sheep's milk cheese, which is why Pecorino is really the ideal cheese to use here.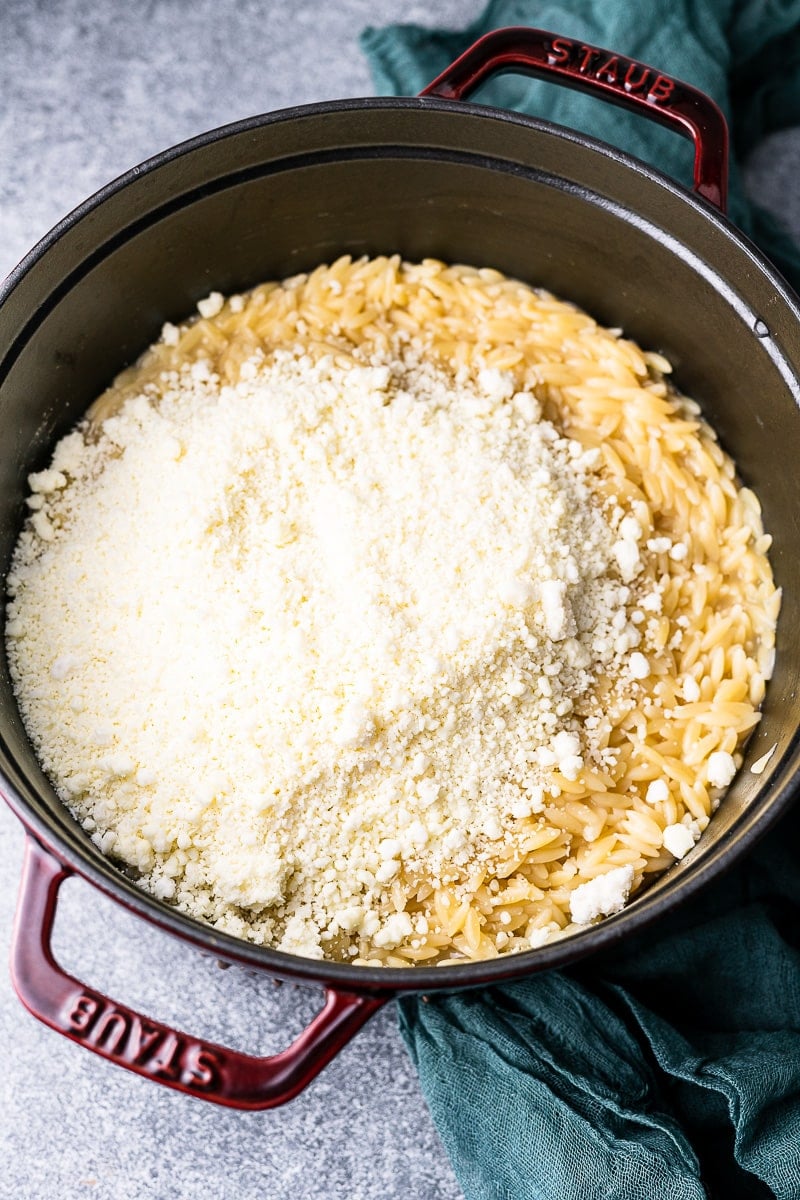 Parmigiano-Reggiano is a cow's milk cheese that's aged between 12-36 months. It's considered the "King of Cheese" due to the depth and richness of flavor. The cheese is more familiar to people in the U.S. and more likely to already be in your kitchen which is why some deviate to using it, but it's milder and nuttier, almost sweeter than Pecorino.
Please note we're not talking about Parmesan cheese. While some cheeses labeled as Parmesan may actually be Parmigiano-Reggiano, they're most likely inspired by it. That's not to say they may not be a high quality cheese, but this dish is all about quality ingredients. We don't want any of that powdery stuff.
Pecorino Romano has the sapidity and flavor that really makes cacio e pepe stand out. It's a sheep's milk cheese that's very strong, salty, and tangy and pairs wonderfully with freshly cracked pepper. Some people even cut Pecorino with a bit of parm if the starchy water isn't enough to mellow out the cheese.
How to make Cacio e Pepe Orzo
The technique to making this pasta is how you end up with the perfect plate. Behind the simplicity of the ingredients and steps lies a bit of complexity with the technique to get that rich, silky creamy sauce.
For boiling orzo in chicken broth - You do not need to salt the broth, and you'll want to use a low sodium broth as well. The key here is to only use as much broth as you need when boiling the orzo to get light and fluffy orzo with barely any leftover liquid. This was about 3.5 cups of broth for a pound of orzo. Because you haven't drained the pasta, it's still very starchy. Add the butter and allow the residual heat to melt it before stirring in the cheese and pepper. I rely on the hot starchy pasta to melt the cheese while I slowly add in as much broth as I need to create the luscious sauce that coats everything.
For boiling orzo in water - The water should be salty like the sea when boiling the orzo if you're not using chicken broth. Boil the orzo according to instructions but take it off heat two minutes before it's fully al dente. Reserve about half a cup of the starchy water. Strain the rest of the water out, melt the butter into the pasta, and stir in the cheese and black pepper. Slowly add the reserved starchy pasta water until the cheese emulsifies.
Another way to do this (using more dishes) is to use a separate pan to begin creating the sauce while the pasta is boiling. Melt a bit of butter in a large pan on low to medium heat, and add in the freshly cracked pepper. Let the pepper bloom, and then add the reserved starchy pasta water. Slowly stir in the finely grated cheese until you get the silky smooth sauce. Once the pasta has boiled to two minutes before al dente, toss it in the sauce until it's fully coated and cooked through.
Serve with additional grated cheese and freshly cracked pepper in a warm pasta bowl. The great thing about this recipe is you can dress it down or jazz it up as much as you'd like! It's absolutely phenomenal served with the Creamy Garam Masala Lemon Butter Chicken, other meats, or salads. You can also drizzle a bit of truffle oil, add mushrooms, or lemon zest to add another simple layer of flavor!
Tips to making the best Orzo and Cacio e Pepe
The Orzo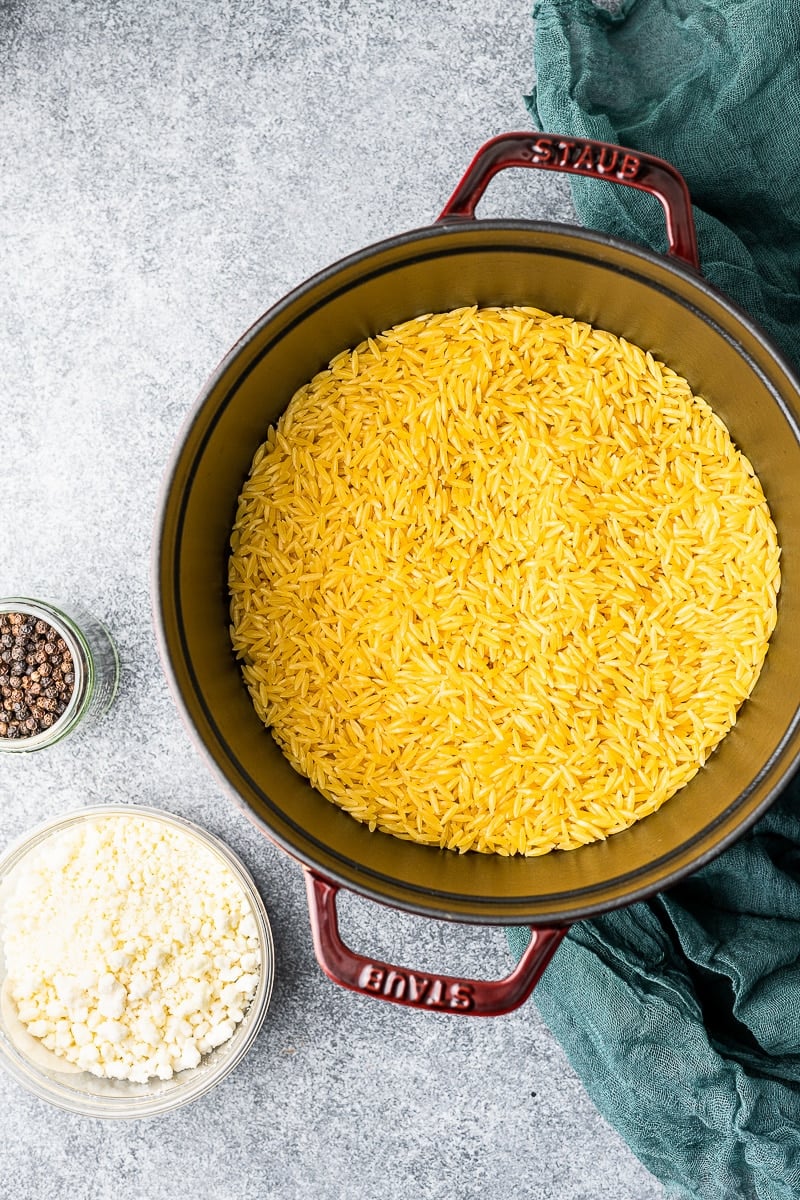 Toast the orzo beforehand in a bit of olive oil or butter to get a golden color on it and bring out the nutty flavor.
Use chicken broth to cook the orzo.
Cook the orzo to about 2 minutes before it's al dente.
Don't overcook the pasta.
The Cacio e Pepe
The hardest part about making the cacio e pepe sauce is getting the correct consistency. It's actually quite temperamental and sensitive to high heat which can cause chunks of cheese at the bottom instead of a silky smooth sauce.
So how do you keep the cheese from clumping?
Once the orzo is cooked, take it off the heat before adding the cheese.
The reserved pasta water or unused chicken broth shouldn't be too hot when adding it in after removing the orzo from heat.
Ensure the cheese is as finely grated as possible and at room temperature to make it easier to melt into the liquid.
If the cheese isn't finely grated, I find that adding it in small portions at a time and stirring until fully incorporated before adding the next portion works super well.
Adding fat, like the butter, helps the cheese to emulsify but is ultimately optional and varies between recipes. Personally, I just enjoy the taste more with the butter.
Other tips for the best taste:
Use freshly cracked pepper. Period. You want it to release all of it's aromas from being freshly crushed.
Toasting the black pepper in a bit of butter allows the flavor to bloom rather than adding it at the end. If you're using freshly cracked black pepper then this is just an extra step.
Use Pecorino Romano.
Serve the cacio e pepe in a warm pasta bowl.
How to Store
The sauce thickens as the pasta begins to set. It can form a large clump of orzo, so it's best to get any leftovers into an airtight container as soon as possible. Store in the fridge for up to a week.
How to Reheat
As mentioned above, the cheese thickens as the pasta sets. The orzo can be reheated in a pot or in the microwave with a bit of water to loosen it up again.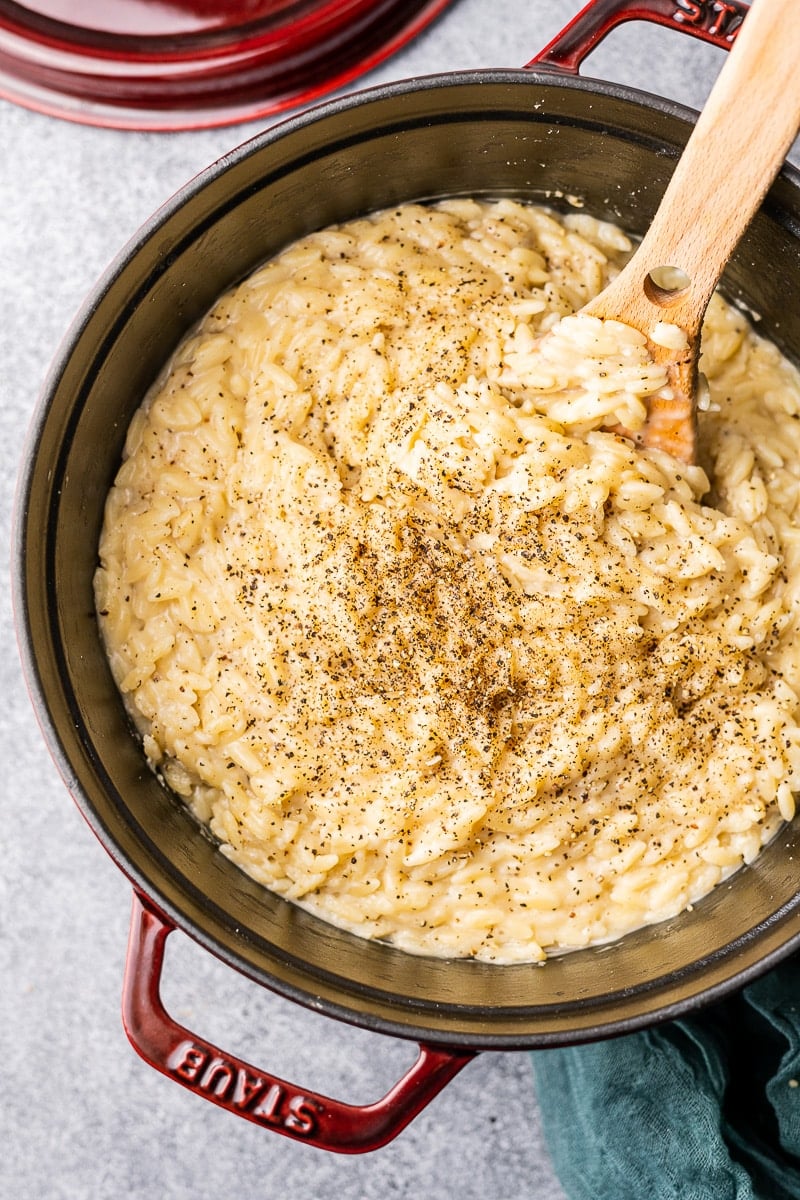 More Easy Weeknight Dinner Recipes to try
Looking for more quick and easy dinner recipes? I gotchu!
Recipe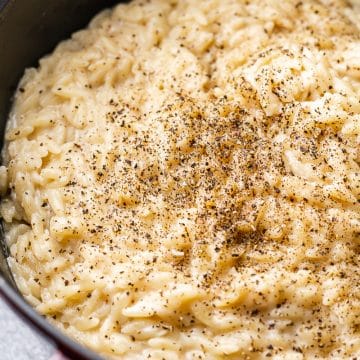 Cacio e Pepe Orzo
Enjoy this minimalist Cacio e Pepe Orzo - a "cheese and pepper" pasta. It's an easy, dreamy creamy weeknight dinner option that comes together in under 25 minutes and only requires 5 ingredients!
Print
Rate
Ingredients
2

tablespoon

unsalted butter

,

divided

16

oz

orzo

4

cups

chicken broth

,

low sodium

4

oz

pecorino romano

,

finely grated

1

tablespoon

black pepper

,

freshly cracked
Instructions
In a large pot, melt 1 tablespoon of butter. Pour in the orzo and toast it for 3 minutes. Add 3.5 cups of chicken broth and cover the pot with a lid. Cook the orzo per instruction until al dente. Remove the pot from the heat. Open the lid and fluff the orzo.

Add the butter into the pot with the orzo. While the orzo is still hot, add in the pecorino cheese and black pepper and stir while slowing adding in as much of the ½ cup of chicken broth as necessary until the cheese has fully melted into a silky smooth sauce.

Serve with an additional sprinkle of cheese and black pepper.
Notes
Substitute the chicken broth with vegetarian broth.
Nutrition
Calories:
391
kcal
|
Carbohydrates:
58
g
|
Protein:
16
g
|
Fat:
10
g
|
Saturated Fat:
6
g
|
Cholesterol:
30
mg
|
Sodium:
301
mg
|
Potassium:
213
mg
|
Fiber:
3
g
|
Sugar:
2
g
|
Vitamin A:
197
IU
|
Vitamin C:
1
mg
|
Calcium:
221
mg
|
Iron:
1
mg