Celebrate Thanksgiving or Friendsgiving this year with a flavor-filled feast of Indian-Inspired twists to classic Thanksgiving recipes! We're talking about a lovely fragrant upgrade to plain cranberry sauce, roasted tandoori chicken or turkey or cauliflower for vegetarians, and sweet samosas filled with pumpkin pie.
Your guests are going to be raving about how you stand out this year.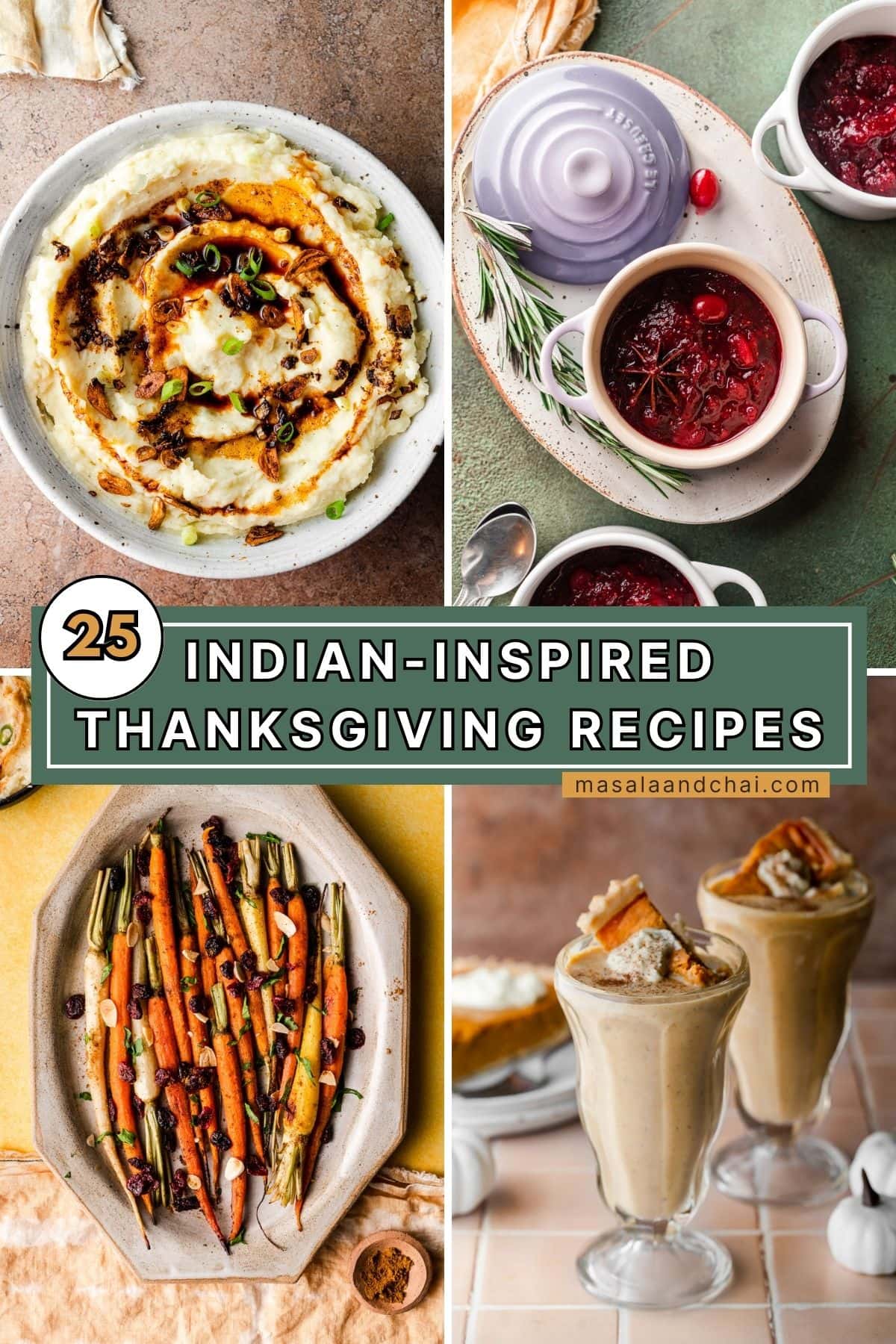 I've rounded up 25 options of appetizers, side dishes, main dishes, drinks, and desserts that are tried, tested, and true! So many of these recipes have made it to my own Thanksgiving spread or comes highly recommended from personal friends.
At the end, I've also provided my tips and tricks to hosting a successful Thanksgiving feast at your home. It also includes an editable sample menu to help plan out the dishes for each course.
Jump to:
Appetizers
For appetizers, you'll want a few quick options that are low effort to put together but keep your guests happy and busy. This gives you a chance to finish off any side or main dishes while they mingle and munch on the appetizers.
Usually, I go with a classic crowd-pleasing cheese appetizer and another option that's vegetable forward for balance. They are so easy to make, a little helper in the kitchen can definitely prepare them in the morning or afternoon before guests arrive.
To keep the Galette simple, skip the pastry dough made from scratch and purchase a pie crust from the grocery store. Alternatively, you can make the pastry dough a few days beforehand and freeze it.
Side Dishes
Undoubtedly the best part about Thanksgiving: the Side Dishes. We're talking breads, winter veggies, cranberry sauce, mashed potatoes, and always some type of pasta.
Indian spices and chutneys make all of these side dishes vibrant and ridiculously flavorful.
Main Dishes
A perfect roast turkey is the centerpiece to your Thanksgiving table. It's what everyone will talk about during and after the meal! I love these various options for using a tandoori marinade to roast a turkey, chicken, or even cauliflower if you've got vegetarians! It's gorgeous, vibrant, unique, and so flavorful.
If you're looking for a second vegetarian-friendly main dish, then a veggie pot pie and vegan Wellington are impressive, hearty options.
Drinks
Try an apple-flavored slushie for kids or cocktail for the adults!
Desserts
Trust me, you're going to want to try a pumpkin pie in samosa form. They're a must-have and highly requested at Garg Thanksgivings!
Thanksgiving Leftovers
Transform your leftovers into muffins for breakfast or sweet milkshakes!
How to Prepare for Hosting Thanksgiving Ahead
If you're hosting Thanksgiving, it can be extremely overwhelming!
Here are some of my favorite tips for prepping your kitchen as well as your menu ahead of time.
Prepping your Kitchen and Home
Clear out as much space in your refrigerator and freezer as possible the week prior.
Choose your dishes and make a grocery list 2 weeks beforehand. Continue to refine it up to a week before Thanksgiving.
Go grocery shopping 3-4 days before Thanksgiving.
Try storing everything for one recipe in one part of your refrigerator or store it in large ziploc bags! Put a sticky note with the name of the recipe and list of ingredients in the bag so you know exactly what you need to grab.
Prep all the kitchen equipment you need and take note of the appliances you will be using at what time for which recipe. This is especially important if you will be multitasking in the kitchen.
Focus on cleaning only the areas that guests will occupy - like your kitchen, dining room, living room, and bathrooms. I promise you don't need to do all of your laundry and power wash your backyard before guests come.
Grab some extra tupperware containers so you can pack up leftovers for your guests.
Consider printing out a menu to send beforehand or place somewhere near the food so people know exactly what they're eating.
Delegate what you can to other family members and friends so you can enjoy the day, too! Don't be shy.
Prepping your Menu Ahead of Time
Be serious about what you think you are able to accomplish in the week leading up to Thanksgiving. Making cranberry sauce or a casserole is easy, yes. You can definitely knock that out. But it's easy enough that a family member or friend can follow your preferred recipe so you can spend 30 minutes doing something else.
Cranberry sauce can be made up to a week ahead and it'll taste amazing! Just keep it in an airtight container. When ready to serve, just transfer it to a small serving dish.
A lot of dishes can be frozen ahead of time and defrosted in time for dinner. Curries freeze really well.
Make casserole the day before because they reheat really well and the flavors only get better the next day.
Prep all the vegetables as soon as you receive them. Mince them, portion them, and get everything chopped up as needed. Store them in ziplocs with labels on them so you know which dish you need them fore.
Cheers to stress-free entertaining and Happy Thanksgiving!
Sample Thanksgiving Dinner Menu
Don't get overwhelmed by the options! Here's a sample Indian-Inspired Thanksgiving dinner menu with all of my favorite recipes.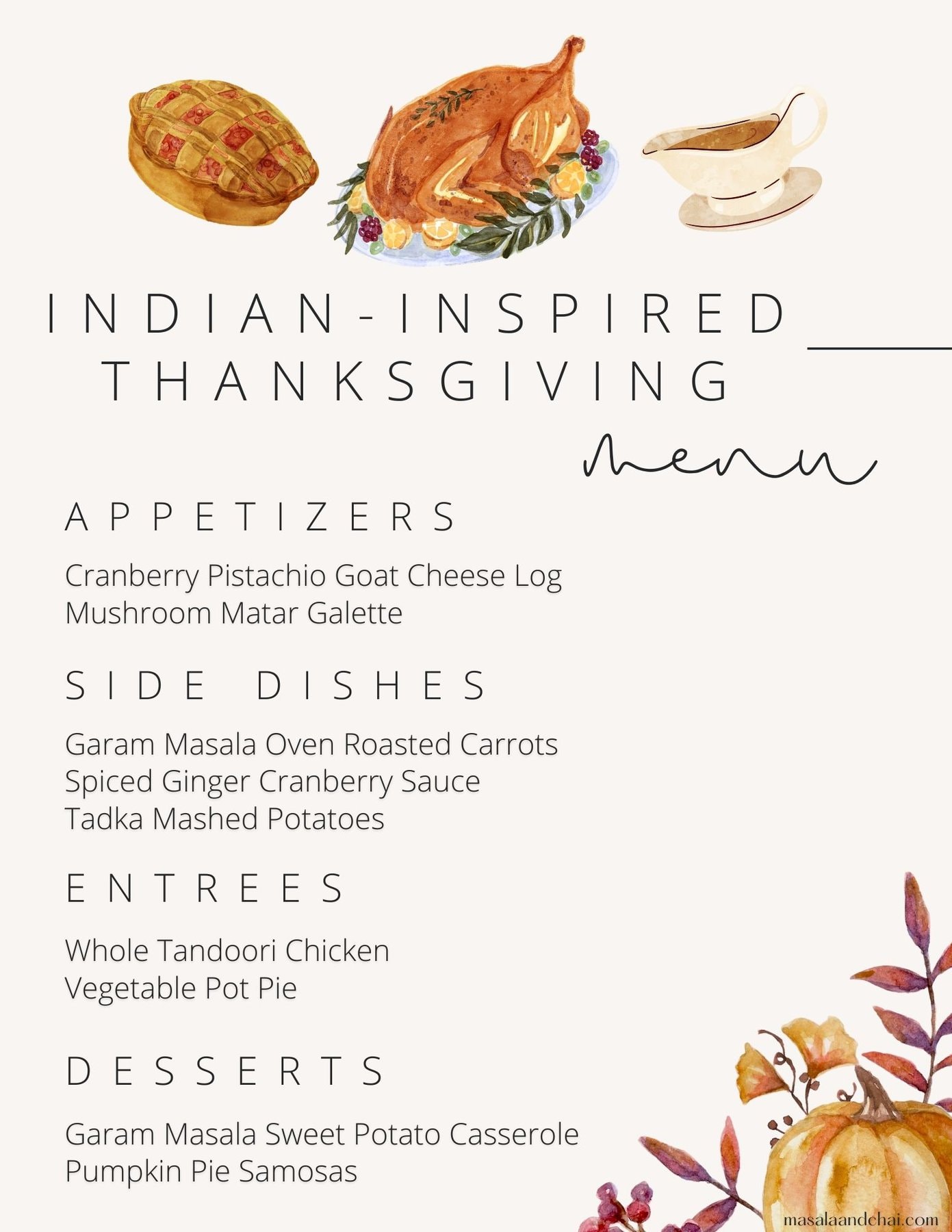 Feel free to edit this template I made for you on Canva.
More Thanksgiving Content
I love seeing when you share my recipes! Tag me on Instagram @masalaandchai so I can enjoy them virtually with you! You can also find me on Pinterest, Facebook, Tik Tok, and YouTube.
Don't forget to leave a rating and comment about what you thought!