There's nothing quite as comforting as the perfect cup of Indian Masala Chai whether it's in the middle of summer or for cozying up in the winter. Black tea is simmered with warming, fragrant spices and whole milk for a balanced and creamy cup of chai. It's best served with Parle-G biscuits or cake rusk for dipping.
My source of comfort has always been masala chai. The milky foam with specks of tea leaves is mesmerizing as it bubbles away, filling the air with fragrant spices. Then there's the slight impatience of waiting for the first sip as the familiar clink of spoons sound off while the sugar is mixed into individual cups. Time slows down as one settles in with a cozy cup amongst friends and family.
My addiction to chai started with my dad's obsession - three cups a day to keep him going even in the unbearable Arizona heat. I'd watch him come alive in the early mornings as he peacefully enjoyed his first sips, slam down another cup after a solid afternoon nap, and yet another when that evening headache screamed for more caffeine.
Chai has always been a huge part of my life so this detailed recipe is well-tested and quite honestly, perfect. You're going to love it!
Why this Recipe?
For some of us, making a mean cup of masala chai is a no-brainer. It's like we're on auto pilot as we make our perfect cup.
But maybe your in-laws asked you to make everyone chai and the pressure is on, or your parents never taught you how. Maybe you had an incredible cup at a restaurant or a coffee shop and want to make your own!
If you haven't made chai before, then this recipe will help you:
Find your perfect balance of spices. Most coffee shops use a concentrate which has an overwhelming flavor of cinnamon and concentrated spices. This doesn't lend for a balanced cup of chai. The base recipe creates a starting point that can be adjusted.
Account for evaporation. The key to creamy chai is some of the liquid evaporating to create a slightly thicker, milky tea. You'll discover whether you're partial to the 2:1 or the 1:1 water to milk ratio.
Discover two methods to aerate chai - the "chaiwallah" method and the double boil.
Learn about the history and culture behind Masala Chai. This is important as we continue to see this incredible drink diluted in popular culture as Chai Tea, a rendition which has become its own drink.
Jump to:
What is Masala Chai?
Masala Chai, or chaa in other regions, is a milk tea simmered with spices and ginger. While wild chai has been enjoyed by the Singpho in Assam, India since the 12th century (Source: The Hills Times), Masala Chai originated in India during British colonization and is now enjoyed throughout the diaspora.
Masala means "spice", and chai means "tea". Therefore, masala chai means tea with spices.
There's a saying that the food in India changes every 100km... but if there's one thing that ties all Indians together - it's chai. Chai by itself is essentially a milky cup of tea. And even then, there's different types of chai such as Kashmiri pink chai, adarak (ginger) chai, masala chai, etc.
It's enjoyed in the Indian subcontinent in the mornings, afternoon, and in the early evening for a burst of caffeine or some cozy relaxation. Chai is typically served with Parle-G biscuits or cake rusk. We do a quick dip to soak up the chai and eat it before it falls into the mug.
Chai is a way of life for us and a deep part of our culture. It's a quick cup when visiting someone, or spending time at the jewelers and clothing shop. It's symbol of hospitality while catching up with friends and family. It's stopping on the side of the road during a road trip to grab a cup for ~ energy ~.
A History of Masala Chai Rooted in Colonization
DID YOU KNOW?
Masala chai originated in the 1900s during the British colonization of India when chaiwallahs (street vendors selling chai) began adding spices and milk to tea.

China had a monopoly on the European supply of tea, and the East India Trading Company had a monopoly on Chinese tea in England. Once China restricted the export of tea, the British were desperate to find another source. They discovered tea in Assam that was almost identical to that in China. The British began cultivating tea in 1838 at plantations in Assam using cheap Indian labor. (Source: A Thirst for Empire: How Tea Shaped the Modern World)

Due to the lack of knowledge on processing and transport, the tea produced was incredibly low quality, crop yields were low, and export outside of India was difficult. The Indian Tea Association, made up of British tea planters, decided to promote tea drinking to a wider audience to maintain their profits.
Indians were given mandatory tea breaks as part of a marketing campaign. Chaiwallahs popped up around India. Inspired by Ayurvedic practices, they began adding milk and spices to tea. It also masked low quality tea and enticed customers with special spice blends. (Source: From an Imperial Product to a National Drink: The Culture of Tea Consumption in Modern India)

The British thought the addition of spices were an abomination to the tea they spent decades developing. They tried to squash stalls that strayed away from standard practice, believing that the use of spices meant less tea leaves were necessary. Marketing campaigns for tea continued even until independence in 1947.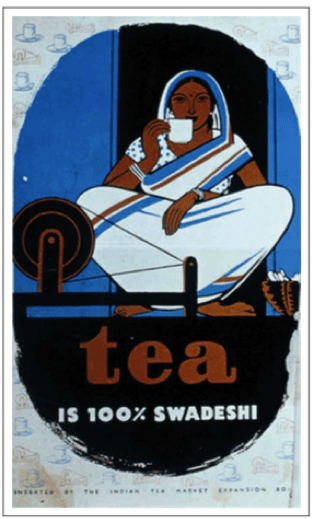 Obviously, that didn't work since masala chai still exists today thanks to the rebellious chaiwallahs that stuck to it.
Chai Tea in Popular Culture
Masala Chai was heavily popularized in the United States by Teavana's Oprah Chai Tea at Starbucks in 2014 as a way of "elevating the tea experience." (Source: Starbucks Stories & News) The outcome was a cinnamon heavy, watered down attempt at masala chai that was palatable to Americans but detested by desis.
And thanks to Starbucks, people also began saying "chai tea". It's redundant and cringe-worthy.
What followed was a rise in white-owned brands releasing their own "chai tea" blends and sugar-heavy masala chai concentrates with their Eat Pray Love self discovery BS in their about us page. Ma'am, we don't care if you "discovered" chai during your two week trip to India and now want to "share" aka capitalize on it.
To be fair, a Chai Tea Latte has spun itself into its own drink in the U.S. While it began as an attempt of introducing Masala Chai to Americans, I now think of it as a rendition of the original. Now, Chai Tea typically refers to a drink with frothy steamed milk and a black tea concentrate simmered with sharp spices like ginger and cinnamon.
In comparison, Masala Chai requires a bit of technique when simmering the spices, evaporating the milk, and aerating the chai. This results in a complex, well balanced, rich, and creamy flavor and texture.
Which Spices are in Chai?
Masala Chai ingredients are really simple, but it's the spices that vary between each recipe. Almost every family has their own blend which is made according to taste.
You can try a ton of different ready made masala chai blends with the tea and spices already measured out, chai spice blends, or chai tea bags and they will all taste wildly different.
A lot of this is due to regional variety and even classism when it comes to spices. For example, cardamom is one of the most expensive spices in the world trailing behind saffron and vanilla. Some families keep masala chai as simple as black pepper.
The point is, even if you don't have every spice you can still make the best cup of masala chai! Don't let that deter you.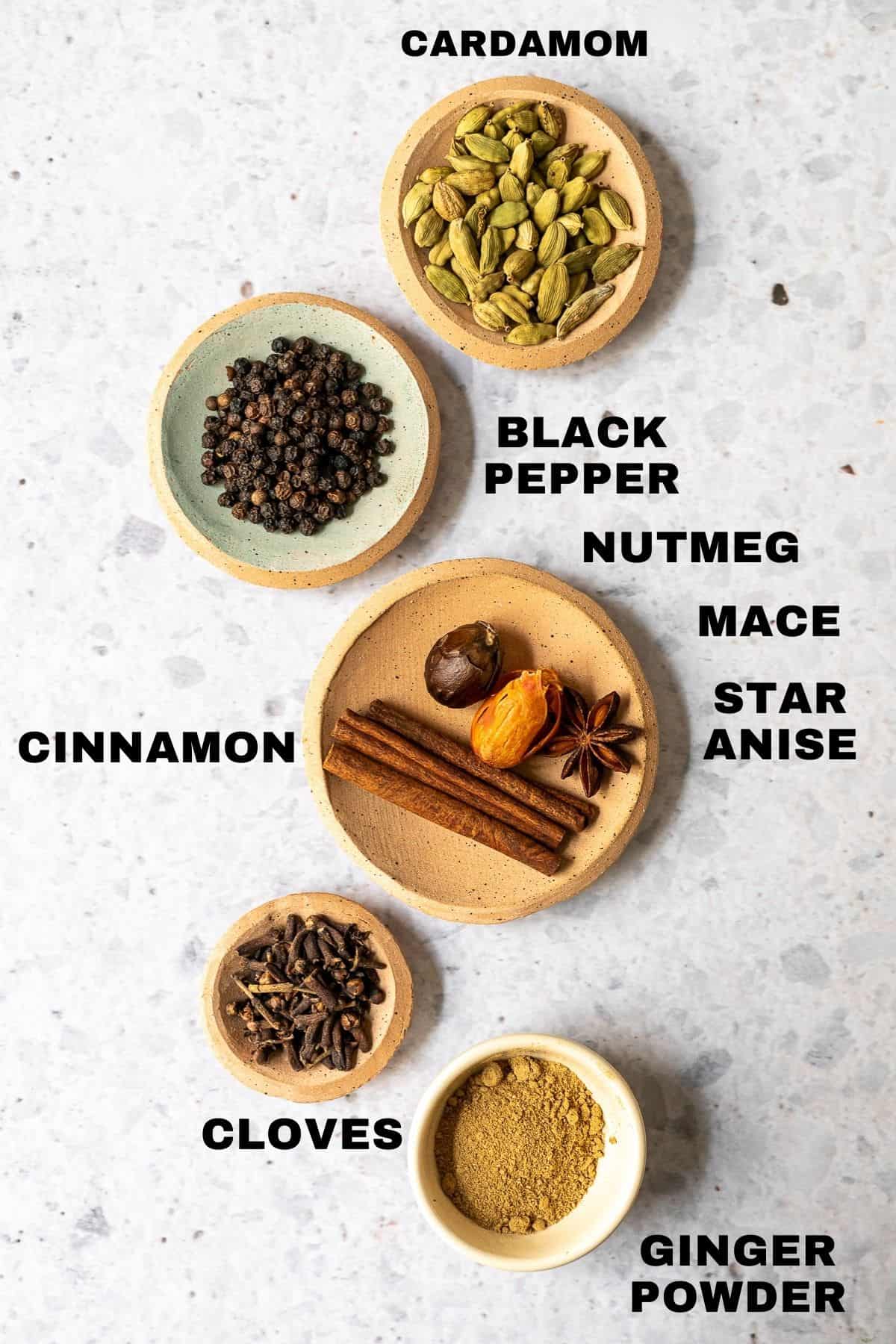 The base of all desi masala chais usually include the following spices: cardamom, black pepper, cinnamon, cloves, and ginger. Other variations may include nutmeg, mace, fennel, rose, mint, lemongrass, tulsi, ajwain, saffron or star anise.
Some other recipes include allspice due to the notes of cinnamon, cloves, and nutmeg. Allspice isn't a blend of spices, but actually a berry. Either way, I'd stray away from using allspice if you're looking for an authentic Indian recipe.
Use whole spices where you can. Whether you put the spices directly in the chai, break them apart a bit in a mortar and pestle, or grind them into powdered chai masala using a spice grinder... using fresh spices in small batches results in the best chai!
Grinding the spices will result in slightly stronger, pungent chai. The spices will be strained out at a later point.
Ingredients - Notes and Substitutions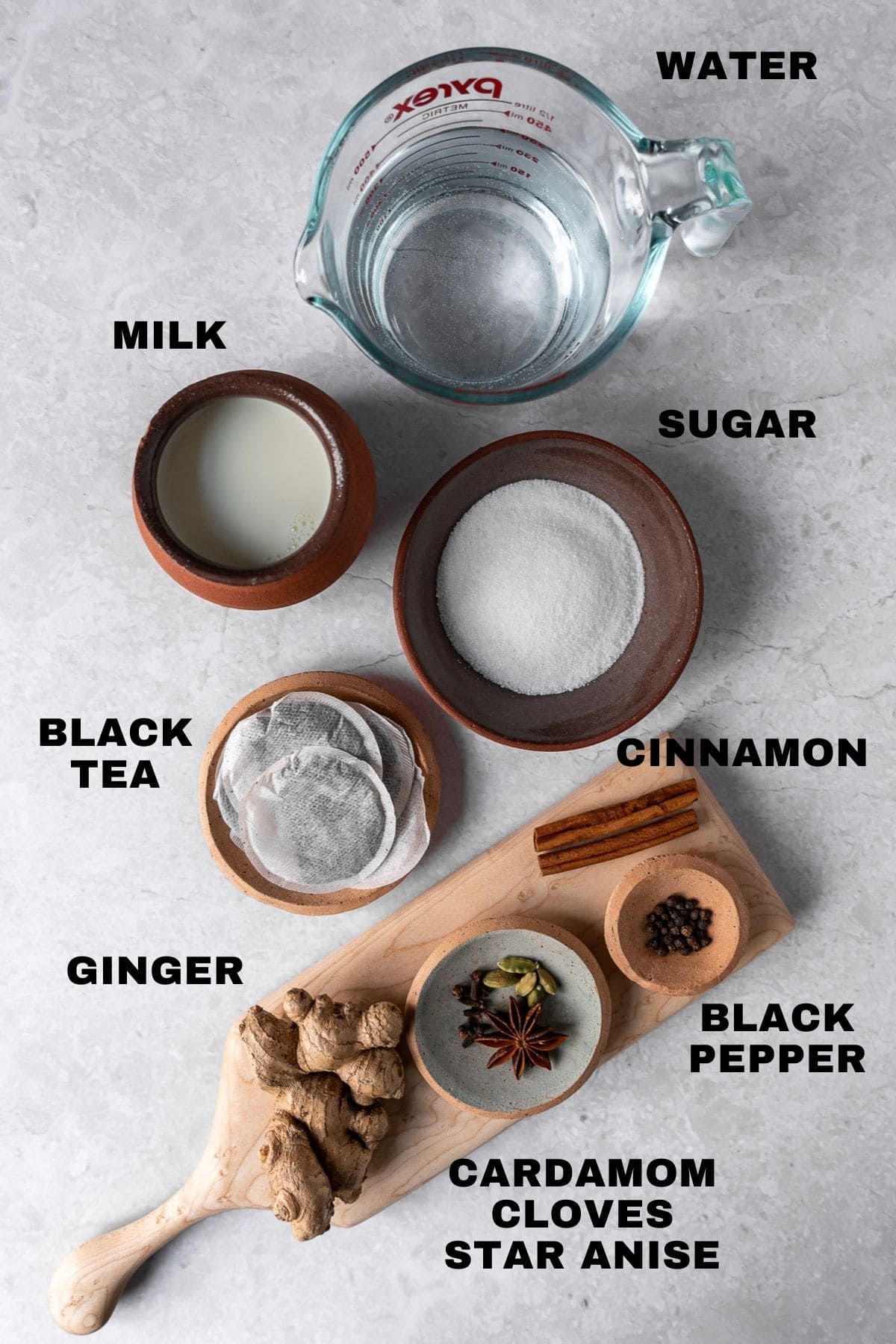 Milk - The best milk for chai is undoubtedly whole milk. The use of whole milk is what creates that filmy layer on top of chai. The best vegan plant-based milk substitute for masala chai is oat milk or cashew cream.
Any of your favorite milks or creamers will work, but boiling the milk along with the tea leaves and spices is key for the creamy consistency.
Black tea - Search for Indian brands of black tea that use the CTC method. My favorite loose leaf black tea is Danedar, and for tea bags I love Tetley British Blend. Taj Mahal and Wagh Bakri are other great options. They can readily be found online or in South Asian grocery stores.
Otherwise, Assam and Darjeeling tea work best as alternatives, and English breakfast is a good runner up. I do not recommend earl grey. Some families even make their own blend of tea - my dad does a blend of black and green tea leaves.
Spices - Most chais use four whole spices - cloves, peppercorn, cardamom, and Ceylon cinnamon. Other spices include tulsi, nutmeg, star anise, fennel, and mace but in very small quantities to prevent overpowering the chai which is why they may be included in chai spice, but not directly added to chai without being grinded and mixed with other spices.
Ginger - I like for the ginger to be subtle in my chai, so I'll use one or two thinly sliced pieces of ginger. If you want a stronger taste, grate or crush the ginger in a mortar and pestle.
Sweetener - Granulated sugar is the most typical sweetener, but brown sugar, stevia, honey, and even maple syrup will work. Sugar helps brings out the flavors you just developed in your Masala Chai by balancing out all the spices.
If you're using honey or maple syrup, stir it in while the chai is off heat but still hot. Sugar can be mixed in while making the chai or according to preference when serving.
Equipment for Making Chai
☕ How to Make Masala Chai
There's a couple of ways to make a quick masala chai now - with masala chai tea bags, loose tea leaf blends, readymade ground chai spice blends, chai concentrates. But you lose a bit of control, flavor, and creaminess that way. The last way is using whole spices.
Most families make Masala Chai with whole spices. It has the best flavor, so this is the method we'll go over.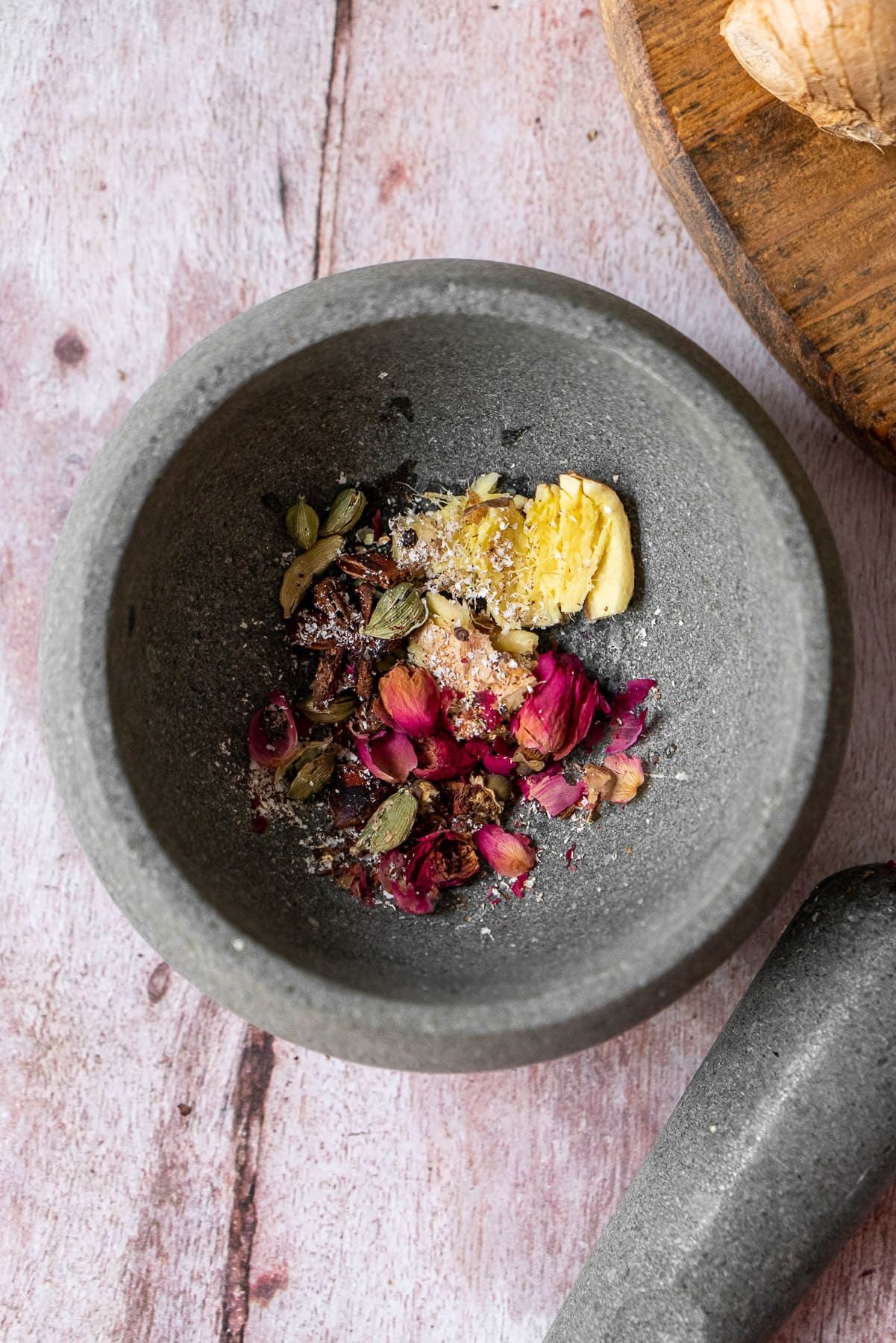 Crush the spices. Break up the spices using a mortar and pestle into smaller pieces.
Boil the water. Place a stainless steel or nonstick saucepan over high heat and add the water. Add a ¼ - ½ cup of water if your saucepan or pot has a large diameter to account for evaporation. As the water comes to a boil, add the spices and ginger so they can begin to release their flavor.
Once the water comes to a boil, add the tea leaves or tea bag. Reduce the heat to low to medium. Let the tea steep with the spices for 2 minutes, no longer to prevent bitter tea. Then, add the milk.
Pro tip: Using a stainless steel saucepan is best for making Masala Chai. Towards the end, you'll notice a bit of the milk may have burned or the tea leaves and spices are stuck to the side. This way, you can easily scrub off residue with a steel brush while washing dishes.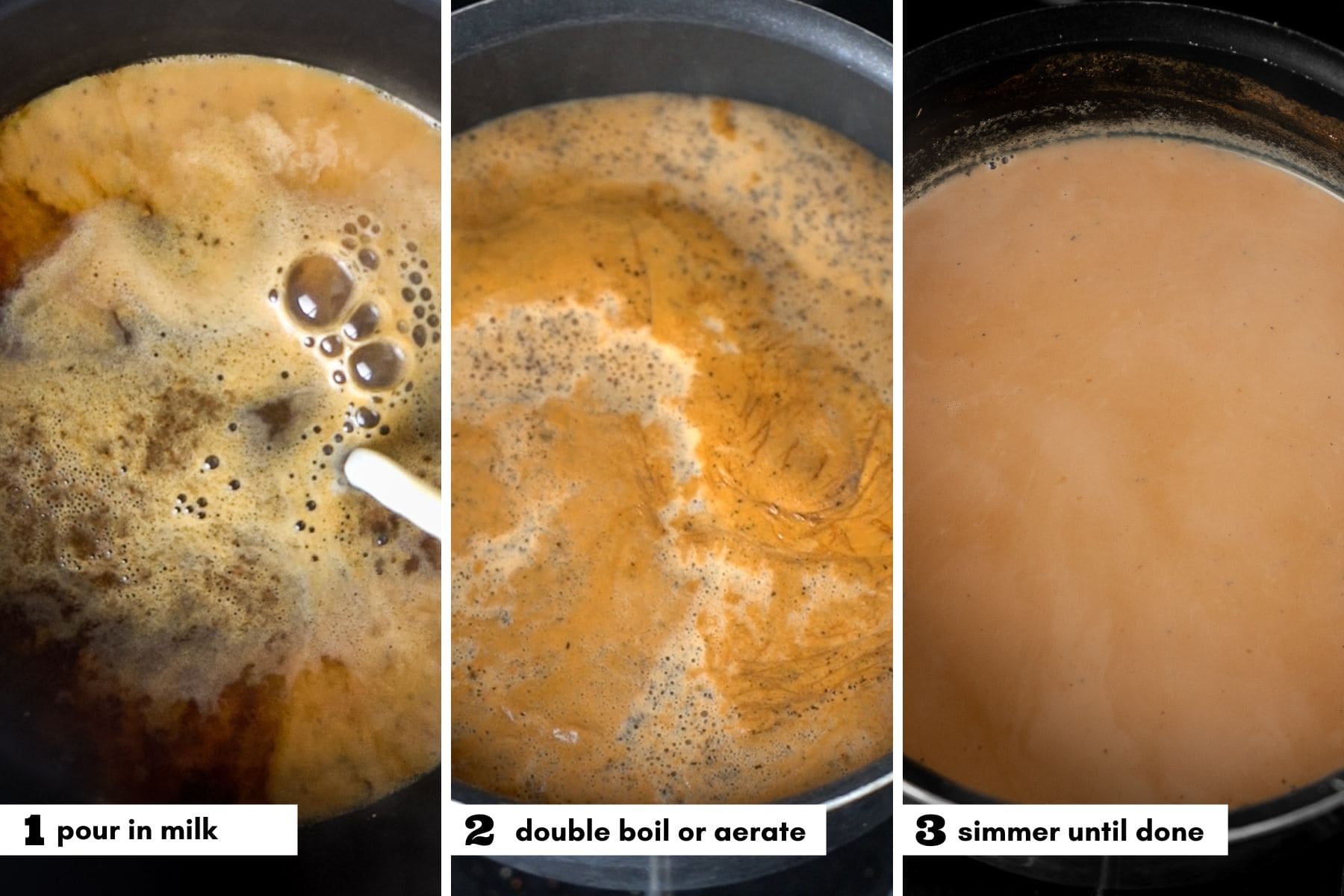 Aerate the Chai. There's two main ways of aerating chai to develop flavor:
One is the double boil, which is notorious for causing the biggest mess. Bring the chai to a boil on high heat. The level will rise until it's almost to the top, then quickly lift the pot off the heat until it comes back down or immediately lower the heat if you have a gas stove. This is the first boil. Repeat it for a double boil. Be sure to watch the chai closely otherwise you'll have a spill on your hands. Another hack is to put a wooden spoon over the top of the pot so that once the tea hits the spoon, it won't boil over.

The second way is to pull the chai which is used by chaiwallahs (chai vendors) in India. Use a small cup with a handle or ladle to scoop some chai and pour it back into the pot from a height to create bubbles. Repeat this a few times.
Simmer. Lower the heat and simmer for 5-7 minutes. Continue to simmer the chai until it's smooth and creamy, and the consistency and color that you want the tea. About a cup of liquid will have evaporated by this point, resulting in creamy chai without the spices overpowering it.
Pro Tip: If your chai doesn't have a lot of color or isn't strong enough, add some more tea leaves and continue to simmer until you're satisfied. Chai is very forgiving.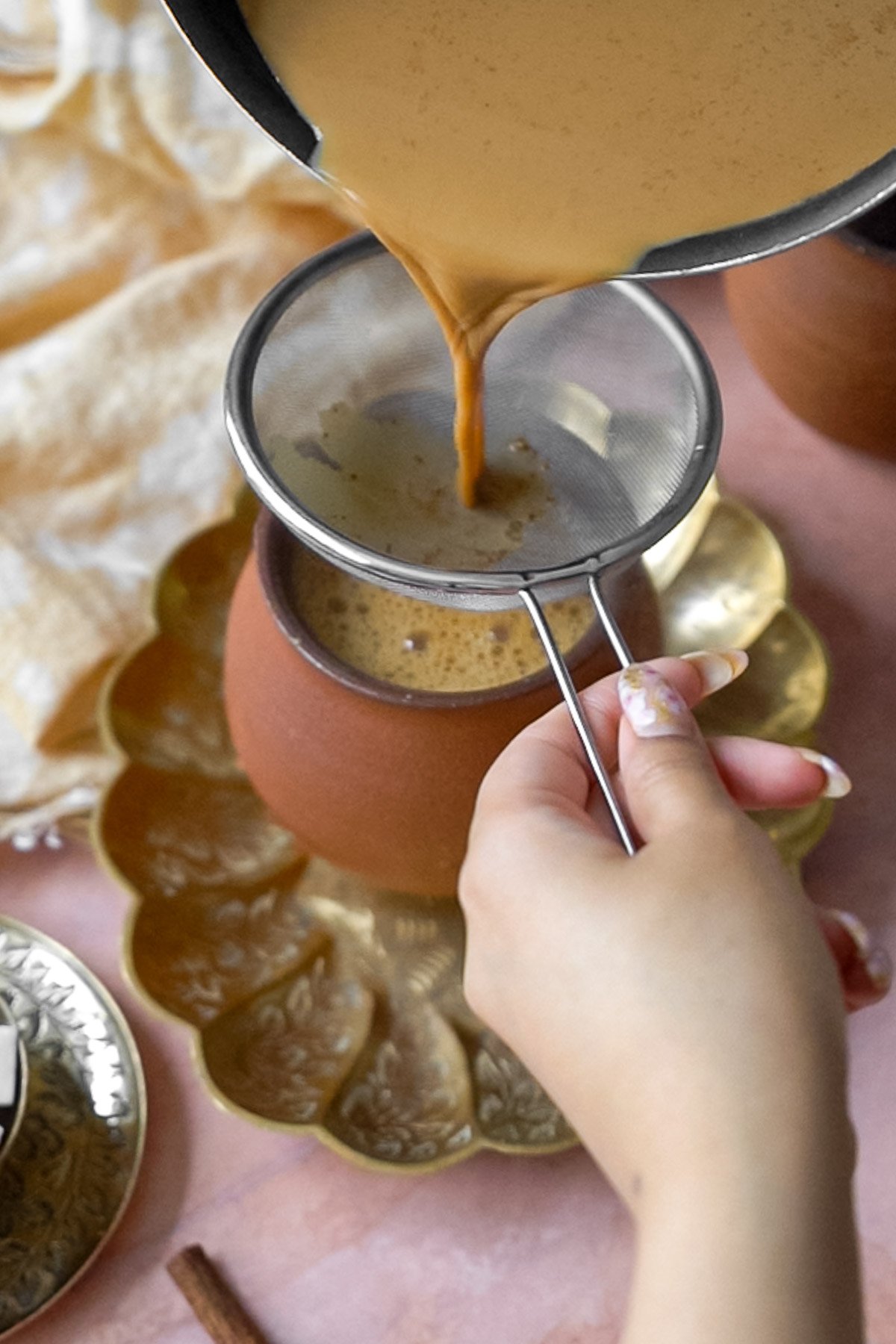 Strain and serve. Strain the tea with a sieve when pouring it into cups or a pot for serving. Spoon the sugar into the individual cups according to preference and mix until combined.
Or as we say "kitna cheeni? (how much sugar?) ek spoon ya do? (one spoon or two?)". Serve with Parle-G biscuits or cake rusk.
The way chai was served in the 1900s was also rooted in classism. British tea drinkers used porcelain, upper class Indians used stainless steel, common folks used clay cups called kulhad, and others drank from saucers. Today, people in India still use kulhads or small glass cups, leaving space at the top for holding on to so their fingers aren't burned.
Tips and Tricks
Milk-to-water ratio - Chai should have 2 parts water to 1 part of milk, but if you want it milkier then go with a 1:1 ratio.
Whole Spices - Use whole spices that are a bit crushed for the best results. This helps release their oils and flavors the tea more. Using chai masala can result in little grains at the bottom of the cup that may be texturally unappealing.
Fresh Ginger - Fresh ginger has enzymes that can curdle milk. It's best to boil the water with the spices, including ginger, before adding the milk. Alternatively, use dried ginger or ginger powder.
Rehydrate spices - Boiling the water with tea and spices before adding milk allows the spices to rehydrate and release flavor. Alternatively, get the water to a scalding hot temperature and then add the spices.
Ratio of Spices - Ultimately, it's up to you to choose the amount of each spice to use. You could omit all the spices except for the cardamom, or you might want your chai more peppery and add more black pepper. You might want ginger chai and add a lot more ginger! Maybe you LOVE Starbucks chai and add more cinnamon. The spice blend is based off of your preference.
Go easy on the cloves - Cloves tend to be really really strong, you only need 1 or even half of a clove. A lot of desi households make their own chai masala with minimal cloves because it can overpower the tea completely.
Malai - The film layer that appears at the top of the chai is completely normal and especially shows up when using whole milk. Just mix it back into the chai.
Masala chai pairs well with Paneer Aloo Samosas, Peanut Chaat, Samosa Chaat, and Indian-Style Tea Sandwiches.
And if you love chai, try Chai Syrup, Chai Concentrate, Chai Spice, Masala Chai Canelés, Chai Liqueur, Adrak Chai, and Chai White Russian.
More Tea Drinks to try
Recipe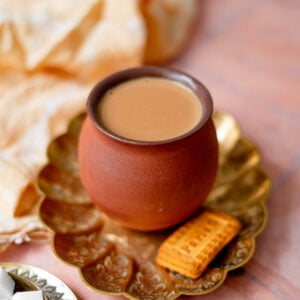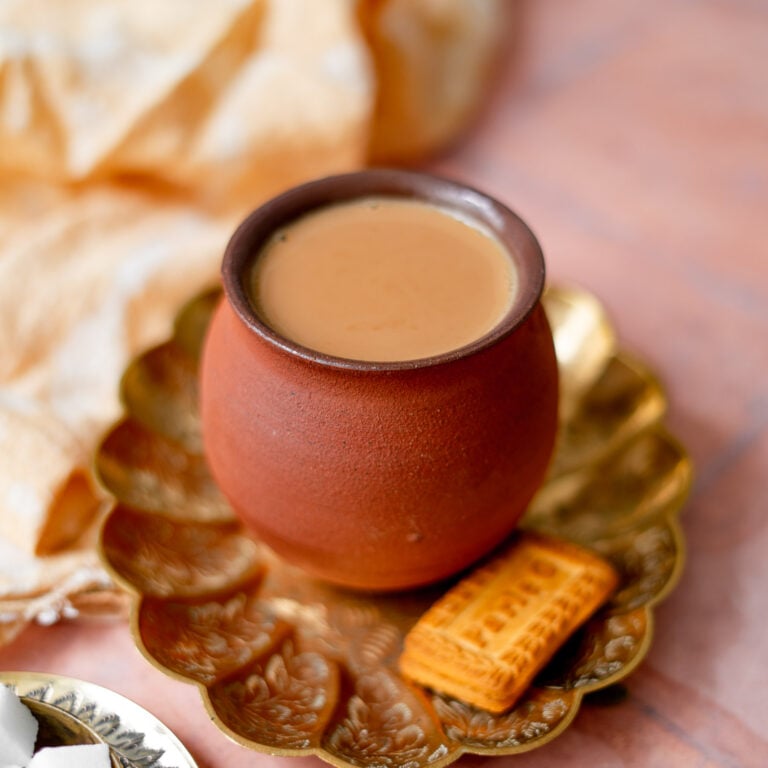 Masala Chai (Tea)
There's nothing as good as the perfect cup of Masala Chai whether it's in the middle of summer or for cozying up in the winter. Black tea is simmered with warming and fragrant spices and is best served with Parle-G biscuits or cake rusk for dipping.
Print
Pin
Rate
Instructions
Add the whole spices to a mortar and crush them lightly into smaller pieces.

In a small saucepan on high heat, pour in the water and add the spices. Bring the water to a boil and add the tea bags or leaves. Lower the heat to a medium to low setting and simmer for two minutes, or until the tea leaves and spices have released flavor and color. Then, pour in the milk.

Method one - Double Boil:

Bring the chai to a boil on high heat, so that it starts aerating and bubbling to the top. Remove the pot from heat until the bubbles come down. Replace the pot on the burner and bring the chai back up again to a boil and remove from heat a second time until the bubbles go back down.

Method two - Pulling Chai

Alternatively, use a small cup with a handle or ladle to scoop some of the chai and "pull" it while it's simmering. Start by pouring in the chai at a low height and steadily move up higher while continuing to pour the chai back into the pot to create bubbles. Repeat a few times until the chai is bubbly.

Continue to simmer the chai until desired consistency and color, about 5-7 minutes. Some of the liquid will have evaporated by now, so the chai will be smooth and creamy. Remove the saucepan from heat.

Strain the chai with a sieve into glasses, mugs, or a tea pot. Mix in the sugar according to taste, and serve hot.
Notes
Substitute all the spices with 1 teaspoon of chai masala. 
Some other great additions to the masala are star anise, fennel seeds, and dried rose petals.
Use 2 parts water to 1 part milk - so for one cup of chai use one cup of water and half a cup of milk. Alternatively, for a creamier chai use 1 cup of water to 1 cup of milk. Then, simmer it until half of the liquid has evaporated and you're left with 1 perfect cup of masala chai. This makes it easy to scale for additional portions.
The amount of spices used is based off of high quality, single origin spices which are stronger in flavor and freshness. Adjust the quantity based off of quality of spices as well as preference.
Nutrition
Serving:
1
cup
|
Calories:
100
kcal
|
Carbohydrates:
12
g
|
Protein:
4
g
|
Fat:
4
g
|
Saturated Fat:
2
g
|
Polyunsaturated Fat:
1
g
|
Monounsaturated Fat:
1
g
|
Cholesterol:
12
mg
|
Sodium:
65
mg
|
Potassium:
196
mg
|
Fiber:
1
g
|
Sugar:
10
g
|
Vitamin A:
203
IU
|
Vitamin C:
1
mg
|
Calcium:
164
mg
|
Iron:
1
mg